Even before Russian forces invaded Ukraine on Vladimir Putin's orders, Ukrainian cats and dogs were feeling the unsettled emotions of their human compatriots. As the world watched troops piling up on the Ukrainian borders, soldiers along those borders were seeing it all firsthand.
As they waited for what was to come, the soldiers found unexpected friends and much-needed morale boosts in the stray cats and dogs that joined them in the trenches.
Now that Russian forces have invaded, and war is raging across Ukraine, the cats standing strong with humans are in need too. Stores are closed, and supplies are growing thin. So, Ukrainian cat lovers are doing what they can to keep their felines safe and full, with one cat café vowing to remain open.
The Cats of Ukraine
In her coverage of the war from Lviv, Ukraine, CNN's Erin Burnett tweeted that much of the city was closed, reporting, "It's virtually all shuttered."
While more than 1.5 million refugees have crossed into neighboring countries, many residents have remained in Ukraine because it's home. And like 74-year-old Lydia Sokolova, these residents are trying to accomplish everyday goals.
Lydia not only cares for her 97-year-old mother, but she's also taken up feeding her son's cat. She explained to CBC News the task "was more than worth any risk."
Her journey across the city is a haunting experience of empty streets and closed businesses. And soon, Lydia will face a worry that many of those remaining in Ukraine will also come against—how to feed their cats.
Charity groups are hard at work collecting donations and turning the cash into food and other essential pet needs. But the logistics of getting supplies into the country are tricky, and traversing humanitarian corridors is still dangerous. But like their felines, cat lovers are fierce and do what they have to when it comes to protecting kitties in need.
Despite cruel bombings and relentless shelling throughout the country, one cat café in Lviv remains open, and the owner vows to stay in order to protect the cats.
Staying with Feline Family, No Matter What
Open for more than six years; Cat Café Lviv offers cat lovers a fun place to visit and put down their worries for a minute. It's hard not to smile when watching cats do their thing. And everywhere visitors look, they're sure to find a kitty doing something cute as twenty cats call the place home.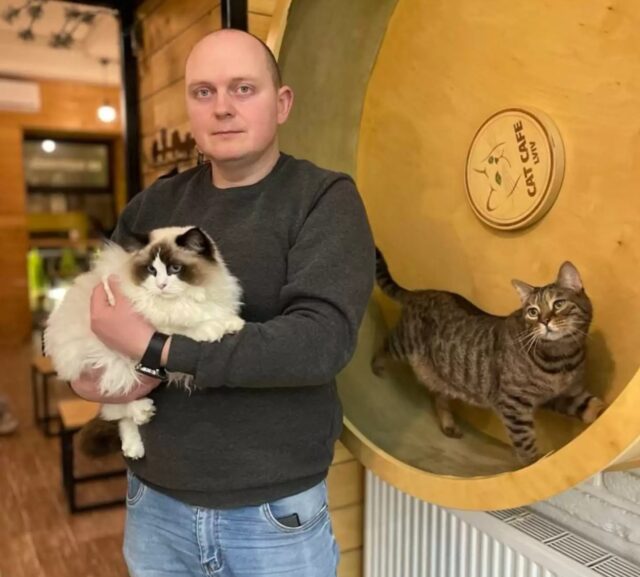 To owner Serhii Oliinyk and his small team of employees, these twenty cats are family. And Serhii says this family will remain together come what may.
"Our cats have been living in [the] cat cafe since the age of four months," Serhii told The Dodo. "They are like family. We realized that we would never leave our country, that this was the only place where we could see ourselves in the future."
By keeping the café doors open to the public, Serhii and the cats offer citizens a moment of comfort. Plus, like all the kitties, these café cats love the attention.
"We currently have fewer regular visitors, but there are people who have come from other cities and need hot food and positive emotions," explained Serhii. "There are three large rooms in our cafe, two of which are located in the basement, so in case of an air raid warning, there is a safe shelter for our guests and cats."
It is a dark and heavy day here. But I found something that couldn't stop a smile. The only food I saw open – Cat Cafe. The owners are making food with what they have – they smiled: "Our cats are brave". pic.twitter.com/wAGEF9oPfW

— Erin Burnett (@ErinBurnett) February 25, 2022
Like their Ukrainian humans, Serhii told Erin Burnett, "Our cats are brave."
Visit Cat Café Lviv on Instagram or Facebook and find out how you can help.
H/T: www.cbc.ca; www.fox19.com; www.tribuneindia.com
Feature Image: Cat Cafe/Facebook