iHeartCats is reader-supported. When you buy via links on our site, we may earn an affiliate commission at no extra cost to you.
The best cat wheels, also known as cat exercise wheels or cat running wheels, have gained popularity as a great way to provide cats with exercise, mental stimulation, and entertainment. These wheels allow cats to run, walk, and play whenever they'd like, mimicking the experience of outdoor exploration. In this article, we'll explore some of the best cat wheels available, considering their features, durability, and overall customer satisfaction.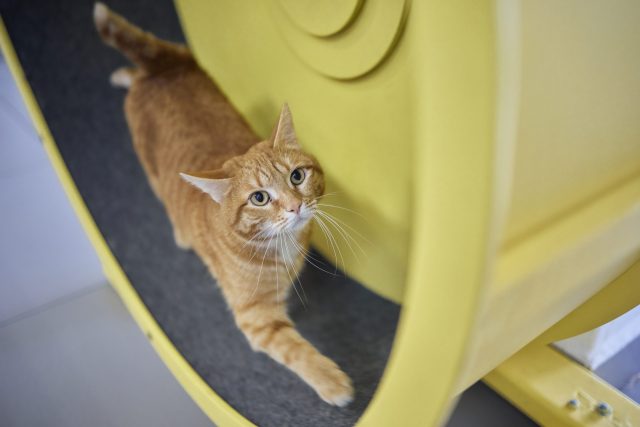 Buyer's Guide for the Best Cat Wheels
If you think your cat might benefit from a cat hamster wheel, there are lots of products to consider. However, to choose the best one, you should keep the following features in mind.
Size
Start by considering the size of your cat and the available space in your home. Cat wheels come in various sizes, so ensure that the wheel's diameter and running surface provide more than enough room for your cat. Additionally, assess the wheel's design and stability to make sure it can handle your cat's movements without tipping over.
Noise Level
Cats are sensitive to noise, so choose a cat wheel that operates quietly. A noisy wheel may discourage your cat from using it or cause unnecessary stress. Noisy wheels can also make it difficult for you to sleep or focus on work. Look for wheels with smooth and quiet rotation mechanisms to ensure a pleasant and peaceful experience for both you and your cat.
Safety Features
Safety features are essential to prevent accidents or injuries. Look for a wheel with a high-traction running surface to prevent your cat from slipping off. Also, make sure there aren't any large gaps between the wheel and the base, otherwise, your cat's paw might get stuck. Some designs even come with a brake so you can keep the wheel steady whenever you don't want your cat running on it.
Durability
Look for a product made from high-quality materials that can withstand regular use from an energetic cat. Consider materials like durable wood or metal frames, along with high-traction running surfaces. Sturdy construction helps ensure that the wheel will last for years to come.
Maintenance
Consider the ease of assembly, disassembly, and cleaning. Choose a product that's easy to set up and doesn't require extensive tools or complicated instructions. A wheel with removable parts or smooth surfaces can simplify the cleaning process, ensuring proper hygiene for your cat.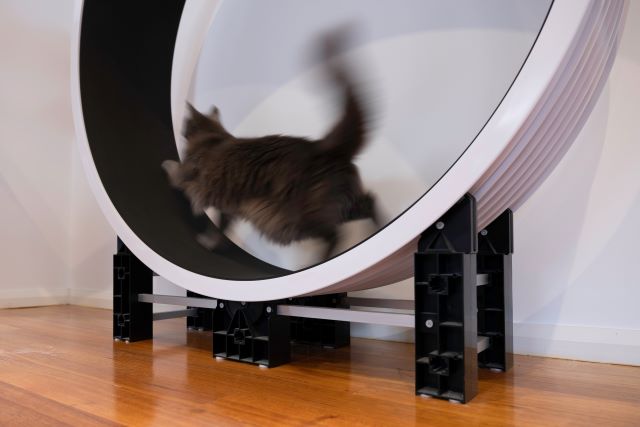 Best Cat Wheel Products
One Fast Cat Exercise Wheel is a popular and highly regarded cat wheel designed to provide feline companions with a fun and engaging exercise experience. When your cat starts running on it, the wheel will move with them. This item features sturdy and lightweight construction, making it easy to assemble and move around. The running surface is made of closed-cell EVA foam, offering excellent traction for cats to run and play on. Its large diameter and open design allow cats of various sizes to comfortably use the wheel, promoting their physical activity and mental stimulation. This product received positive feedback for its durability, smooth operation, and suitability for cats with high energy levels.
The Penn-Plax Exerciser Wheel has a 29.5-inch diameter and can hold cats up to 20 pounds. It has high-traction sisal carpet on both the interior and exterior so your cat won't slip when running and they can use the outside as a cat scratcher if needed. The wheel starts moving when your furry friend starts running on it, so it doesn't electricity. Thus, your cat can run as fast and as long as they want. It's easy to assemble, and whenever it gets dirty, you can spot-clean it with a damp cloth.
The COZIWOW Cat Exercise Wheel is a fantastic option for feline companions seeking fun and engaging exercise with no electricity needed. This product is built with sturdy and durable construction, designed to withstand the regular use and energetic play of cats. The wheel's interior has a high-traction surface to prevent cats from slipping. It features a large running surface and an open design, allowing cats of various sizes to comfortably run, walk, and play on the wheel. The wheel operates smoothly and quietly, minimizing any potential disturbances in your home. It even has a safety latch to lock the wheel in place when you don't want your cat using it.
This cat running wheel is an excellent way for your cat to get both physical and mental exercise. Whenever they need to get their energy out, they can hop on the wheel and run as much as needed. The wheel is made of sturdy wood with a carpeted interior to provide traction and prevent slipping. It rotates using a silent pulley design, so your cat won't distract you while they run. The track is wide enough to give your furry friend ample running space, and you can use the break to hold the wheel in place if needed.
The Penn-Plax Spin Kitty Cat Tree is a versatile and interactive cat tree that has an exercise wheel attached to it. The spinning perch rotates smoothly without electricity, so your cat can hop on and off it whenever they please. The wheel  has a 20-inch diameter and a high-traction carpet surface to prevent cats from slipping off. Plus, the cat tree has several cushioned surfaces for your cat to relax on, and the cushions are removable to make them easy to wash. This cat tree can safely hold cats up to 15 pounds, so it's best for smaller felines.
The Homegroove Cat Exercise Wheel comes in three sizes so you can ensure your cat has plenty of room to move. This wooden wheel rotates silently and smoothly. Plus, there are no spaces where your cat could accidentally pinch their feet, so it's safe to use. The interior of the wheel has high-traction carpeting to prevent your furry friend from slipping. It's easy to assemble and disassemble, and the carpet tread can be removed to replace or clean as much as needed. It has a weight capacity of 110 pounds, so you never have to worry about it breaking under your feline's weight.
The CYlively Cat Wheel Exerciser also doubles as a cat scratcher. If you have two cats, one can run on the wheel while the other scratches on the side. It features sturdy and durable construction, allowing cats to run and play to their heart's content. The large running surface provides ample space for cats of various sizes to comfortably exercise. It operates quietly, and it has high-traction carpet to prevent cats from slipping off while running. Additionally, the integrated cat scratcher serves as a designated area for your cat to scratch, promoting healthy scratching behavior and saving your furniture from potential damage. It even has a small storage shelf for cat toys.
With the Smart Hacks Cat Exercise Wheel, your cat is free to run as much as they desire. It's made of sturdy wood, and all the pieces are easy to assemble thanks to the instructional video online. The interior of the wheel has replaceable high-traction treads to prevent your cat from sliding off as they run. Its updated design has a smaller space between the base and roller to reduce the risk of your cat's paws getting pinched. The wheel even comes with a locking mechanism to hold it in place whenever you don't want your cat to use it. It's designed for cats up to 12 pounds.
The Pawhut Cat Exercise Wheel Treadmill is a fun product that's made with natural wood grain. This cat exercise wheel is durable and designed to withstand regular use and energetic play. The carpeted running surface provides ample space for cats to run, promoting physical activity and mental stimulation. This product operates smoothly and quietly, minimizing disturbances in your home. It's designed to accommodate cats of various sizes, allowing them to enjoy a comfortable and fun exercise experience. If you want to slow the speed, there's a break you can use.
Frequently Asked Questions
Why Should I Get a Cat Wheel?
Many cat parents get cat wheels because they provide a means for indoor cats to engage in much-needed physical exercise, improving their overall health and weight management. Additionally, cat wheels offer mental stimulation, helping alleviate boredom, reduce stress, and prevent behavioral problems that can arise from a sedentary lifestyle.
What Size Exercise Wheel Does My Cat Need?
The size of the exercise wheel your cat needs depends on their size and weight. As a general guideline, the wheel should have a diameter of at least 16-20 inches for smaller cats, and larger cats may require a diameter of 20-24 inches or more. Extra space is always better because then your cat won't feel cramped or restricted.
How Do I Train a Cat to Use an Exercise Wheel?
To train a cat to use an exercise wheel, start by placing treats or their favorite toys on or near the wheel to encourage exploration. Gradually move the treats closer to the wheel's running surface, enticing them to step onto it. Reward and praise your cat for any interaction with the wheel, and with patience and consistency, they should learn to associate it with positive experiences and start using it on their own.
Are Cat Exercise Wheels Noisy?
Cat exercise wheels can vary in noise levels depending on their design and construction. However, many cat wheels are designed to operate quietly, minimizing noise disturbances in your home. Look for models with smooth and silent mechanisms to ensure a peaceful experience for both you and your cat.
Can Multiple Cats Use a Cat Wheel at Once?
Yes, multiple cats can use a cat wheel at once, depending on the size and design of the wheel. Wider wheels are better for accommodating several cats. However, it's important to ensure that there's enough space for all the cats to comfortably and safely use the wheel.
Is it Easy to Clean a Cat Wheel?
Cleaning a cat wheel can vary depending on its design, but many cat wheels are built with ease of cleaning in mind. Look for cat wheels with smooth surfaces and removable parts that can be easily wiped down or washed. Regular maintenance such as removing fur and debris can help keep the cat wheel clean and hygienic for your feline friend.
Why are Cat Exercise Wheels Expensive?
Cat exercise wheels can be relatively expensive due to several factors. Firstly, the materials used in their construction, such as durable plastics, metal frames, and quality running surfaces, can contribute to the overall cost. Additionally, the engineering and design required to create a functional and safe cat wheel, along with potential research and development costs, can also contribute to the higher price point.
Final Thoughts
Cat wheels have become popular solutions for providing indoor cats with exercise and mental stimulation. All the products mentioned in this article are among the best options for your furry friends.
When choosing the best cat wheel, consider your cat's size, activity level, and personality to ensure the best fit. Reading customer reviews and researching specific product details will help you make an informed decision. With the right cat wheel, you can enhance your cat's well-being by promoting exercise and engaging their natural instincts in a safe and controlled environment.
[templatera id="3493224"]
iHeartCats is reader-supported. When you buy via links on our site, we may earn an affiliate commission at no extra cost to you.