iHeartCats is reader-supported. When you buy via links on our site, we may earn an affiliate commission at no extra cost to you.
The best cat trees are essential because cats are natural climbers and curious creatures. So, providing them with a dedicated space to exercise, relax, and explore is necessary for their physical and mental well-being. A cat tree is a versatile and engaging piece of furniture designed specifically for feline entertainment.
With an array of options available, it can be overwhelming to choose the best one for your beloved pet. Thus, in this article, we will guide you through the top cat trees available, ensuring your furry friend finds their purr-fect paradise.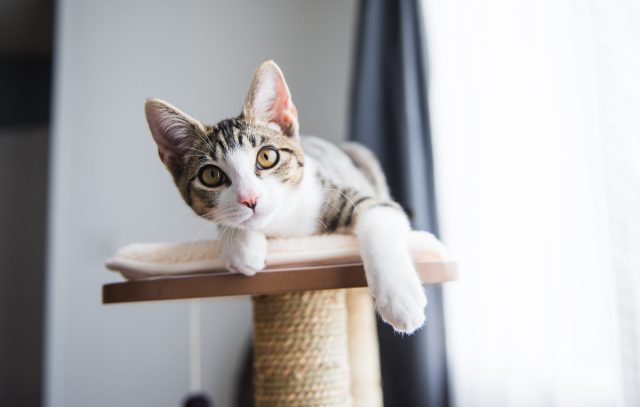 Buyer's Guide: Best Cat Trees
There are so many products to choose from, so consider the following aspects to help you find the perfect one for your feline companion.
Size and Space
Consider the height, width, and overall dimensions of the cat tree. Ensure it fits comfortably within your living area without causing obstructions or compromising the flow of foot traffic. Also, take into account the size and weight capacity of the perches and platforms to accommodate your cat.
Features
Think about what features your cat will like best. Some cats love to climb and jump while others prefer lower perches or cozy hideaways. Look for towers that offer multiple levels, platforms, perches, and hiding spots to cater to various activities. Interactive features like hanging toys, tunnels, hammocks, or scratching posts can enhance your cat's enjoyment and engagement. Scratching surfaces and attached toys are also important to many felines.
Durability
A cat tree must be stable and durable to withstand your cat's energetic activities. Look for products constructed with high-quality materials such as solid wood, sturdy PVC, or compressed wood. Ensure that the base is wide and solid to prevent tipping or wobbling during play. Scratching posts should be wrapped with durable materials like sisal rope to withstand frequent scratching.
Maintenance
Consider the ease of cleaning and maintenance. Look for options with removable and washable covers or cushions to keep them free from dirt or odors. Additionally, choose materials that are easy to wipe down, disinfect, and remove fur from, ensuring a clean and hygienic environment for your cat.
Style
While not a primary concern for your cat, the cat tree's design and aesthetics can complement your home decorations. Choose one that matches your style and blends seamlessly with your home's interior. Look for modern, classic, or whimsical designs based on your personal preferences.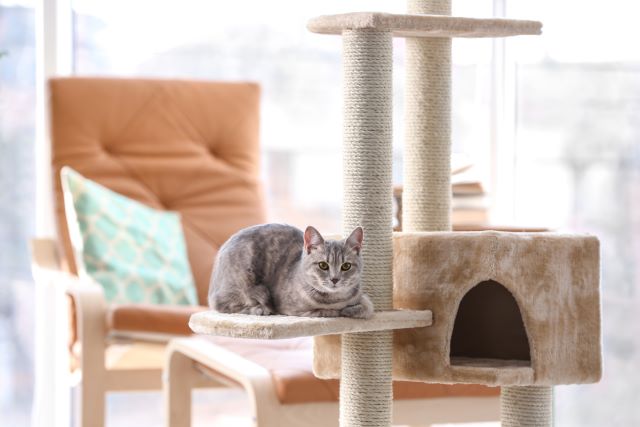 Best Cat Trees
Best Cat Trees for Multiple Cats
Also available at Petco
The Go Pet Club 72″ Premium Cat Tree Kitty Tower is a highly acclaimed cat tree that offers a paradise of play and relaxation for your feline companion. Standing tall at 72 inches, it provides ample space for climbing, jumping, and perching, satisfying your cat's instincts. With multiple levels, spacious platforms, cozy condos, and enticing scratching posts, this product offers endless entertainment and exercise opportunities. The sturdy construction, made of high-quality compressed wood and covered in soft faux fur, ensures durability and comfort. In a multi-cat household, all your furry friends can find a spot to rest on this tower.
The Vesper Cat Tree High Base is a sleek and stylish cat tree designed to seamlessly blend into modern home décor while providing a comfortable and engaging space for your feline friend. With its combination of wood and durable compressed cardboard, it offers a contemporary and visually appealing design. The elevated perches provide excellent views for your cat, while the included scratching posts and cubbyhole offer opportunities for play and relaxation. It even comes with memory foam cushions to ensure your cat feels comfortable on their new cat tree.
The Armarkat 72-Inch Cat Tree is a versatile option that provides a fantastic playground for your feline companion. With its impressive height and multi-level design, it offers ample space for climbing, jumping, and exploring. The tower is crafted from sturdy pressed wood and upholstered in soft faux fleece, ensuring both durability and comfort. It features multiple perches for your cat to relax and observe their surroundings, as well as a cozy condo for some private downtime and a relaxing hammock. The scratching posts wrapped in sisal rope cater to your cat's instincts while protecting your furniture.
The Amazon Basics Multi-Level Cat Tree is a simple and highly practical option for cat owners seeking a versatile and compact cat tree. With its multi-level design, it offers various platforms for climbing, perching, and observing. The product is constructed with a sturdy base and covered in soft carpeting, providing a cozy and comfortable area for your feline friend. It also features scratching posts covered in jute rope, promoting healthy scratching behaviors and saving your furniture from damage. The Amazon Basics Multi-Level Cat Tree is easy to assemble and suitable for smaller living spaces.
Best Cat Trees for Large Cats
The Feandrea Cat Tree Tower offers a wide range of activities for your feline companion. With its multi-level design and numerous platforms, it provides ample space for climbing, jumping, and perching. It comes in several sizes and colors with the largest size being spacious enough for even the chunkiest kitties. It has scratching posts for support to keep your feline entertained. When it needs to be cleaned, you can use a lint roller to easily remove excess fur. It comes with simple step-by-step instructions to ensure it ends up with proper durability.
The Tangkula Modern Wood Cat Tree is a unique and stylish tower that adds a touch of modern elegance to your home while providing a functional and comfortable space for your cat. Crafted with a combination of wood and plush fabric, this tower seamlessly blends into contemporary interior designs. Luckily, the cushions are removable and machine-washable. The design features six layers of platforms, several scratching posts, and a hiding spot. The sturdy construction ensures stability, even for large cats and multi-cat households.
Best Cute Cat Trees
The PAWZ Road Cat Cactus Cat Tower is a whimsical and eye-catching product that's shaped like a fuzzy cactus. It features several platforms and a hiding cave. There are also some sisal-wrapped scratching posts and interactive pom-poms to keep your cat's mind busy. The tower is covered in soft plush fabric, providing a cozy and comfortable space for your feline friend. This sturdy tower is not only a functional and entertaining cat tree but also a delightful piece of furniture that adds a dash of charm to any room.
The On2 Pets Cat Tree with Leaves is a unique and nature-inspired cat tree that brings the outdoors inside for your feline friend. Designed to resemble a tree with realistic-looking leaves, this cat tower creates an immersive and natural environment for your cat to enjoy. It features multiple levels and platforms for climbing, perching, and lounging. The tree branches are covered in carpet-like material, providing a comfortable surface for scratching and stretching. The lifelike leaves add an element of visual appeal while also offering a sense of privacy and security. There are three sizes available, and you can choose from a variety of leaf colors.
The Refined Feline Metropolitan Cat Condo is an elegant and luxurious option that combines style and functionality. This cat condo features a sleek design with clean lines and a modern aesthetic, making it a beautiful addition to any living space. It offers multiple levels and perches for your cat to climb, jump, and observe their surroundings. The condo is constructed with durable, high-quality steel. It also includes comfortable cushions that are removable and washable. If you're looking for a cute cat tree that fits in well with your furniture, this might be the option for you.
Best Cat Trees for Senior Cats
Also available at Petco
The TRIXIE Baza Senior Cat Tree with Hammock is a specially designed cat tree that caters to the needs of senior cats or those with limited mobility. It features a shorter design, making it easily accessible for older cats to climb and explore. It offers a comfortable hammock on the top where your cat can relax and rest. The sturdy scratching posts covered in sisal provide a satisfying surface for scratching and maintaining claw health. There are three designs available, all of which are short to benefit kittens and senior cats.
The New Cat Condos Triple Cat Perch is a fantastic cat tree option that offers three large perches and ample space for your feline friend to rest and play. All three levels are close to each other to make them easy for senior cats to access. The perches are covered in soft house-grade carpet, ensuring a cozy spot for your cat to relax. The solid wood construction ensures stability and durability, while the wide base provides added support. This product is a popular choice among cat owners who want to provide their cats with a compact yet versatile option that promotes both exercise and relaxation.
Frequently Asked Questions
What are the Benefits of a Cat Tree?
Cat trees provide a dedicated space for cats to climb, jump, and exercise, promoting physical activity and reducing boredom. They also help fulfill a cat's instincts by offering scratching surfaces, perches for observation, and cozy hideaways for relaxation, contributing to their overall well-being and contentment.
Are Cat Trees Suitable for Kittens?
Yes, cat trees can be suitable for kittens. However, it's important to choose one that's appropriate for their size and age, with lower platforms and easier climbing options. Supervision is also recommended to ensure your kitten's safety while using the cat tower.
How Long Do Cat Trees Last?
The lifespan of a cat tree can vary depending on factors such as its quality, materials used, and the level of usage. Generally, a well-built and durable cat tree can last for several years, providing a long-lasting and enjoyable space for your cat. Regular maintenance and care, such as cleaning and replacing worn-out parts, can help prolong its lifespan.
What is the Average Cost of a Cat Tree?
The average cost of a cat tree can vary depending on factors such as size, quality, design, and brand. On average, cat trees can range from $50 to $200, with some high-end models exceeding that range. It's important to consider your budget and the features you desire when determining the right product for your feline companion.
Can Cat Trees Get Wet?
While cat trees are generally not designed to be exposed to excessive moisture, occasional exposure to minor amounts of water, such as spills or light cleaning, should not cause significant damage. However, it's important to avoid prolonged exposure to water or soaking, as it can damage the materials and compromise the structural integrity of the product.
When Should You Replace a Cat Tree?
It's typically recommended to replace a cat tree when it shows signs of significant wear and tear, such as wobbling or instability, frayed or damaged scratching posts, or worn-out platforms or perches. Additionally, if your cat has outgrown the size or weight capacity of the cat tree, it may be time to upgrade to a larger and sturdier option. Regularly inspecting the cat tree and assessing its condition will help determine when it's time for a replacement to ensure the safety and enjoyment of your cat.
What Should I Do if My Cat Tree is Wobbly?
If your cat tree is wobbly, it's important to address the issue promptly to ensure your cat's safety. Start by checking the stability of the base and tightening any loose screws or bolts. If the wobbling persists, consider reinforcing the structure with additional support, such as brackets or anchors. If the wobbling cannot be resolved, it may be necessary to replace the cat tree to ensure your cat's safety.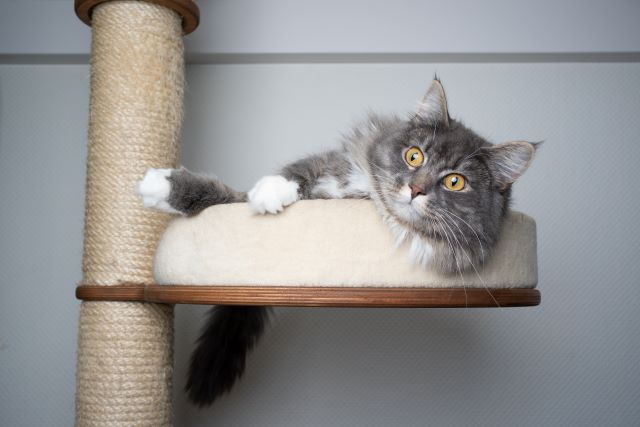 Final Thoughts
Cat trees offer a multitude of benefits, ranging from providing exercise and mental stimulation to offering a space for relaxation and retreat. By investing in a high-quality cat tree, you can enhance your feline friend's quality of life while also protecting your furniture from scratching. So, choose a tree that fits your four-legged family member's preferences and personality.
[templatera id="3493224"]
iHeartCats is reader-supported. When you buy via links on our site, we may earn an affiliate commission at no extra cost to you.