A Sphynx kitten named Lucy was born with a condition that affects her appearance. The tiny babe was diagnosed with hydrocephalus, a rare neurological condition caused by fluid build-up in her brain. The vet explained that the condition could kill her, but Lucy proved him wrong!
Kittens with this condition are often euthanized, but people rallied around her to fight for her life. Her biggest fan and champion: future mom Zilla Bergami. She fell in love with the kitten when she saw her photo online. When Lucy was finally cleared and went home with Zilla, the Cat-Mom was thrilled! However, taking on a kitten like Lucy wouldn't be easy.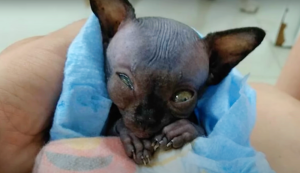 Even though Zilla researched Lucy's condition and set her up with a veterinarian specializing in neurological conditions, she still had a host of problems. After frequent vet visits, the kitty was put on a regime of medications and scheduled for eye surgery.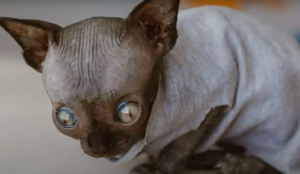 Despite her grave diagnosis, Lucy continues to thrive! She has fans across the world, with over 35k followers on Instagram. Thanks to her mom's unwavering strength, love, and faith, Lucy is living her best life! The video below is entitled: "This is the video that made my human mommy fall in love with me at first sight," and we're sure you'll see why! 
Please 'SHARE' to pass on this story to a friend or family member
Click 'SHARE' below to pass it on to a friend or family member!
Feature image courtesy of Just Live/YouTube