Kittens that become separated from their mothers before they are weaned have a very low rate of survival unless a surrogate steps in.
With this in mind, rescuers at the Pima Animal Care Center in Arizona have joined forces with the nearby Catalina Springs Memory Care facility to ensure that their most vulnerable kittens get the 24-hour care they need.
The inaugural feline cuties of the program are Peaches and Turtle who arrived at PACC in mid-October weighing just 7 ounces each. They were in need of round-the-clock feedings as well as lots of affection and socialization in order to grow and thrive.
Peaches and Turtle have gotten just that from the moment they arrived at the memory care facility.
Catalina Springs health service director, Rebecca Hamilton, is a veteran kitten foster mom herself. She proposed the idea of uniting the memory care patients with the kitties as a way to benefit everyone involved.
The kittens obviously get the physical love and nurturing that they need, but what the seniors at Catalina Springs receive in return is something far greater – they get to feel needed again. Most of them have had the role of parent, grandparent and/or pet owner throughout their lives, so caring for the kitties comes naturally.
According to Catalina Springs Executive Director Sharon Mercer, the simple pleasure of caring for another living being is something that even dementia and Alzheimers cannot rob from a person.
"The desire to give love and receive love remains. The kittens have given us the opportunity to nurture this human condition that lies in each and every one of our residents."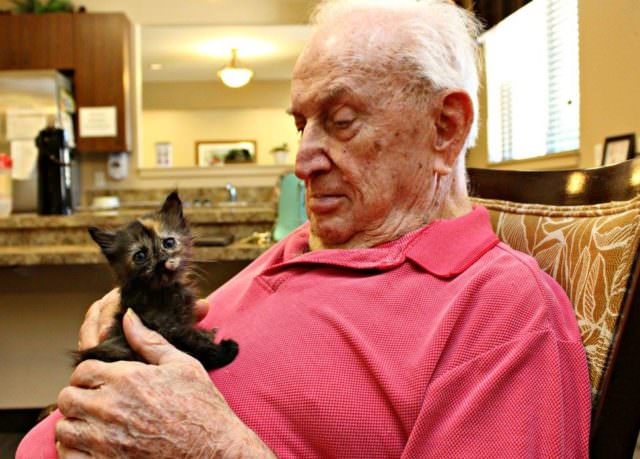 Both PACC and the Board of Directors for Catalina Springs Memory Care were excited about the potential of the new program, but no one could have predicted just how successful it would turn out to be.
Peaches and Turtle have nearly doubled in weight, and thanks to a constant supply of cuddles from their caretakers, they have become well-socialized and outgoing!
Soon they will be ready to return to Pima Animal Care to be spayed and adopted out. For one of the kitties, the issue of an adoptive home has already been solved. A nurse at Catalina Springs fell in love during the pair's time at the facility and has already submitted an adoption application.
Based on the adorable photos, the other cutie should be snapped up in no time, too!
Karen Hollish, a spokesperson for Catalina Springs Memory Care, expressed her desire to see the program continue on. She feels that it has been incredibly beneficial to the patients, vital to the kittens, and rewarding for the staff. With PACC taking in more than 2,100 kittens in 2015 alone, that wish shouldn't be hard to fulfill!
"This partnership is an amazing way to enrich the lives of the memory care center's residents while saving the lives of our community's most vulnerable pets."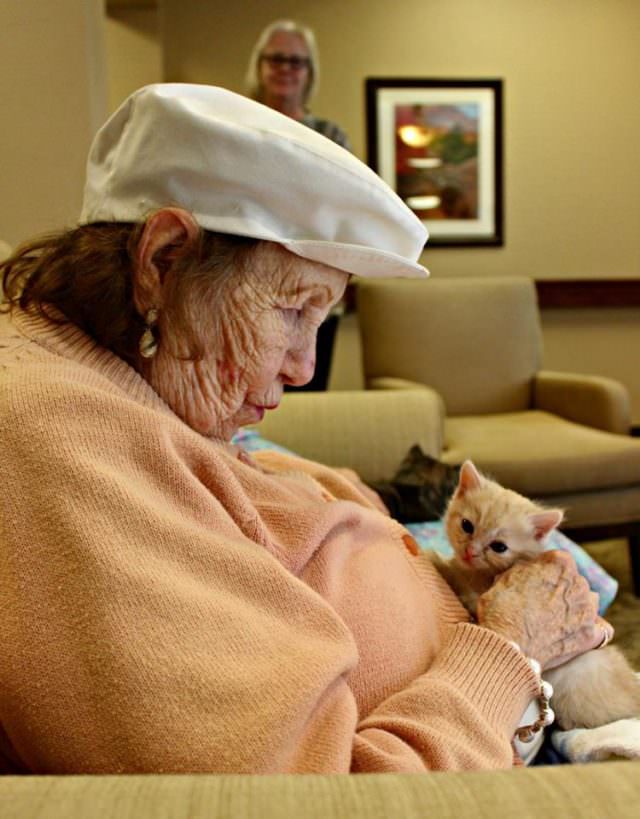 There was a time when PACC simply did not have the resources or man-power to accommodate all of the bottle-babies in need of their care. Thanks to programs such as this, more kittens will now have the chance to grow up and become loving family pets.
H/T to ShelterMe.tv