Whoa! Is there a cat under all that hair?
Turns out there was an adorable and sweet-natured loved bug of a cat under all that matting!
Fluffer the cat came into the care of the emergency staff at the Arizona Humane Society after they received a call about cat in need. But when rescue workers arrived to help the cat, they found a huge wad of hair with legs they couldn't verify as a feline. Transferred to Arizona Humane Society's Second Chance Animal Trauma Hospital, the mystery critter underwent a major haircut.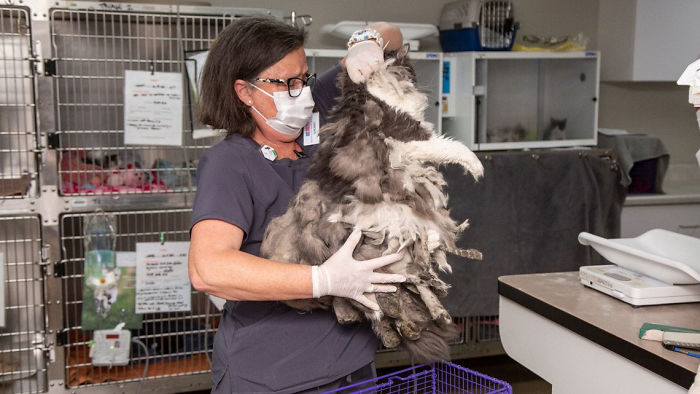 Arizona Humane Society via Bored Panda
Once the clippers were taken to the unidentified fur ball, shaving away 2lbs. of matted hair, Fluffer the cat was revealed.
Arizona Humane Society emergency animal medical technician, Julie Bolchalk, said, "I have seen some rather horrific cases in my time rescuing animals, but had never seen matting this bad – they were larger than her entire body."
It took over an hour to remove the excess fur and was likely painful at times for the four-year-0ld cat, but Fluffer behaved like a lady through the whole process. "She was very sweet and got groomed without having to be sedated which is a miracle."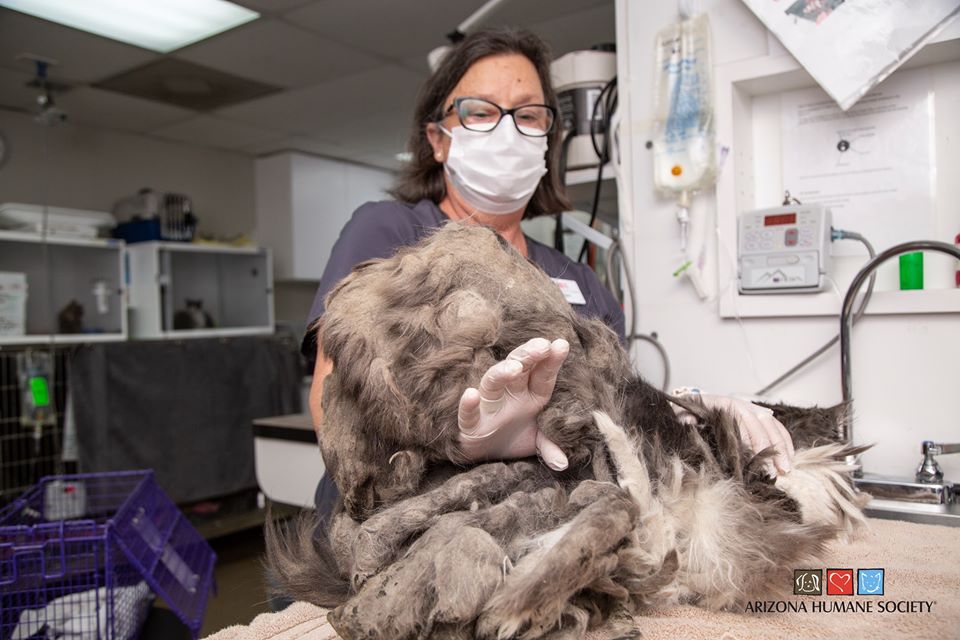 Arizona Humane Society/Facebook
In spite of her whole world changing in a short time, Fluffer understood the kind souls were helping her after she lost her human companion and the happy home she once had.
A Loving Home Lost
It's hard not to get angry when cat lovers see a kitty in such a terrible state. But Fluffer's story is a sad one of love lost, not one of cruelty. The AHS shared, "Sadly, Fluffer was rescued when her owner passed away so in this case, charges were not filed. It's a sad situation all around."
But Fluffer wouldn't be long without a home!

Arizona Humane Society/Facebook
After having the 2lbs. of fur shaved from her 8lbs. body and a look over to confirm her otherwise good health, Fluffer was ready for adoption. And with her soulful yellow eyes and face so sweet, Fluffer was snapped up in a hurry. AHS posted the good news, reporting, "She was adopted just two days later!"
Fluffer finding her new forever home so quickly came as no surprise.  AHS Public Relations Manager Bretta Nelson told Bored Panda, "She is an absolute sweetheart."

Arizona Humane Society/Facebook
After her extreme makeover and the loss of her person, Fluffer has moved in with her family, ready to remember happiness and love.
H/T: www.people.com
Feature Image: Arizona Humane Society/Facebook