This year's Global Pet Expo, a top industry trade show in Orlando, Florida, saw the launching of many extraordinary cat products that we just can't wait to get our claws on! Check out some of these new products and get ready to spend your entire tax return on your cat. Have some favorites? Tell us in the comments which product(s) you want most!
#1 – SmartScoop Litter Box
This litter box is brand new from OurPets and is hailed as an "Intelligent Litter Box." Why? Check out some of its features:
Uses infrared technology and BlueTooth™ to detect when the cat enters and leaves the litterbox and to engage the scoop mechanism
Monitors and relays pet behavior, frequency and duration in the litter box, providing invaluable diagnostic information
Cleans and maintains itself
Connects with any smartphone to enable powerful and insightful monitoring functions
(Available in May.)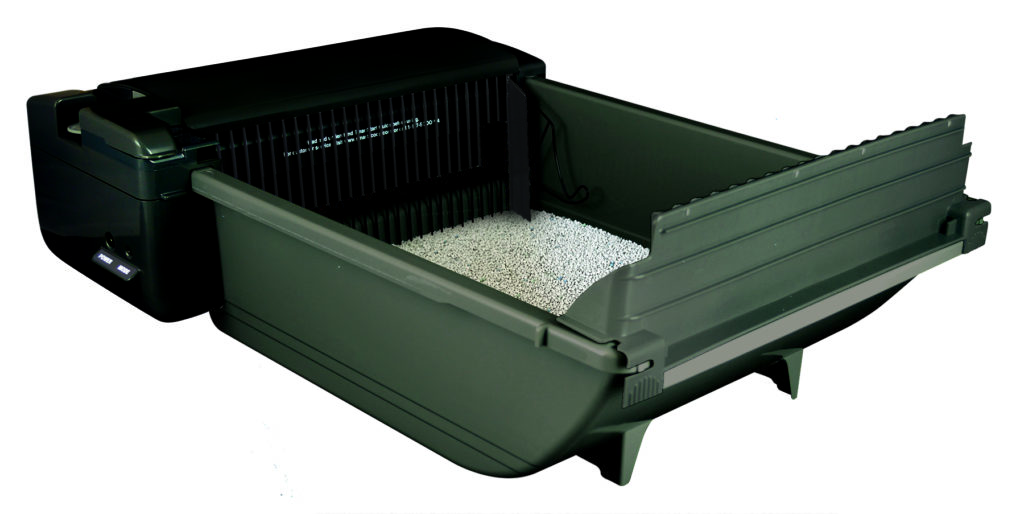 #2 – Vesper Cat Furniture
Hagen debuted a new line of cat furniture called Vesper. The line merges the needs of your cat for daily activity and comfort with your need for style. The bases come in three colors – black, red and walnut – and each piece is made with high-quality, real wood, memory foam, seaweed scratching poles, and various other fabric accents. Be prepared to toss out your old carpet trees – these are stunning!
#3 – Cats Incredible Superkittykattakalizmik Klumping Litter For Cats
Ridiculously long name aside, this litter just might be a game changer if it works half as well as they are claiming. Lucy Pet Products says the litter has "smell squasher" technology that stops ammonia from forming in the litter box. It also has almost no dust and is low tracking. It will come in unscented and calming lavender. Coming soon.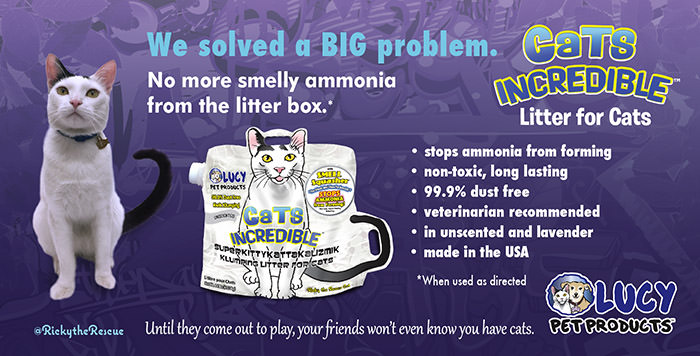 #4 –  Dr. Catsby's Bowl For Whisker Relief
This bowl was created to help solve the real reason some cats don't eat all their food…it's not the food, it's the bowl! Cat's whiskers are very sensitive, as they use them to tell important things like whether they can fit through a small space. So, imagine all those "sensors" pushed up against a bowl the entire time they are eating? Yikes! No wonder some cats just refuse to eat or try to scoop their food out of the bowl. This new product solves this problem and will make your kitty very happy. Available now.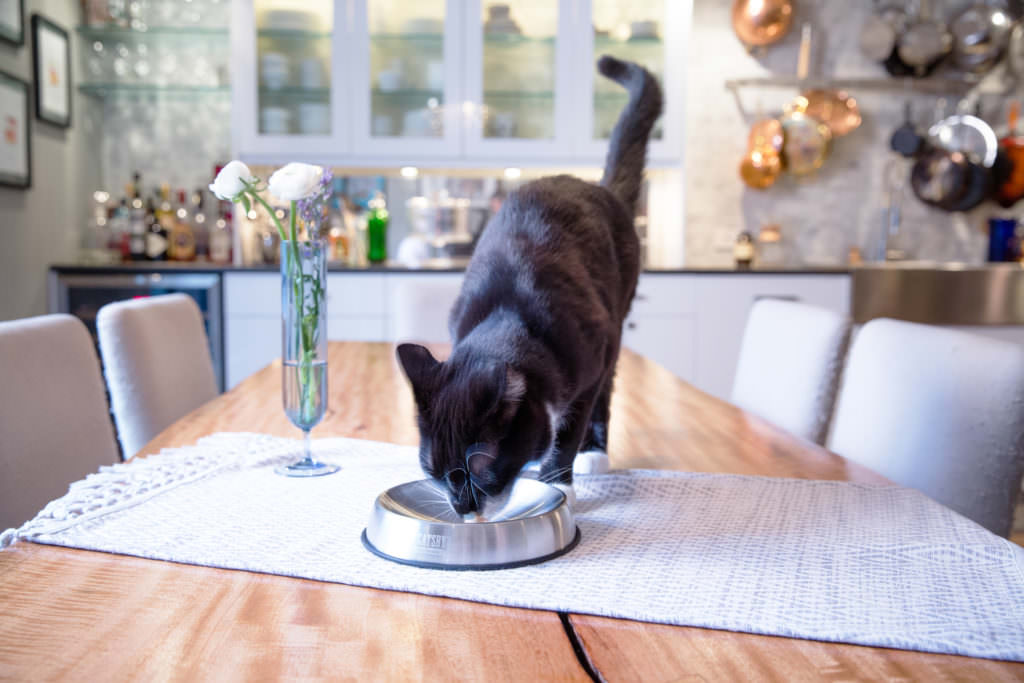 #5 – Kitty Kasas
Besides the adorable cute and clever name, these cat cubes are going to be the next craze, we just know it. Made from tough, non-toxic Low Density Polyethylene that is easily cleaned and disinfected, the Kasas can be stacked in a wide variety of stable combinations. Three modules are currently available, with a fourth coming out later this year:
Bedroom (for sleeping and hiding, of course), includes a comfy pillow with washable pillow case
Recreation module, with a fun design and a dangling sisal mouse toy
Gym, featuring a tough wound – sisal scratching post that cats absolutely love
Kitchen – coming later this year! Includes food and water bowls that can be inserted into a stable, spill preventing frame and a dry-food storage container – all in one handy cube
#6 – Kitty Potty
Another litter box from OurPets, this one caters to your cat's natural elimination instincts. The company also says it's great as a training tool for kittens learning to use the litter box. It's got some really cool features! Felines deposit waste in a hole, strategically placed in the middle of the unit. Surrounding the hole is litter which allows the cat to instinctively cover, but never touch its waste, ensuring that bacteria will not be tracked through the home. Pet owners do not have to come in contact with waste either. When the waste tray is full, simply remove the tray, slide the bag over the waste and toss for an easy no-touch cleanup. It makes waste unreachable to other pets, eliminating dog coprophagia.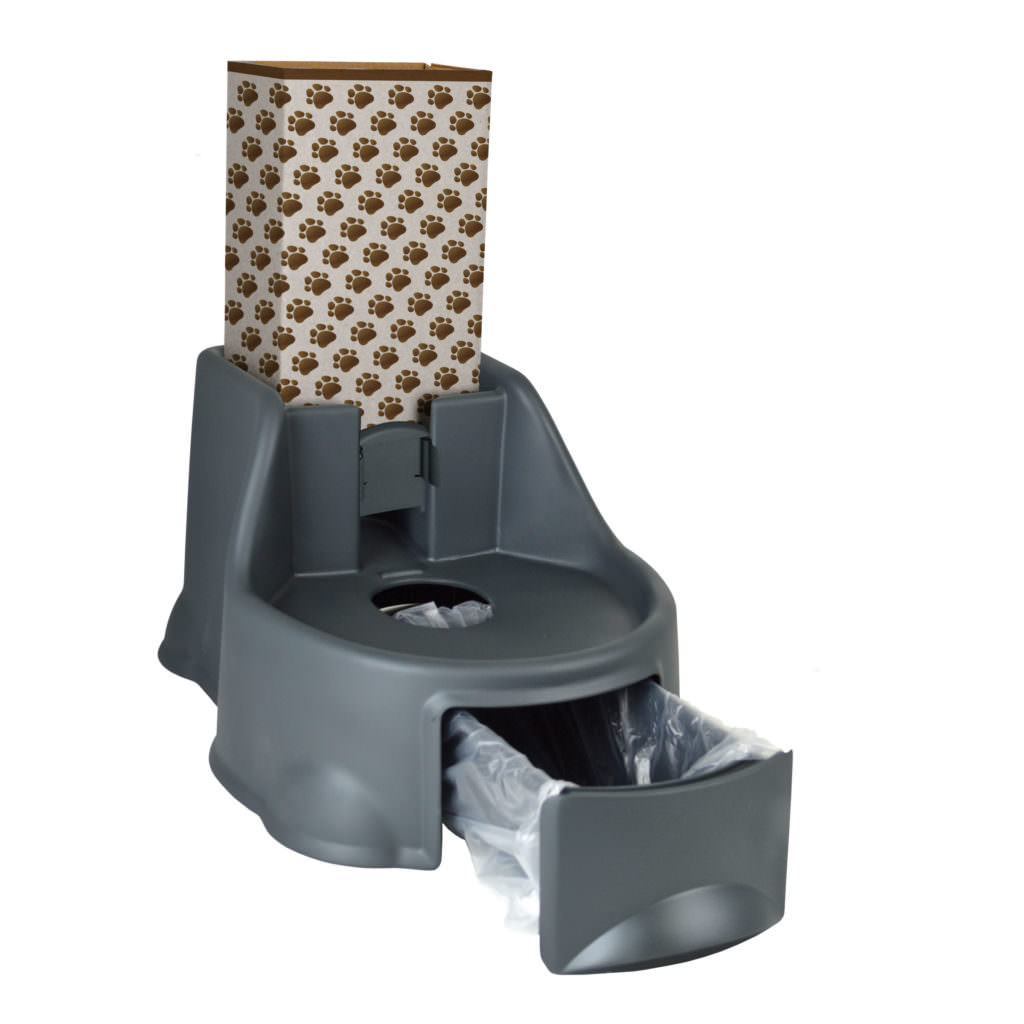 #7 – Outta My Box Chew
This new product from NaturVet is for multi-species households that have trouble with dogs eating at the "kitty buffet." Simply give their oral chews to both canines and felines to deter your dog from wanting to snack on kitty's waste. How does it work? According to the company:
Our veterinarian-formulated and patent pending ProBioStrive contains natural active ingredients to provide a dual action process.
For Dogs: provides key ingredients to help your dog lose the cravings for cat stools while helping to maintain optimal GI balance.
For Cats: helps reduce the stool odors making the feces in the litter box less desirable to dogs.
For use in dogs and cats over the age of 12 weeks.
(Must be given to both dog and cat.)