Cats love to play, and sometimes those luxury cat toys and loungers can be out of budget and not realistic. Here's a list of 15 new cat products that your cat will not only love, but will also keep them endlessly entertained!
#1 – SuperCat Kitty Condo
The SuperCat™ Cat Condo is a customizable system that allows pet parents to create their own kitty condos. "Huts" and "tubes" fit together to create play areas of any shape and size. Its lightweight construction is easy to move, and offers a more affordable option than most cat trees. As soon as kitty is tired of the configuration, simply build a new one!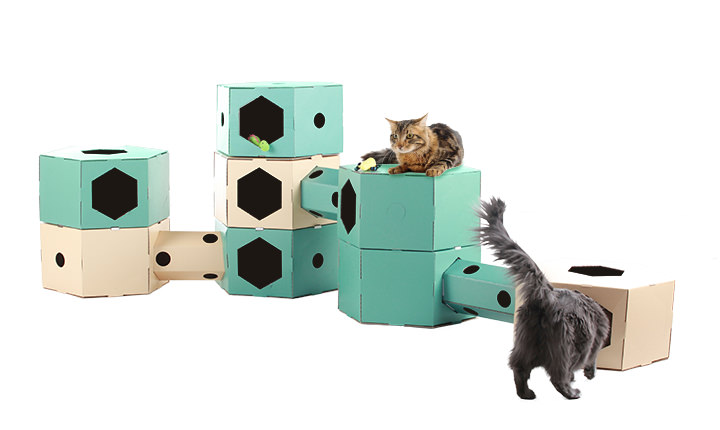 #2 – PawPack
Each month your kitty will get a box of a goodies, focused on preventing boredom. All products will be organic, all-natural or eco-friendly.
#3 – Snacky Mouse
The new Temptations Snacky Mouse Toy provides cats with an interactive bottom-weighted, mouse-shaped wobble toy designed to dispense Temptations treats as cats bat, bobble and play with it – turning playtime into an irresistible (and delicious) game of cat vs. mouse.
Related: 8 Best Self Cleaning Litter Boxes for Cats
Click page 2 below for the next products!
#4 – Catty Whack
The Catty Whack was designed to eliminate kitty boredom by exercising cats' innate need to stalk and chase. The toy is electronic and consists of a plastic base with "mouse holes." Once switched on, a feather wand dashes and darts in and out of the holes. The wand was designed to mimic the movement of prey in the wild, stimulating a cat's hunting instincts. To make the toy even more irresistible, the toy features our electronic RealMouse™ sound, which piques kitty's interest by making a sound just like that of a mouse in the wild. Available August 2015.
#5 –  Arty Cat Scratcher
Not your ordinary scratcher, this one is a unique 2-in-1 piece with multiple scratching surfaces and alluring curves that will captivate even the most finicky of furry felines. This versatile scratcher separates into two pieces and can be used together or apart to deliver more than one scratching outlet or lounging pad in your home.
#6 – Vesper V-Line Furniture
This new line of cat trees are not only sleek, but they are designed to encourage your cat to play, lounge, scratch and climb. They offer a combination of cozy cubes, platforms and tunnels, and strategically placed scratching areas to provide comfort and play time for cats of all sizes and ages.
#7 –  FroliCat POUNCE
POUNCE is an automatic, rotating, hide-and-seek cat toy. Marshal Maus™ is an electronic mouse who zips around the circular path, zooming forward, reversing direction, hiding under obstacles, and occasionally twitching back and forth. The unpredictable movement stimulates your cat's natural instinct to hunt, chase, and pounce on prey.
#8 – Kitty Play Zone
Kitty Play Zone is a cardboard playhouse and feeding station for kittens and cats. Kitty Play Zone's unique design with internal climbing tower, loft area, and roof opening promote fun interaction and play time with your pet. The included stainless steel bowls fit into bowl pockets providing a semi private feeding area.
#9 – Purr & Pounce Cat Tunnel
P.L.A.Y.'s Purr & Pounce Cat Tunnel is the purrfect combination of fun and luxury. Your kitty will melt in comfort in the super soft plush interior that is made with the same luxurious fabric as our award winning Snuggle Beds. Bored from napping? The crinkle paper lining will captivate the most curious of kitties and whimsical peep-hole is great for spying on humans and the plush mouse toy with a hidden pouch for catnip is sure to entertain your furry feline.
#10 – Kitty Ice Cream Truck
After noticing a lack of aesthetically pleasing large, illustrated toys for cats in the marketplace, Måns began crafting and selling stylish taco and ice cream trucks made out of cardboard. You can even request a custom license plate! Each truck is made in Brooklyn out of non-toxic, food-grade materials that are both recyclable and biodegradable.
#11 – PetziConnect
PetziConnect is a super fun device that seamlessly connects to the home's Wi-Fi and allows cat owners to ('see') video, ("treat") dispense treats, ('speak to') audio and ('snap') take pictures & videos of their  furry feline friends remotely using any internet enabled smart device.
#12 – Bergen Turbo Grooming Arch
This arch provides your kitty with grooming, scratching and playing all in one place. With a replaceable scratcher and toy, it's a great buy.
#13 – Super CatnIp Caves
It may look like an ordinary bag, but it's microencapsulated with catnip scent! The scented "bubbles" will burst your cat scratches, rubs, or crumples the bag, enticing them to play more.
#14 – Jackie
This is a brand new product about to launch on Kickstarter. It's a flying indoor camera/audio platform. One use is that it can be a pet communicator..that flies. You can say hi to Kitty when you're at work by pulling out your phone during a lull in the work whatever, or fly around and see where Kitty is! Find out more on their website.
#15 – Pet Wheels
Although not super new, we had to include them because they are just too cool! These are a great invention that can help your housecat get the exercise they need. Just like a hamster wheel, only bigger.