As the weather gets colder you may be thinking about getting your kitty a new snuggle bed to keep her toasty when your lap is not readily available. These amazing felted cat condos not only do the trick where warmth is concerned, but they make a cool décor piece in your home. Tired of the same old "cuddle cubes" and donut beds? Try one of these!
#1 – Nordic Cat Cave
This amazing cat condo from a talented Etsy artist "FeltField" is purrfect for any cat and fits in with a whimsical décor. Plus, it will definitely keep your cat toasty! Etsy.com 
#2 – Orange Cat Cave
Orange is a wonderful fall color, and this cat cave has several lovely shades blended together for the perfect fall cat house. Another creation by "FeltField," it's a beautiful addition to any home. Etsy.com 
#3 – Fairy Cat Cave
If you are looking for something that is truly from a fairy tale, this cute cat condo IS IT! It looks just like a little fairy or "Tomten" house, complete with a fringed roof and windows! This is another amazing home from "FeltField." Etsy.com
#4 – Rock Cave
This unusual cat cave looks like something out of a sci-fi movie…or maybe the bottom of the ocean? The neutral grays and browns in this cat cave makes it easy to match with any décor. Also created by "FeltField." Etsy.com 
#5 – Flower Cat Cave
This is one of my personal favorites – so cute! Perfect for a garden themed room or as focal point in a neutral room. Made by the talented "FeltForCat" on Etsy.com 
#6 – Orchid Cave
Last year's Pantone color of the year was "radiant orchid" and this cat cave is a beautiful example of how timeless that color is. This stunning cat cave would look good in any room. Made by "FeltForCats" on Etsy.com. 
#7 –  Cat Cave
How cute is this?! A cat cave with cat ears! Coming in a nice neutral grey and white, this cat cave goes with any decor and will keep your kitty warm and happy. From "AgnesFelt" on Etsy.com.
#8 – Tree Cave
This cat condo has a large presence, great for being a statement piece in your room as well as a snuggly bed for your cat. It's sturdy enough you cat can actually climb up it! From "AngesFelt" on Etsy.com.
#9 – Watermelon Cave
Dreaming of summer in winter? This cat cave gives you the feeling of warm summer days all year long with it's adorable watermelon design. From "TirliTirli" on Etsy.com.
#10 – Drop Cave
These simple caves add just a touch of whimsy to your room, without going "overboard." You can choose almost any color imaginable to match your existing palette or to add a pop of color. From "WoolyCatCaves" on Etsy.com.
#11 – Monster Cave
This is the purrfect cat cave to put in a child's room or to have out for Halloween – it's frighteningly cute! Made by "Marywool" on Etsy.com.
#12 –  Modern Cave
This elegant white cat cave fits in well with more sophisticated décor (we can't say the same for those cheap donut beds…). Made by "CatPetBed" on Etsy.com.
#13 – Sapphire Blue Cave
The color on this cat cave is simply stunning! Vibrant blue with flower detailing will POP in any room! If you need some color in your room, this is it! Made by "WoolDryerBallCom" on Etsy.com.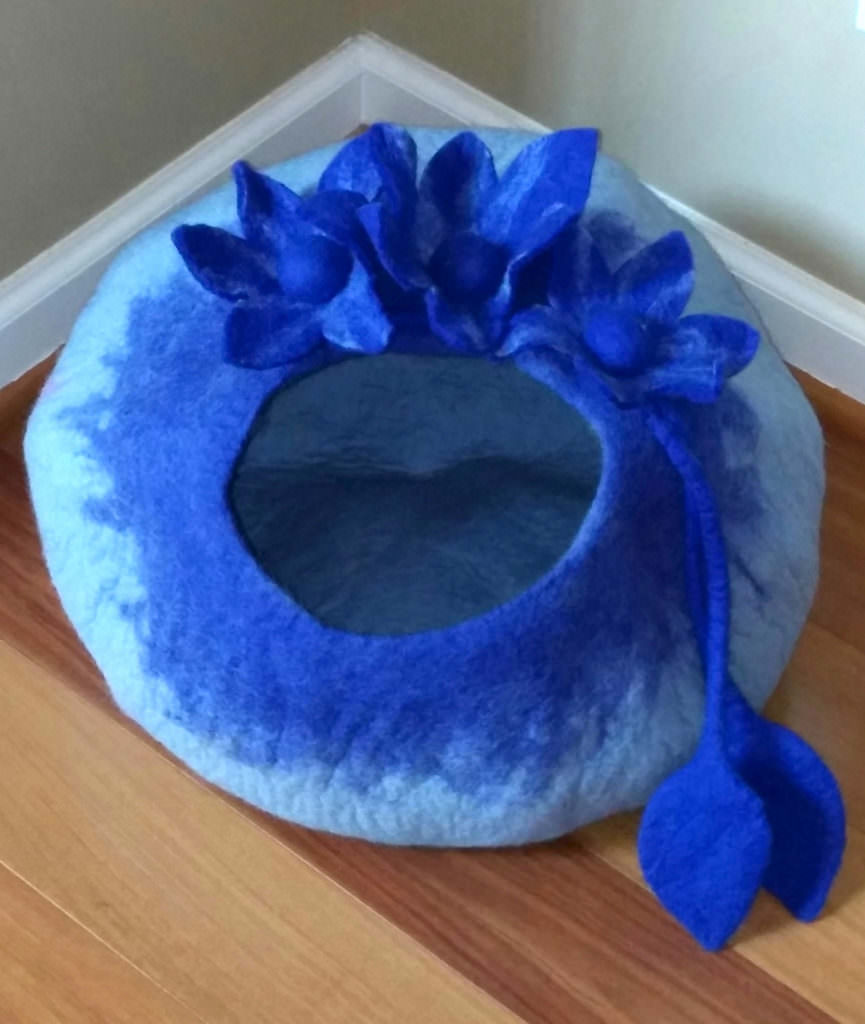 #14 – Shoe Cave
This cat cave adds a touch of whimsy to a room and comes in several "natural" shades to go with any décor. It's so cute, your child will probably want to play with it too! They will even put your kitty's initial on it if you wish.  Made by "DreamPaws" on Etsy.com.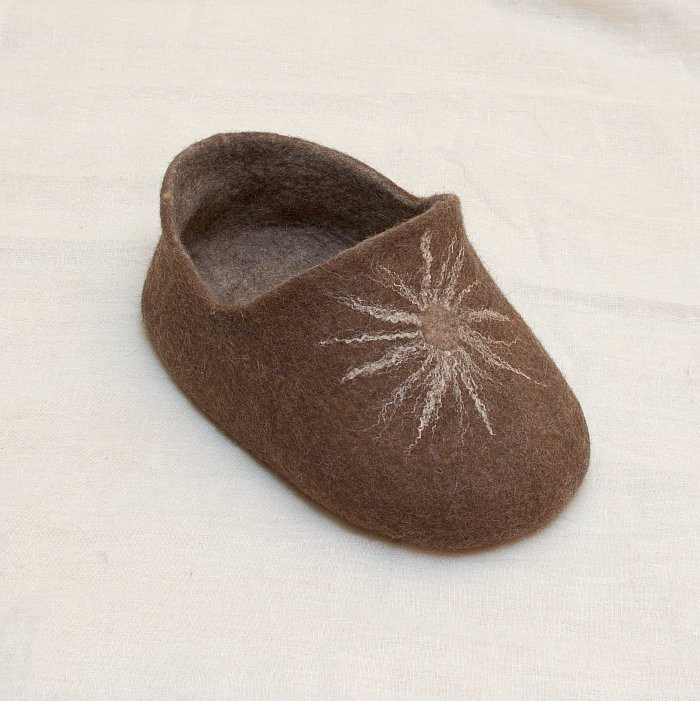 #15 – DIY Tutorial
If you want to try you hand at making a custom felted cat bed for your kitty, then check out this tutorial for sale on Etsy. Then, you can choose the colors and style that best matches your home and your cat's personality. Made by "FeltingTutorials" on Etsy.com.