Looking for a new use for that old suitcase or table lying around the house? Why not turn it into a cat bed with these 10 functional upcycled cat beds that look cool too.
#1 – Computer
This fun cat bed is made from the frame of an old Apple® iMac Computer. The vibrant color makes it even more stylish.
#2 – Milk Crate
This bed is purrfect for those looking for a more rustic feel. It's made from an upcycled wooden crate and a pillow.
#3 – TV
We all love those old vintage TVs, but they have no use….until now! This cool cat is lounging in the tube and rockin' it!
#4 – Raised Suitcase
This fun bed is made from one half of a vintage suitcase, given legs and a pillow. The nice thing about these beds is you have lots of options since old suitcases come in a variety of colors and styles.
#5 – Wine Barrel
This funky cat bed is made from an old wine barrel. Even if you are not a drinker, it just looks cool.
#6 – Paper
Yup, this talented Etsy crafter upcycled paper, sealed it, and made a cool cat bed. Complete with a mouse toy.
#7 – Drawer
Ever have an old dresser that's ruined or not in use but you love the style of the drawers? Turn them into cat beds! This one made by a talented Etsy artist even has room for a dish and toys!
#8 – Bunk Trunk Beds
Have more than one kitty? This creative design uses two sizes of upcycled vintage suitcases, along with old chair legs and pillows, to create bunk beds for your kitties.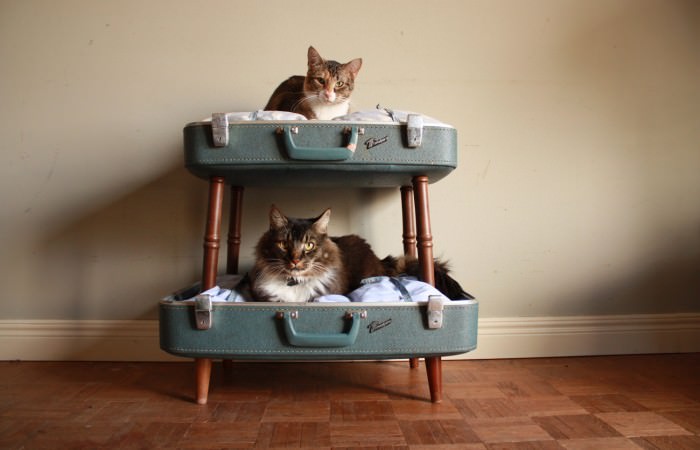 #9 – Sweater
Here is a warm and snuggly cat bed made from your old, worn out or out-grown sweaters. Your cat will love it even more because it will smell like you. This is also something you could make and donate to a cat shelter.
#10 – Coke Crate
All those old wooden crates are so cool, but there just wasn't any use for them, until some smart person came up with the idea of upcycling them into cat beds. This bed is bright and cheery and would be adorable in a play room or kitchen.