Bored Kitty? Looking for something he can do but don't want to spend any money? Never fear! You have 10 fun, exciting items right in your house – you just have to look!
#1 – Paper Bag
There is something about this cavernous, crinkly thing that just makes cats happy. Lay a few down on their sides, and you cat will play for hours; sprinkle some catnip in them for an extra treat.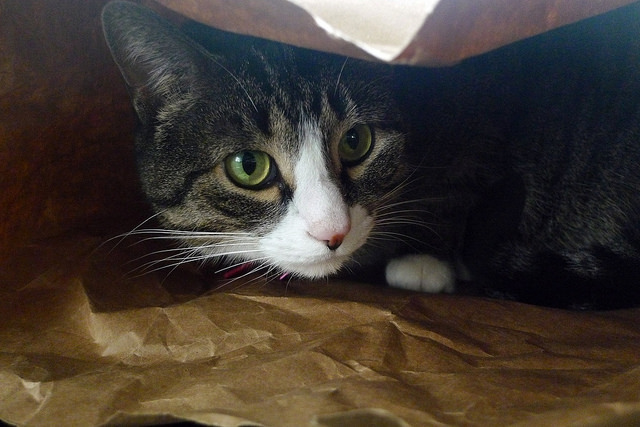 #2 – Boxes
Nothing entertains a cat more than getting to jump inside a box and play the "I can see you but you can't see me" game. You can also put something heavy in the bottom, tape them up, and create a cat tree you can re-arrange whenever you want.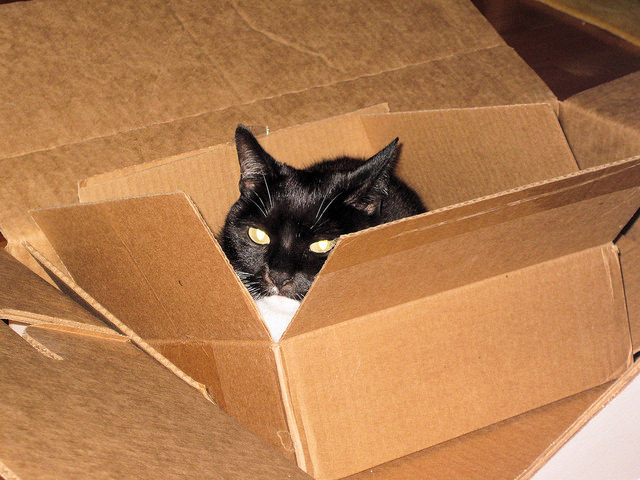 #3 – Suitcase
In the absence of a box, suitcases are a great hiding toy for kitties. Whether it's a hard case, duffle, or overnight bag, your kitty will love to jump in and hide. Add some clothes or towels for extra softness.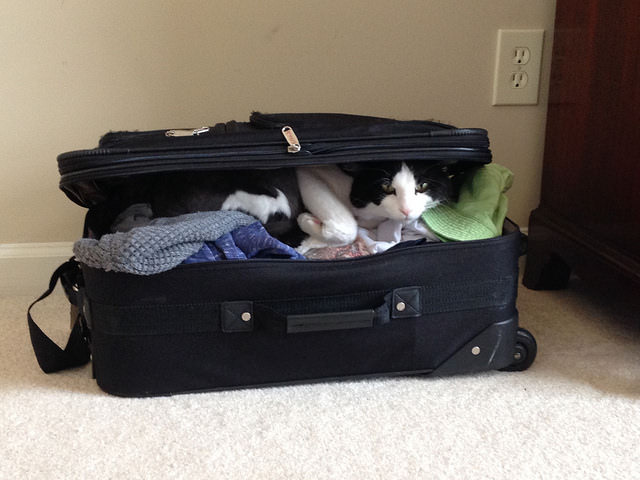 #4 – Reusable Shopping Bags
Gone green and no longer have paper bags lying around? No worries! Your kitty would be just as happy to lay inside a reusable shopping bag. They aren't as crinkly, so if that's what your cat likes, you can put the shopping bag onto of some newspaper or magazine pages for added sound.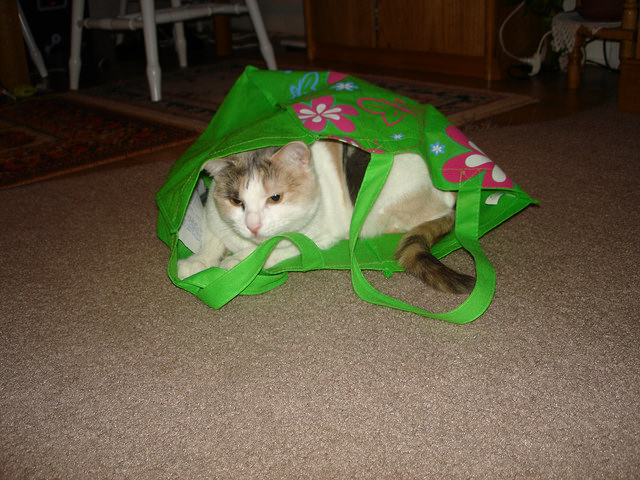 #5 – Ice cubes
Although commonly thought of as a "dog thing," in the hot summer a lot of cats will find amusement sliding an ice cube around the floor. For a special treat, freeze catnip, chicken broth, or fish oil in the ice cubes; just make sure you label them as "Kitty Cubes"!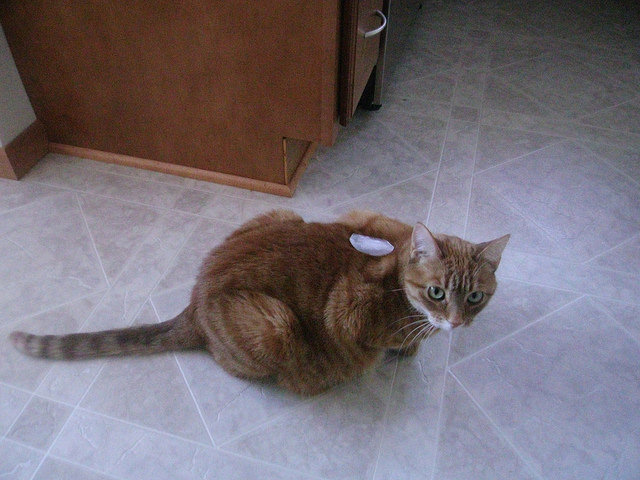 #6 -Laundry basket
Of course, cats like to sit in a laundry basket, especially if there are clean, warm clothes in them. But, baskets are even more fun turned upside down with a ball underneath. Cats can spend hours trying to get the ball out from under the basket—sticking their paws through the holes and pushing it around.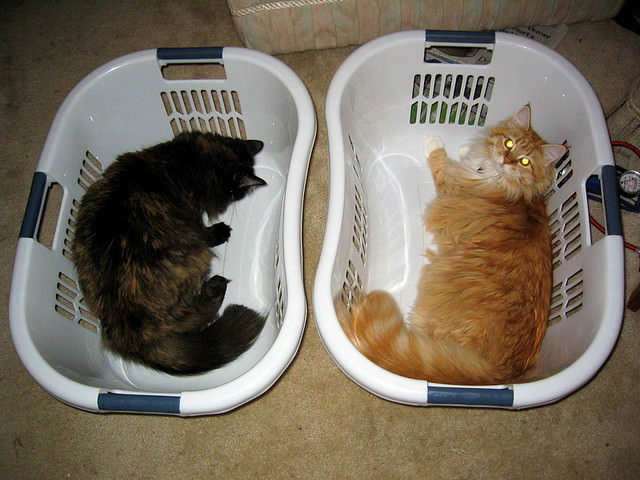 #7 – Plastic Bottles
Another item commonly thought of as a dog toy, but cats love to paw things around and the little plastic bottles from individual drinks are great. For added fun, fill it with sand or small rocks and then glue the cap on.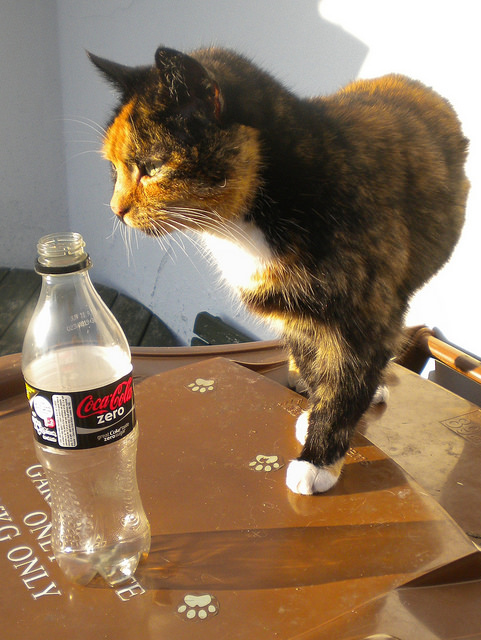 #8 – Blanket Tunnel
We all know cats love to hide in dark places. Make a fun feline fort using furniture and blankets. For example, build a tunnel by putting a blanket over the gap between your coffee table and couch or pushing dining room table chairs together and cover with blankets.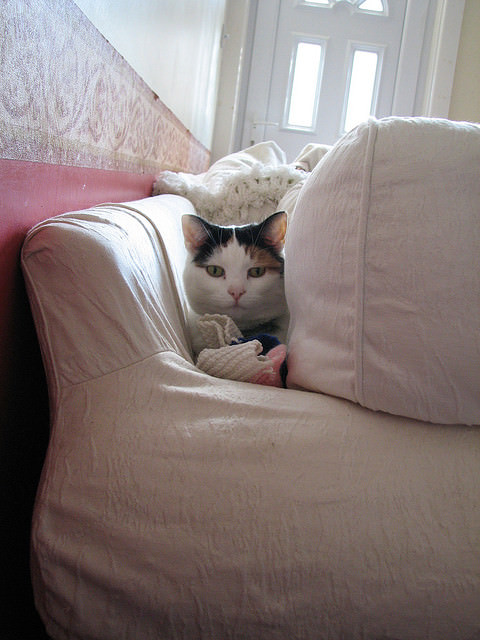 #9 – Paper Tubes
Whether it's a toilet paper roll tube, paper towels, or even wrapping paper, these rolling cylinders are fun for cats to play with. You can add some fun by cutting small holes big enough for your cat's kibble or treats to fit in, fill with some treats, then tape ends closed. It won't roll as well, making it even more challenging for your kitty to get the food out.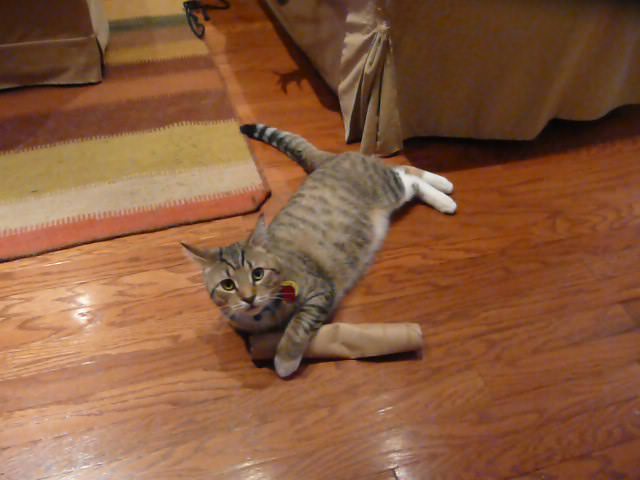 #10 – Dominos
Nothing like playing a game of Dominos with your cat! Set them up and let her knock them down. It's quite entertaining for both human and feline.