More and more pet owners are opting to take their pets with them when they travel. Not only are boarding rates getting expensive, many people don't feel that they can trust a random pet sitter to take over their beloved cat's care while they're away. Fortunately, the rise in pet ownership and travel has brought some large hotel chains to accept pets. Here's a list of places your cat is welcome to stay with you.
#1 – Best Western
Best Western is one of the largest hotel chains around the globe with over 4,000 locations worldwide. They pride themselves in being pet-friendly and even have a helpful information about traveling with pets on their website. For more information about bringing your cat to stay with you at a Best Western, visit their page here.
Click page 2 below for the next hotel!
#2 – Motel 6
Motel 6 was the first pet-friendly hotel chain in the United States and they make traveling with your cat a breeze. They offer a very low pet fee to make your trip as cost effective as possible and all service animals stay for free. For more information about Motel 6's pet policy, visit their website here.
#3 – Radisson
The Radisson allows cats in many of their locations, but the policy varies depending on where you're staying. It's important to check with your location's pet policy to make sure you have everything you need in order for an easy, comfortable stay for you and your feline friendk. Because they don't have a company-wide standardized policy, we don't want you getting stuck unable to check in to your room!
#4 – La Quinta Inn & Suites
La Quinta Inn & Suites has a very simple pet policy and welcomes cats of all shapes and sizes. They do require a small pet fee, but generally have very relaxed rules regarding well-behaved kitties. To view their pet policy, visit their website here.
#5 – Red Roof Inn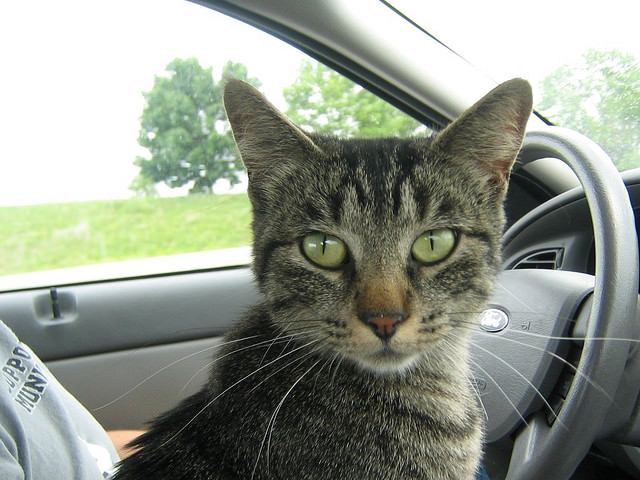 Red Roof Inns allow pets but the policy varies depending on the location. Cats may never be left alone in the room and must be in a carrier at all times when outside the room. These rules are very standard among hotel chains and Red Roof Inn does pride itself in being pet-friendly. For more information on their pet policy, check out their website here. 
#6 – Super 8
While not all of Super 8's locations allow pets, many of them do and it's recommended that you check the specific location you're looking to stay at to make sure your cat is welcome to come with you. If no information is listed on the hotel's website, as is sometimes the case, contact them directly by phone to verify their pet policy.
#7 – Four Seasons
Four Seasons Hotels does allow pets, but requires they be on the smaller size. Other than that, their pet policy remains relatively identical to the rest of the hotel chains. Their full pet policy isn't listed on their website, so you'll have to give them a call for more information.
#8 – Hilton
Hilton Hotels do allow cats to stay with their patrons, but the policy varies depending on the location. To find out what you need to have an easy, enjoyable stay with your feline friend, double check with the location you plan to make reservations at. Judging by the looks of a few of their location policies, they're simple and similar to other hotel chains.
#9 – Marriott
Marriott takes pride in treating their animal patrons with the same outstanding respect and service they give to their human patrons. While not all locations are open to pets staying, there are 1,349 Marriott locations that welcome your cats to stay with you. For more information on these locations and the company pet policy, visit their website here. http://www.marriott.com/hotel-search/pet-friendly.hotels/
#10 – Travelodge
Travelodge is actually owned by the same parent company as Super 8 and therefore has the same policies. Some of their locations allow pets, others do not. Double check by calling the location you're looking at to make sure your kitty is welcome to join you.