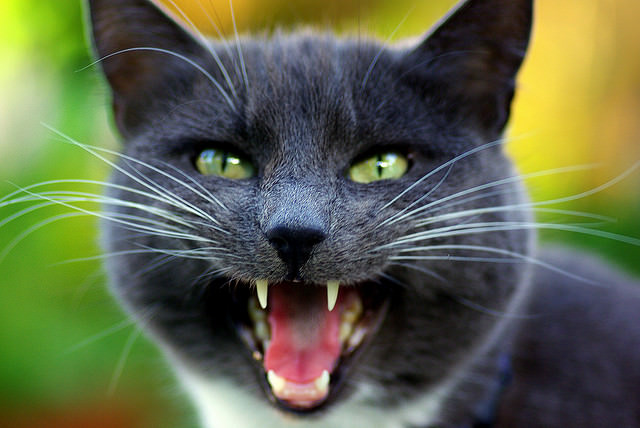 Sometimes cats choke on hairballs, food or toys. If your cat is awake, choking and seems in distress, it may be best to not try to open his mouth because he may bite in fear and stress.  Fortunately choking is rare in cats, but if your cat is choking and becomes unconscious, you can try to open his mouth to see if you can tell what is lodged in his throat and blocking his airway.
A modified Heimlich maneuver can be tried in which you place one hand behind your cat's back for support and the other on his side, just behind his ribs.  You can push fast and firmly in, to cause a forceful exhale of air that may be able to dislodge the offending object.
Sometimes a choking/coughing cat will have a string or thread lodged in his mouth that will be visible. The temptation will be to pull the thread out, but resist the urge! If the thread is truly lodged lower in his GI tract, the pressure you exert on the string, may be enough to damage the organs it is lodged against.  In these cases, go straight to your vet or animal ER.
Cats get asthma and can have respiratory issues that seem like choking too.  Because of their nature, cats can panic and become quite distressed when coughing and you may think the issue is more serious than it is, but if there is any doubt, seek veterinary help immediately.
Many times it is very hard to tell if your cat is coughing, choking or vomiting (and sometimes they will be doing all three). Because cats eat things that are not a good idea, like rubber bands and hair ties, a persistently heaving cat needs a vet.  And of course, a collapsed cat will require emergency intervention.
Even if you are doing everything right for your cat, accidents can still happen. Most cats are able to cough up whatever they are choking on, but a cat that seems to get choked frequently needs a thorough veterinary work-up to rule out asthma and any other causes of respiratory distress. You know your cat better than anyone and will be best equipped to decide if your cat is truly in emergency distress, but remember that coughing/choking/vomiting is a cause for concern. Normal cats do not cough and choke regularly and should not vomit more than occasionally.
Please look me up on Twitter, Facebook and Google+ . I love hearing about your pets!
About The Author: Dr. Kathryn Primm is a practicing small animal veterinarian. She has consulted on articles for national magazines, done numerous radio interviews and appeared on local television. She has contributed to an article for Prevention magazine and Woman's Day in Feb 2014 and June 2015. Her radio segment Chattanooga Pet Talk airs each week on all the local iHeart Media affiliates.
She has a social media presence on Twitter, Facebook and Google+ and enjoys interaction with others about her passions, animals and communication. She is a regular contributor to Boomeon, the online community which can be found at www.boomeon.com . She has also written a book, Tennessee Tails:Pets and Their People. The book received recognition as Runner Up in the Memoirs category at a national book festival. You can read more about Dr. Primm and how to get the best value for your pet care dollar at her website, www.drprimm.com.