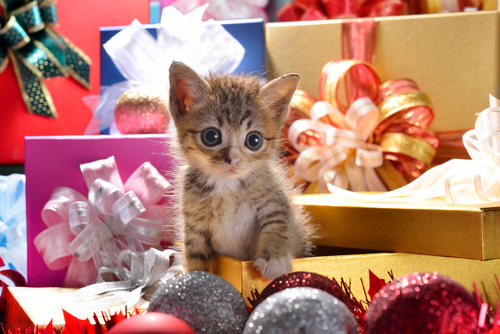 The holidays are not far away and when you think of thoughtful gifts for a cat lover, maybe a kitten comes to mind. A cat will be a friend to someone that you love and you know that the kitten can make them smile even when you are not around. The sentiment is wonderful, but here are some things to consider before giving a living pet as a gift.
Would You Know How To Pick the Cat in His Mind's Eye?
Whether we like it or not, the way a cat looks can appeal to a person and that's OK. You want your loved one to feel good feelings when they see the cat, even when it is no longer a cute and cuddly kitten. It would be very difficult to select the kitten that fulfills what your friend sees in his/her mind when they dream of a kitten. Maybe you can be stealthy and skillful enough to find out exactly what the dream kitten is, but do your legwork because this cat-person relationship might outlive the relationship you have with the friend!
Are You Comfortable Making a Promise for Someone Else?
Because a pet is a day in and day out commitment, it is hard to make this commitment for someone else. If you insist on giving a living present, make sure that you offer an "escape plan" for that person if they feel they are not ready. Rescues and shelters don't want unhappy homes, so they will work with you if you are upfront about the kitten being a surprise. It isn't fair to sign your friend or significant other up for a "fur-ever" task without prior consent, so make it clear that you are aware of the risk and you want everyone's needs met. If your friend decides that the kitten is not right for them, you can return the kitten to most shelters. In this event, it is nice if you can leave your adoption fee, so that the kitten is "sponsored" (fees prepaid) for the permanent adopter.
What About All the Care a Cat Needs?
Make sure that the preventive care this kitten will need to start his new life with your friend or family member has been already addressed by the rescue or by you. Typically vaccines, deworming and feline viral testing will need to be completed. Be sure you ask if you are not given health records. Most veterinarians partner with shelter groups to provide a complementary health exam after adoption. If the kitten has not already had preventive care, be sure to budget for it in your gift. It is a less festive gift if it comes already in need of money invested.
The Best Gift of All
Maybe the best gift for an animal lover is a donation to the shelter of your choice. Put a stipulation on the donation that it can be applied to the adoption fee for a kitten of your friend's choosing or if he/she is not ready, the sponsorship of a homeless pet can be made in his/her name. That way, your animal lover friend is honored and pleased. You can both feel good about the gift and there is no pressure for your friend to commit to a lifelong obligation while "on the spot". You can visit the shelter to see the offerings or meet your sponsored pet. Then whether you adopt or celebrate when the sponsored cat is placed, your friend knows that you care about animals and about them.
The best presents are the ones that make everyone feel good and helping a homeless pet find its forever home is a great way, even if you are it.