A man was driving to work when he saw a tiny kitten from his truck window. Concerned for the babe, he stopped and opened his door. The kitten had a respiratory infection and struggled to breathe. He also had a flea and tick infestation.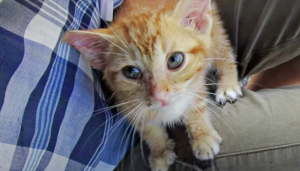 The man returned to his truck to call work and let them know he couldn't come in. The kitten followed the man, climbed into his truck, and officially adopted his new dad. The kind man took this as a sign. He would do everything he could to nurse the kitten back to health and keep him forever!
The kitten the man named Taco, was taken to the vet clinic. He was put on a course of antibiotics and flea and tick medication. Taco's dad brought him home and stayed by his side. Taco loved his dad so much! The kitten did adopt the man after all, and not the other way around!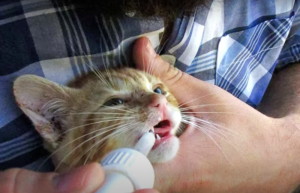 To experience this delightful story and to see how Taco is doing now, click 'play' on the video below. Thank you, Taco, for choosing the perfect dad that will love you forever!
Please 'SHARE' to pass on this story to a friend or family member
Click 'SHARE' below to pass it on to a friend or family member!