Warning: Some of the images below may be disturbing for some readers. 
Update:
Raggedy Ann has found her forever family! An iHeartCats reader saw this sweet girl's story and knew she had to adopt her. Ann's mom gave her rescuers this update, which they posted on her Facebook page:
Just thought I'd let you know she made it here. She was so good in the car. She actually fell asleep at one point just like a kid in a moving car. I put her bed box in one room, her litter box in another and her cat tree on the back porch. Figured that way she will smell something familiar as she begins to roam. So far she is staying in my laundry room which is quite large. Hopefully by this evening she will venture out. At least there is food, water and litter box in there.

I will be home the rest of today, tomorrow, Tuesday and Wednesday morning. This will give everyone a chance to get a little adjusted.
Thanks to everyone who shared Raggedy Ann's story. Together, we can make a difference!
Original Story:
Raggedy Ann (or Ann for short) was saved from a terrible hoarding situation. At the time of her seizure, there were 40 neglected cats and 2 dogs found cooped up inside a double-wide mobile home. Ann was nothing more than skin and bones, and as a senior kitty, youth was certainly not on her side.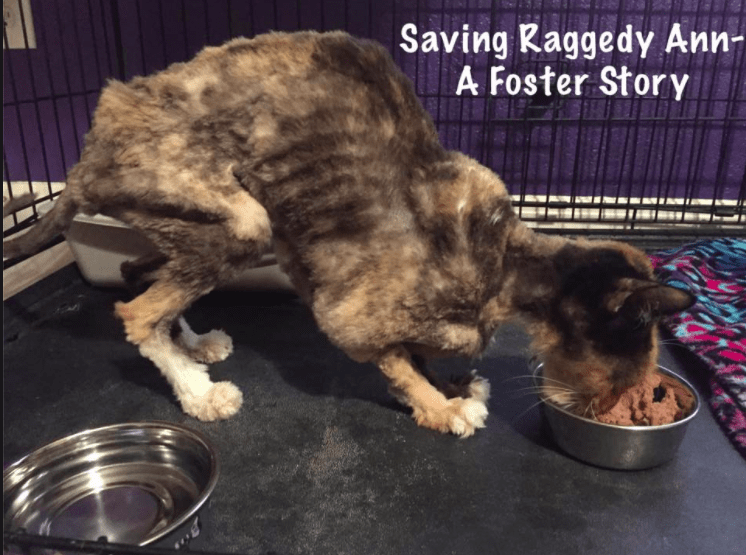 The emaciated kitty was taken to the Saving One Life rescue in Chandler, Arizona. At 14-years-old, she weighed a mere 3 pounds and 15 ounces, and they weren't sure if she was going to make it. However, they refused to give up on her as long as she continued to fight for her life.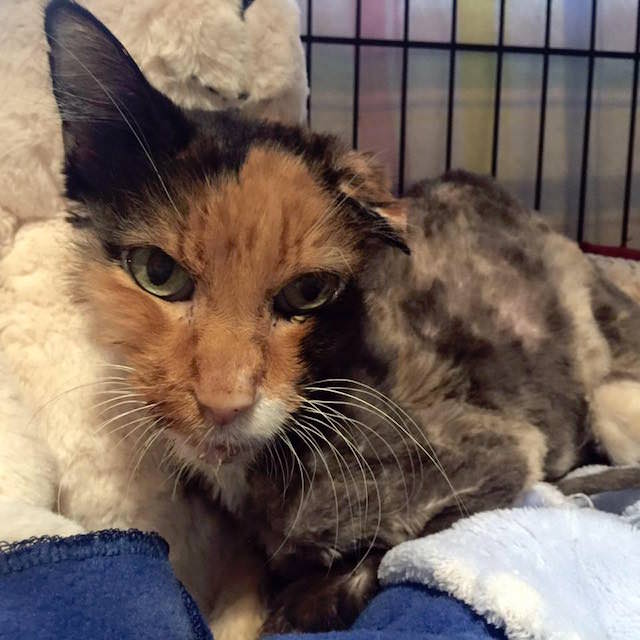 Raggedy Ann had her matted coat shaved off. She was given a temporary home with her foster mom Brianne, who wanted to make her comfortable no matter how much time she had left. But by some miracle, the resilient cat surprised them all.