We've featured a wonderful rescue called Cat House On The Kings before, whose founder, Lynea Lattanzio, welcomes hundreds of cats into her home and on her 12-acre property. In fact, her sprawling sanctuary even inspired one couple to tie the knot there. But for all the great work it does for the stray kitties of Parlier, California, its resources are not unlimited.
That's why a recent illegal dump of cats is putting a huge strain on the rescue's budget. This weekend, staff discovered that someone had dropped off 16 cats in 14 plastic bins on the outskirts of the property. Each contained a cat, and one of them had a new mom with her two babies. And there's more on the way: three of the kitties are pregnant.
The dump was thoughtfully planned out, occurring just beyond the lines of surveillance cameras, during the only hour when no staff was present. Oddly enough, whoever left the cats must have cared for their well-being to some extent, because each of the containers were lined with blankets and had air holes.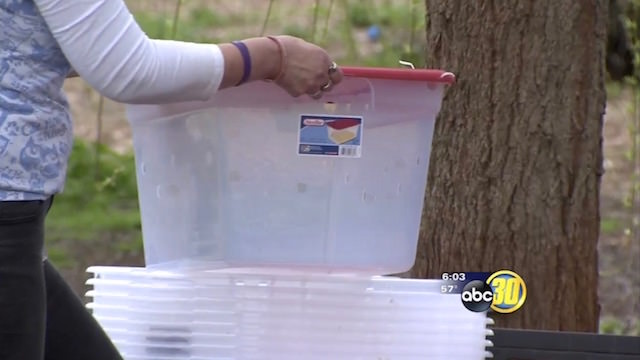 "So, they did spend money to do this and they must have planned it out," Beth Caffrey with The Cat House on the Kings said in a story by abc 30.
The cats all seem to be in good health, and many of them are polydactyls, indicating that they may be related.
"We are glad they are safe and sound but this could've been avoided had they gotten the cats spayed or neutered in the first place, especially if they're all related and this is a perpetuation of family," Caffrey said in the news story.
While Cat House On The Kings plans to take responsibility for all the felines they've acquired in the illegal dump, the financial burden of the unexpected haul will certainly put a strain on their resources.
According to abc 30, "Between spaying or neutering them all, giving them vaccines, and taking care of them for a few weeks, each cat will rack up a bill of at least $150 before they can find permanent new homes — which probably won't be possible for several weeks."
Watch a news clip on the story:
Typically a "slow time" of year in terms of donations, this charity is hoping for a miracle in order to care for the new kitties, along with the 700 or so felines that they already feed every day.
To help support the good work done by Cat House On The Kings, you can donate here. Share this story, and together, we can help this wonderful rescue to continue saving cats!
(h/t: abc 30)