Taylor met a disabled cat, Penny, five years ago while working at a vet clinic. She decided to foster her, but several months later, Taylor knew Penny was a foster fail. Penny has Cerebellar Hypoplasia affecting the way she moves about. People often ask 'what's wrong with her,' but she's in purr-fect health!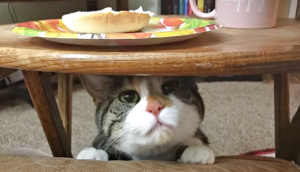 When Penny runs around to play, she does get frustrated when she topples over. But she's a trooper and gets right back up again. She loves to lie on the balcony and watch the birds. But what she loves most in the world is being with Mom!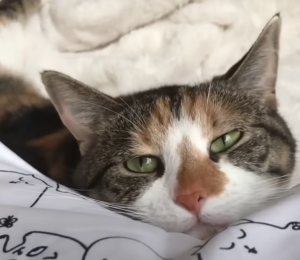 According to Taylor, Penny is the most lovable cat in the world! She has the warmest demeanor and loves to smile. Taylor says she does something specific each and every day that tugs on her heartstrings. Penny will walk over to the couch and tap her paw to grab Taylor's attention. This is Penny's way of saying, "It's snuggle time!"
Penny could easily spend hours lying on her mom's chest, being pet. You have to meet the adorable kitty charmer. She's so cute, especially when she asks for cuddles! We are so in LOVE!
Please 'SHARE' to pass on this story to a friend or family member
Click 'SHARE' below to pass it on to a friend or family member!