Cats are mischievous creatures that have a knack for getting into trouble without us finding out until later. If you notice your cat is acting ill or strange, it's probably a good idea to take them to the veterinarian. These 5 owners did and what they found was amazing!
#1 – Toys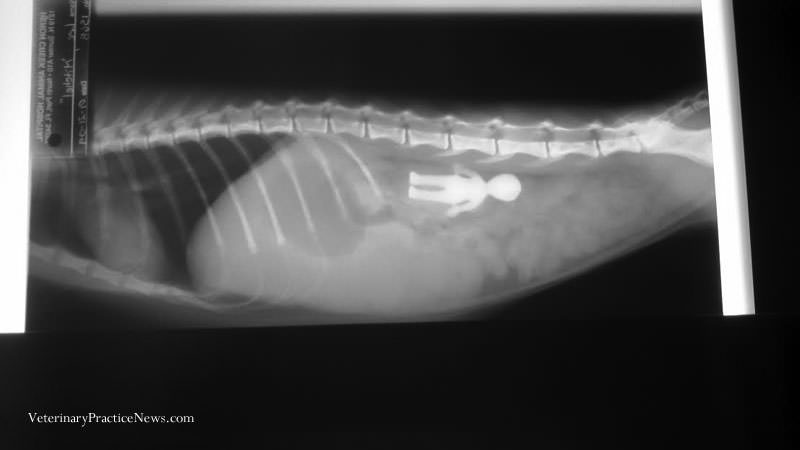 A 5-month-old kitten came in to visit Dr. Teresa Smith DVM at Heron Creek Animal Hospital in North Port, FL because he had lost his appetite and was vomiting. Upon pulling up the X-Ray, Dr. Smith and the owner discovered an alien toy that the kitten had swallowed! Surgery was required to remove the alien and the kitten recovered well.
Click page 2 for the next X-Ray!
#2 – Guitar Strings
The owners of a 2.5-year-old cat in Chicago, IL were worried when they discovered that the guitar string their cat had been playing with went missing. Sure enough, when they brought their kitty in to see Dr. Kjerstin Jacobs DVM, they found it had been swallowed. Surgery removed the guitar string and the cat recovered uneventfully.
#3 – Needle
A 3-year-old Maine Coon was brought in to see Dr. Kathleen Byrnes DVM in Marietta, GA because she'd been gagging and vomiting for a whole week. Upon exam, Dr. Byrne amazingly found that this cat had swallowed a needle and thread used for sewing. Despite being embedded, the needle and thread were removed without surgery and the Maine Coon recovered and is doing well.
#4 – Electrical Wires
Dr. Jeff Sutton DVM saw an 18-month-old kitten after he'd been found him lying near the electric cord of a lamp and thought he'd been electrocuted. Dr. Sutton called for a radiograph when he discovered burn marks on the kitten's mouth and tongue. Once the films were ready, they found electrical wires inside! They were surgically removed with no complications.
#5 – Hair Ties
A 2-year-old Siamese came to see Dr. Jessica Zelnik DVM in Herriman, UT because he'd been vomiting and losing weight. When Dr. Zelnik pulled up the radiographs, she discovered a foreign body in the cat's intestines. Once in surgery, she removed 50 elastic hair ties that the cat had swallowed.