When a cat goes missing, families turn their minds inside out, creating scenarios of what could have happened to their purr child. And the fortunate times a cat is reunited with the family missing them so much, their humans are often left wondering what their dear kitty got up to in their time away. Just ask the Cilley family of Chesterville, Maine.
Their cat Ashes went missing in 2015, but seven years later, they got a phone call from a veterinarian's office in Longwood, Florida, that reunited them after so many years apart thanks to a microchip. But now that Ashes is home, they can't help wondering how their kitty made it down the entire Eastern seaboard. What an adventure Ashes must have had! But she and her "squeaky little meow" aren't spilling anything.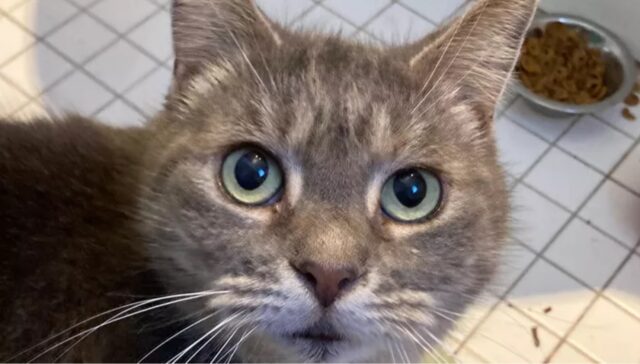 Ashes Makes an Escape
At just a year old, Ashes the kitten was too little to go on outside jaunts with her older feline siblings. But Ashes decided she would have her outdoor time and slipped outside. When Ashes's mom, Denise Cilley, realized the young cat had disappeared, she and the entire family scoured the neighborhood and asked neighbors if they'd seen her.
But she was gone, and as Denise recalled to Patch, "She was so little."
After seeing a couple of predators on their trail camera, the family feared the worst, suspecting "a predator got her." To make the situation even sadder, it was Denise's daughter's 10th birthday. The family was sure Ashes was gone.
Unexpected Phone Call from the Sunshine State
In January 2022, Denise answered a phone call and thought it was a wrong number. The caller was a vet's office in Longwood, Florida.
Denise told the caller, "I live in Maine. We don't have a cat in Florida."
But the vet told Denise that a scan revealed a microchip installed by the Franklin County Animal Shelter, the shelter from which the family had adopted Ashes as a kitten. And the chip was registered to Denise. Confirming the cat in question was a spayed gray tabby, Denise realized this was her long-lost Ashes.
Ashes had been brought to the Longwood vet office by a couple who had started feeding the tabby girl when they met her as a stray in their neighborhood. After building a rapport with her, the couple picked her up and realized she needed medical attention.
Patch reported Ashes had an "upper respiratory infection, dental disease, some missing teeth in her lower jaw, and a scabby coat." The poor cat would need some TLC before she could go home to Maine, but fortunately, Janet Williams of the Pixel Fund and ADORE Pet Rescue stepped up to foster Ashes until she was well enough to travel home. Plus, Janet had connections that could help figure out how to get the tabby from Florida to Maine.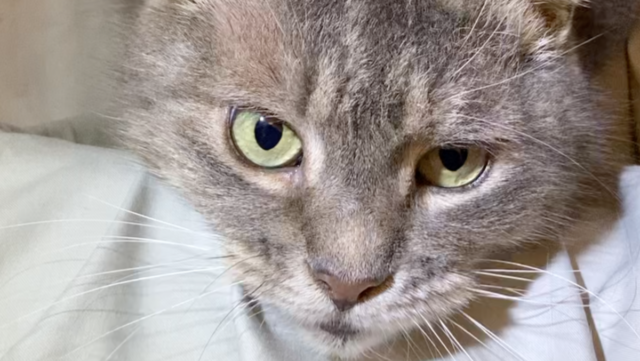 A GoFundMe to Get Home
Janet reached out to her contacts along the East Coast via social media and soon heard from a Southwest employee who volunteered to fly with Ashes to the Portland International Jetport just three hours from the Cilley home. In addition to arranging Ashes' ride, Janet also set up a GoFundMe to help cover travel and medical costs, and the generosity has been overwhelming! Not only did donators achieve the $600 goal, but the campaign also raised just over $2,000.
As Janet shared, "All funds over and above her expenses will be paid forward to enhance and support local microchip programs!"
"From my perspective, this truly is proof positive that microchips work," Janet explained to Patch. "They're so inexpensive, it does not harm the animal, and this is one real reason why it needs to be an accepted part of getting a pet to make sure they're identifiable."
Home, Healthy, and Happy
Once Ashes' received medical clearance, she was in the air and on her way home to her family. Arriving home after seven years gone, Ashes is taking some time to recoup from her journey in her now teenage human sister's room. When she's ready to venture out, she will reunite with kitty Rex, who was there when Ashes' disappeared. Cole and Marmalade shared dog sibs Kane and Midnight will also be happy to welcome their long-lost friend home, too. Ashes will also meet new kitty siblings Cocoa, Oreo, Butters, Sammy, Seven, Goose, Wally, and Timmy.
Her family may never know how Ashes got to Maine, but Denise supposes,  "Maybe somebody found her in Maine, thought she was a stray, took her in and moved to Florida, and she got out and couldn't find her way home."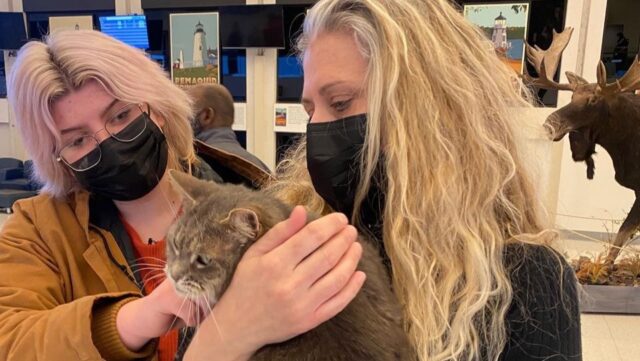 "I wish she could talk."
But since cats don't like to gossip about their journeys, she's keeping mum about the situation. One thing Ashes would say if she could, though, get your cats microchipped! She and Denise are both thankful for the microchip that reunited them, with Denise sharing, "Please microchip your fur babies."
Microchips do make miracle reunions! Learn how a Microchip Reunited Cat With Original Owner 14 Years After He Went Missing!
H/T: www.fox23maine.com
Feature Image: GoFundMe