When tiny newborn Luna entered the world, she had no idea her life would turn into a tragedy. The infant cat was soon all alone inside a barn. She clung to life, fighting as hard as she could, but she needed her mother's milk and warm body to survive.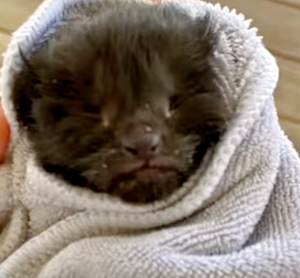 Thankfully, the family who owned the barn found little Luna, quickly wrapped her up, and put her under a heat lamp. Their hearts broke for the tiny, vulnerable kitten. They promised to do all they could so the little black cat stood a chance. After around-the-clock bottle feedings and non-stop snuggles, Mom introduced Luna to their German Shorthaired Pointer named Piper.
Piper was in awe of Luna. She sensed that this little baby was a fighter! Like her family, she vowed to protect Luna and watch over her. In many ways, she became her surrogate mother. The dog and kitten's bond was instant — and wherever Luna went, Piper was close behind, making sure her newborn baby was safe.
To see the precious pair in action, click play on the video below. To follow their progress, you can check out the family's Instagram page by clicking here.
Please 'SHARE' to pass on this story to a friend or family member
Click 'SHARE' below to pass it on to a friend or family member!