A tiny kitten in Florida got a very lucky second chance after being found lifeless on the side of the road. He had been hit by a car and the situation was looking very grim when a good samaritan contacted the local rescue, Caring Fields Felines. The rescue immediately rushed him to an animal hospital where x-rays were taken to see the extent of the damage. The poor kitten had a broken neck and needed to be placed in a total body cast.
The kitten, now named Davey, has now been in the cast for 6 weeks and is recovering very well. He's known as the tiny purrito because he looks so adorable wrapped up in a kitty burrito! He's currently under constant care at the animal hospital and even goes home with one employee every night so he's never left alone. In fact, the veterinary technician's dog, Oakley, has taken on Davey as his new best friend.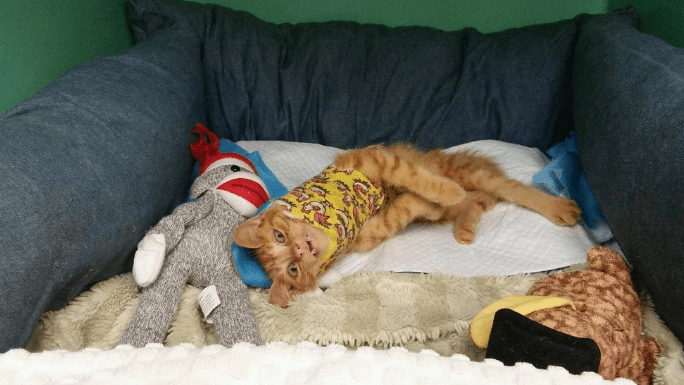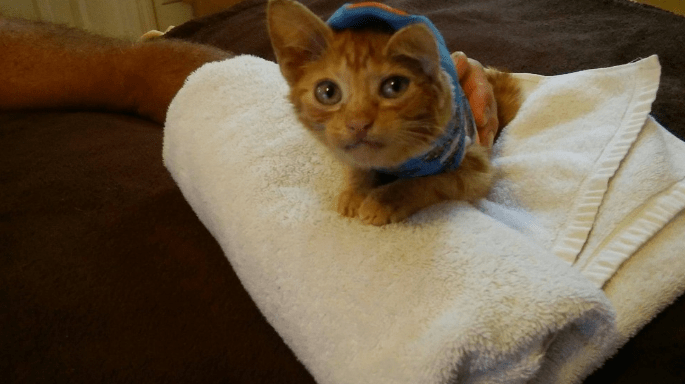 Davey will be in his cast for another 3-4 weeks before he starts physical therapy. Once he's healthy and back to being a normal kitten, he'll be placed up for adoption. Hopefully another good samaritan will come and give him the life every cat deserves – full of love and happiness. We're very grateful to the unnamed samaritan that found Davey on the side of the road. He had been left to die and his outcome was surely not promising. Now he's on the mend, making new friends and well on his way to finding his forever home.