Lil BUB may be just a small kitty with her tongue permanently out, but she has a large heart and has made a big impact in the lives of homeless pets across the country in the last year. Through her partnership with the ASPCA® (The American Society for the Prevention of Cruelty to Animals®) an additional 69 recipients of grant funding was awarded in December 2015 through Lil BUB's BIG Fund for the ASPCA. Since the fund started in 2014, over $200,000 has been distributed via 136 grants to 124 organizations nationwide.
It all started with just one t-shirt.
"I started giving back from the very first BUB shirts that sold, before she even had any sort of real fame," Mike Bridavsky, Lil BUB's dude, told iHeartCats.com "My friend David made some shirts that we sold to friends in town, and I donated a portion of those sales, before even recouping my expenses in making the shirts, to our local shelter. This has been a critical part of the whole BUB experience since the very beginning, when it was just a fun local project."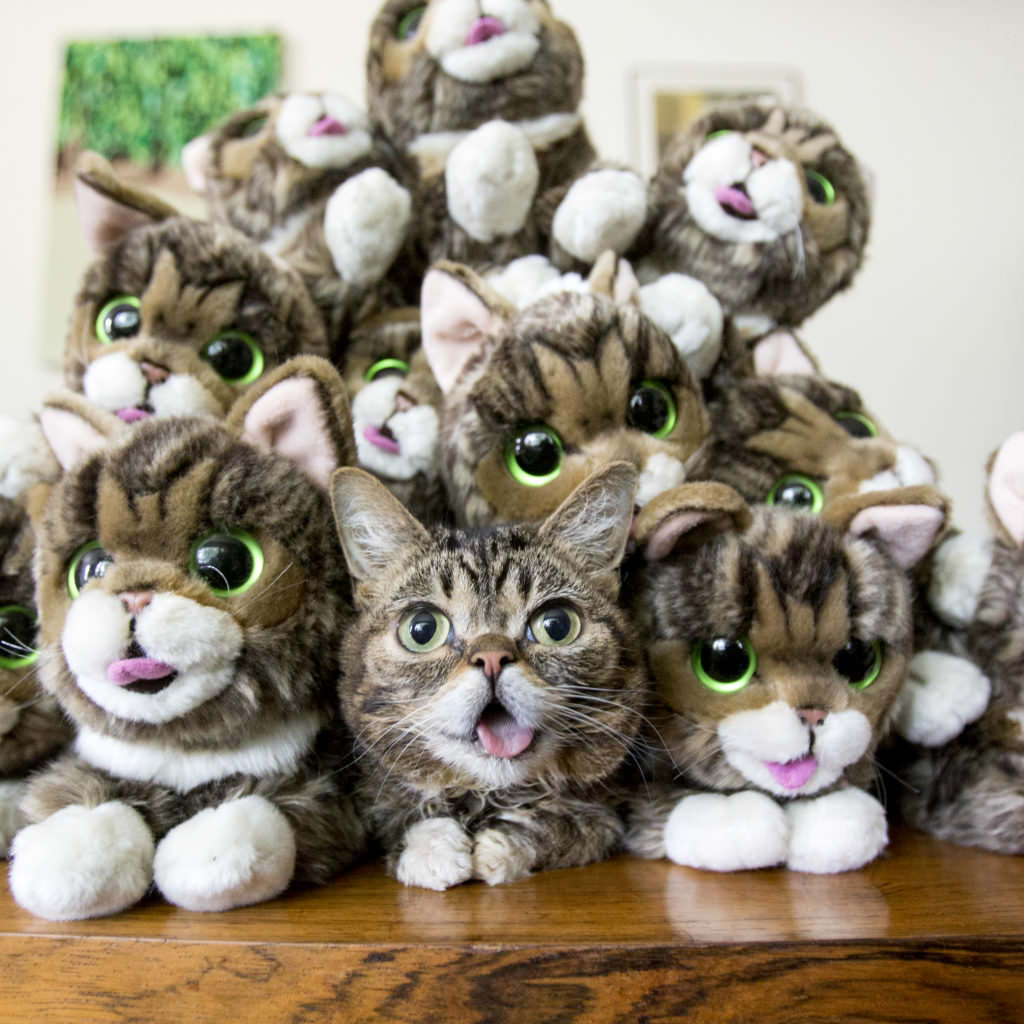 Since then, it has grown to include other lil BUB merchandise, including these adorable, snuggly stuffed BUB's (seriously, every home needs one of these!)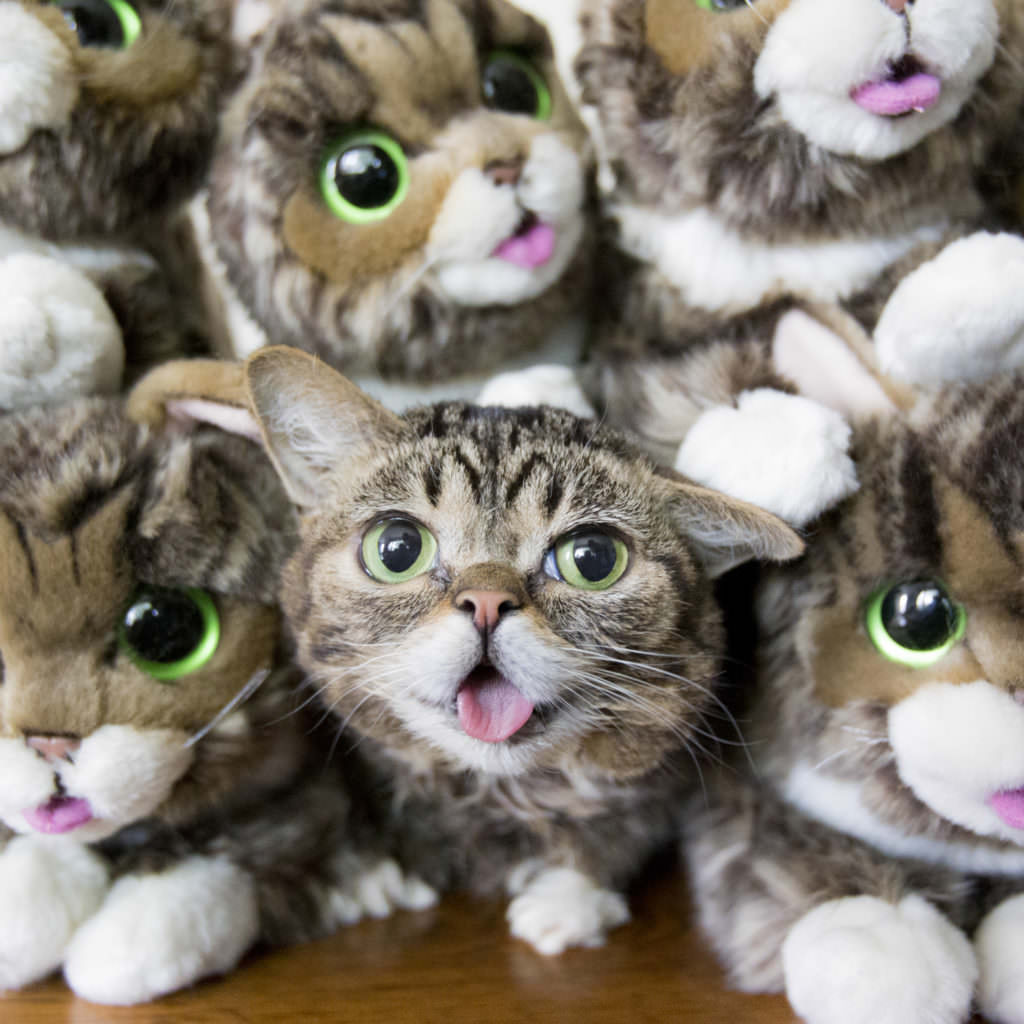 "Despite all the incredible stuff we've been able to do – from starring in movies, to working with the First Lady, to writing books, to traveling the country – the most rewarding part is BUB's ability to help raise awareness and funds for animals in need," Bridavsky said.  "Lil BUB's Big FUND is without question the most important thing that I've done with my life, but it certainly wouldn't be possible without the hard work of the generous folks at the ASPCA. I am forever grateful to BUB, the ASPCA, and all of our supporters for helping us make a big difference in the lives of homeless pets nationwide."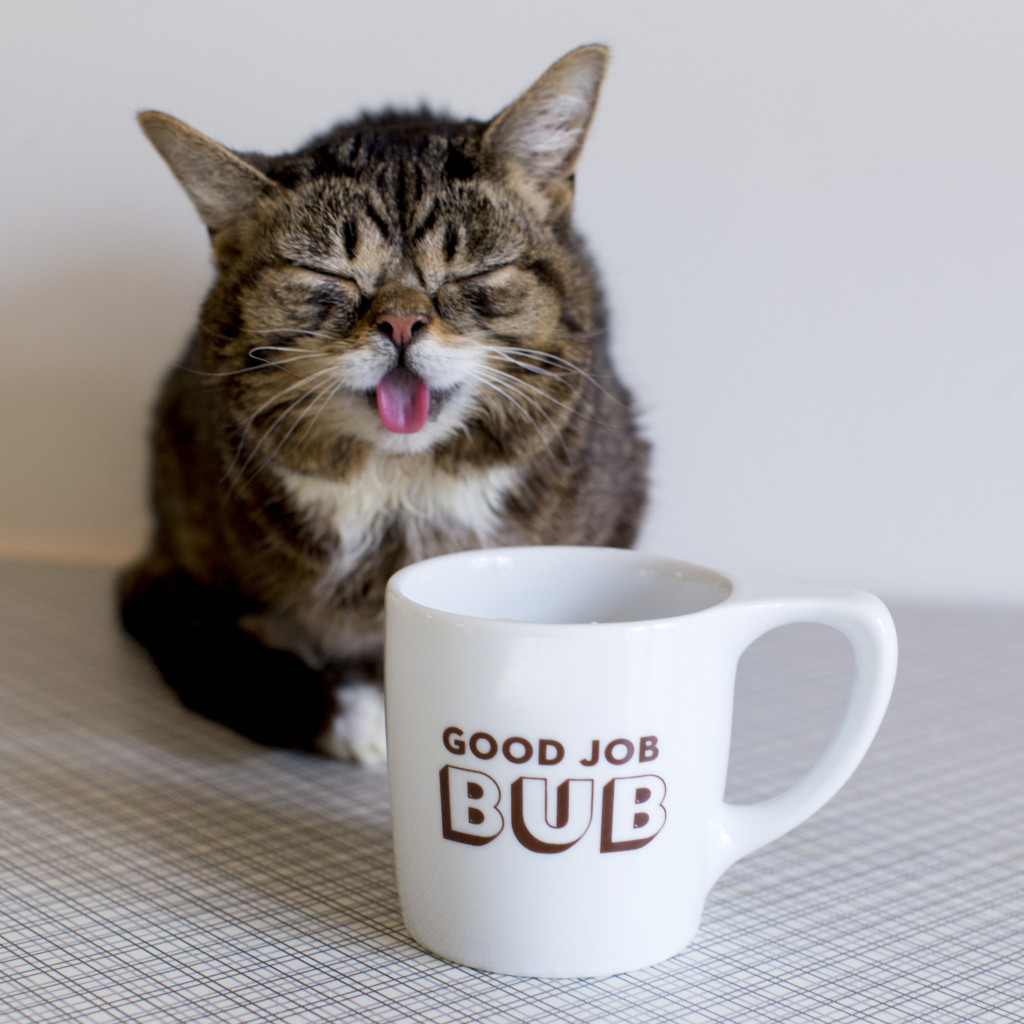 And of course, if it wasn't for her fans, who buy all that merchandise, none of it would be possible.
"Through the generosity of Lil BUB's fans, we have together helped hundreds of very special cats and dogs across the country," said Adam Liebling, director of grants management at the ASPCA. "We are happy to partner with Lil BUB and her fans to help fund worthy programs across the country that help the most vulnerable."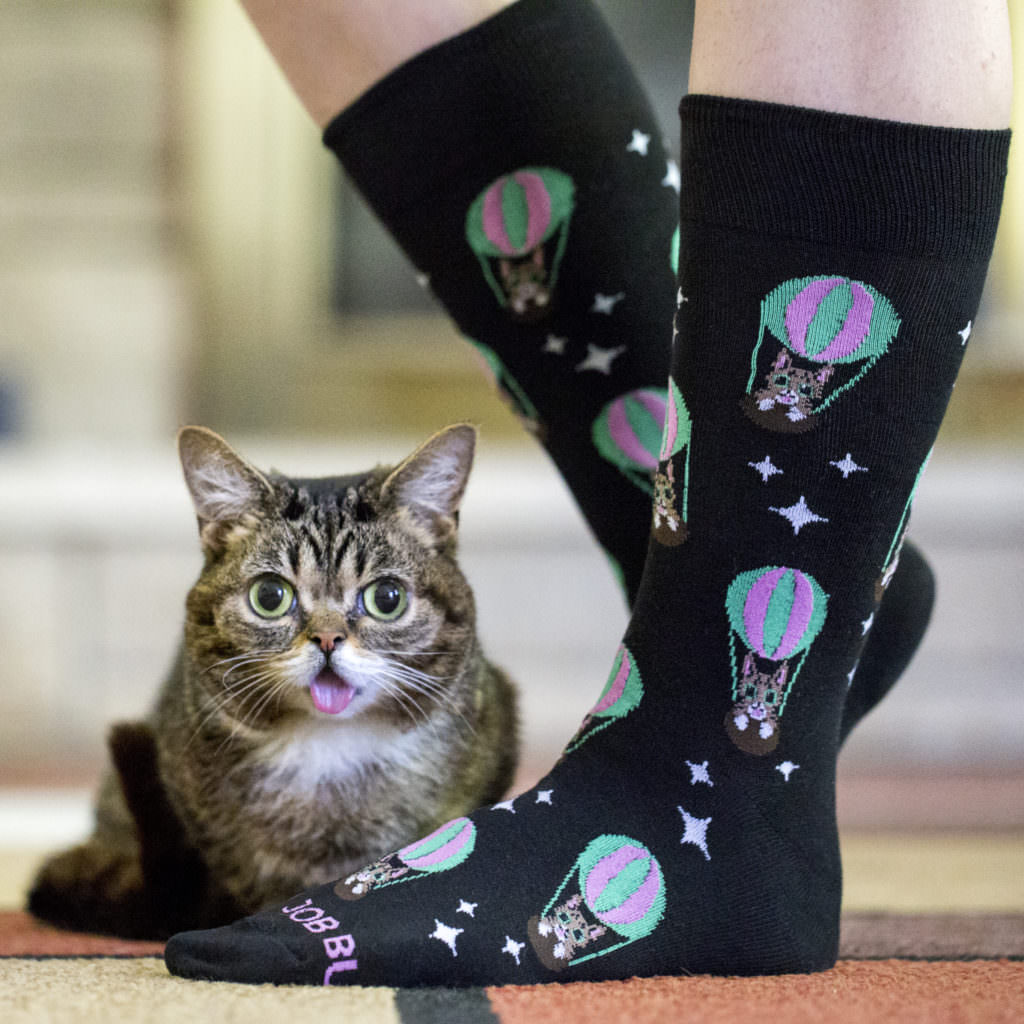 One hundred percent of donations collected for Lil BUB's BIG Fund for the ASPCA are distributed as grants to animal welfare organizations to support homeless pets that need special care or extra help getting adopted due to conditions such as: physical deformity, birth defects, developmental disability, mobility impairment, blindness, deafness, wounds suffered from a disaster, accident, or abuse, any permanent diseases or chronic illnesses and old age.
When they first got started, Bridavsky was choosing local animal charities to give back to as proceeds came in. But, as Lil BUB got bigger, he decided it wasn't fair for it to just go to local charities, so he partnered with the ASPCA whose Grant Department know reviews all applications and make decisions on who to award money to several times a year.
The latest grantees from Lil BUB's BIG Fund for the ASPCA are:
Animal Welfare Association, Inc. (Voorhees, N.J.)
Ashley Valley Community Cats (Vernal, Utah)
Better Days Animal League (Shippensburg, Pa.)
Butte County Humane Society (Chico, Calif.)
Camano Animal Shelter Association (Stanwood, Wash.)
Capital Area Humane Society (Lansing, Mich.)
Carolina Basset Hound Rescue, Inc. (Charleston, S.C.)
Cat Adoption Team (Sherwood, Ore.)
Cedar Valley Humane Society (Cedar Rapids, Iowa)
Chesapeake Humane Society (Chesapeake, Va.)
Chester County SPCA (West Chester, Pa.)
Citizens for Humane Action, Inc. (Columbus, Ohio)
Connecticut Humane Society (Newington, Conn.)
Dane County Humane Society (Madison, Wis.)
Denver Animal Shelter (Denver, Colo.)
Detroit Bully Corps (Lapeer, Mich.)
Do Over Dogs – A Second Chance at Life (Broomfield, Colo.)
Erie County SPCA (Tonawanda, N.Y.)
Fat Cat Rescue, Inc. (North Chicago, Ill.)
Flagler Humane Society (Palm Coast, Fla.)
Foothills Humane Society, Inc. (Tryon, N.C.)
Fort Collins Cat Rescue & Spay/Neuter Clinic (Fort Collins, Colo.)
Friends for Animal Care and Effective Solutions (Salt Lake City, Utah)
Friends of Colleton County Animal Shelter (Walterboro, S.C.)
Friends of Eden Animal Shelter, Inc. (Eden, N.C.)
Fur Fun Rescue (Lisbon, Iowa)
Good Mews Animal Foundation, Inc. (Marietta, Ga.)
Greenhill Humane Society (Eugene, Ore.)
Greyhound Pet Adoption Northwest (Portland, Ore.)
Helping Homeless Felines (Falls Church, Va.)
Humane Association of Central NY, Inc. (Liverpool, N.Y.)
Humane Society of Schuyler County, Inc. (Montour Falls, N.Y.)
Humane Society of Southern Arizona (Tucson, Ariz.)
Humane Society of the Pikes Peak Region (Colorado Springs, Colo.)
Joas Arc (Audubon, N.J,)
Karma Cat & Zen Dog Rescue Society (East Brunswick, N.J.)
Labrador Rescuers (San Diego, Calif.)
Lexington Humane Society (Lexington, Ky.)
Little Guild of Saint Francis (West Cornwall, Conn.)
Motley Zoo Animal Rescue (Redmond, Wash.)
MUSH (MisUnderstood Siberian Husky Rescue) (Elkhart, Mich.)
Nantucket Safe Harbor for Animals, Inc. (Nantucket, Mass.)
Nevada Humane Society, Inc. (Reno, Nev.)
Northwestern Pennsylvania Humane Society (Erie, Pa.)
Northwoods Humane Society (Wyoming, Minn.)
Okefenokee Humane Society, Inc. (Waycross, Ga.)
Oshkosh Area Humane Society, Inc. (Oshkosh, Wis.)
Paws for Seniors (Bealeton, Va.)
PAWS, the Philadelphia Animal Welfare Society (Philadelphia, Pa.)
Pet Allies, Inc. (Show Low, Ariz.)
Pet Haven Inc. of Minnesota (Minneapolis, Minn.)
Pets Alive, Inc. (Middletown, N.Y.)
Promises Animal Rescue, Inc. (Gainesville, Va.)
Rescue Dogs Rock, Inc. (New York, N.Y.)
Rogue Valley Humane Society (Grants Pass, Ore.)
Shadow Cats Rescue (Round Rock, Texas)
Siouxland Humane Society, Inc. (Sioux City, Iowa)
Southside Animal Shelter, Inc. (Indianapolis, Ind.)
Stafford Animal Shelter. (Livingston, Mont.)
Sun Cities 4 Paws Rescue (Youngtown, Ariz.)
The Foundation of Animal Care and Education (FACE) (San Diego, Calif.)
The Greater New Haven Cat Project, Inc. (New Haven, Conn.)
Wayward Whiskers Cat Rescue (San Antonio, Texas)
Webark Estates (Moundsville, W.Va.)
White River Humane Society, Inc. (Bedford, Ind.)
Wild Blue Animal Rescue and Sanctuary (Colorado Springs, Colo.)
Yavapai Humane Society (Prescott, Ariz.)
Yorkshire Terrier National Rescue, Inc. (Chapmansboro, Tenn.)
Youcanmakeadifference Inc. (Gretna, Fla.)
Keep up the amazing work Lil BUB – we expect more BIG things from you! To make a contribution to the Lil BUB's BIG Fund, you can donate directly on the ASPCA's website, or shop Lil BUB's adorable merchandise here.