This adorable kitty story was recently posted by @UnionRebelMs on X (formerly Twitter). He wrote, "Seeing people come to buy fish and handing the owner money, this cat went out and got a leaf to pay for her fish. On the first day, the owner of the shop thought this was very cute, so he gave her a small fish. Now every day this cat comes in to buy a fish with a leaf."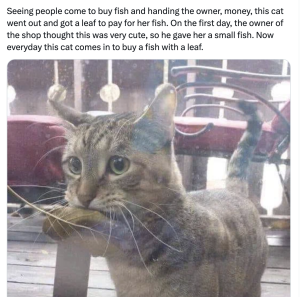 People responded to the post with a plethora of stories about their own clever pets, handing them leaves for treats. The video below states that the cat watched as people came to the market and handed money to the owner for the catch of the day. The kitty didn't have cash per se, but she had her kitty wits.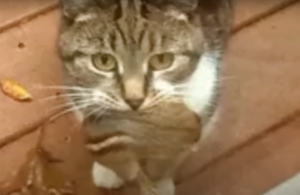 The cat found a leaf on the ground and figured it might work. With the leaf in her mouth, she walked up to the owner, ready to trade the leaf for a beautiful, tasty fish. The owner laughed and gave in. Now, she proudly brings the market owner a leaf every day for a snack.
Please 'SHARE' to pass on this story to a friend or family member
Click 'SHARE' below to pass it on to a friend or family member!
*There's some controversy surrounding the story as to whether this happened or not, but we had to share regardless!