When foster mom and shelter employee Sara Rivers met Nubbies, she knew he needed a loving foster home… and she wanted to be the one to give it to him.
The affectionately named brown tabby was missing his front and back paw on his right side. Although his rescuers are unsure how he got injured, Sara says one nurse suspects he got stuck in a glue mouse trap.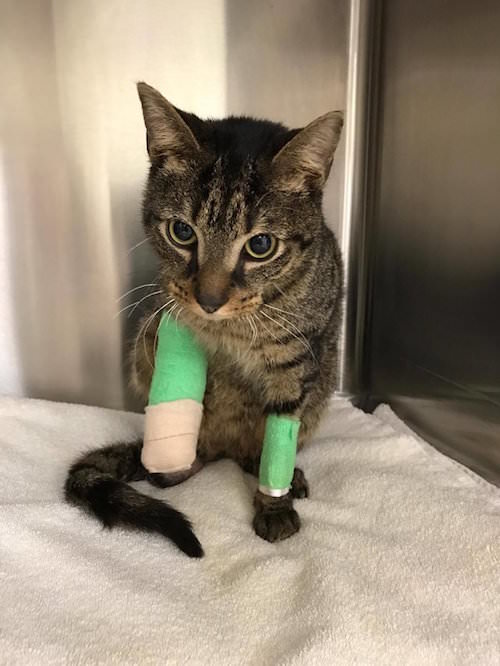 Sara works at the Animal Care & Control Team of Philadelphia (ACCT Philly) and is no stranger to fostering animals. After nursing two tabbies back to health — with one of them, named Brier, becoming a "foster failure" — Sara said that she has a soft spot for "broken down brown tabbies."
"I honestly do believe that I was somehow put on this earth to help animals whose odds have turned against them," she told iHeartCats.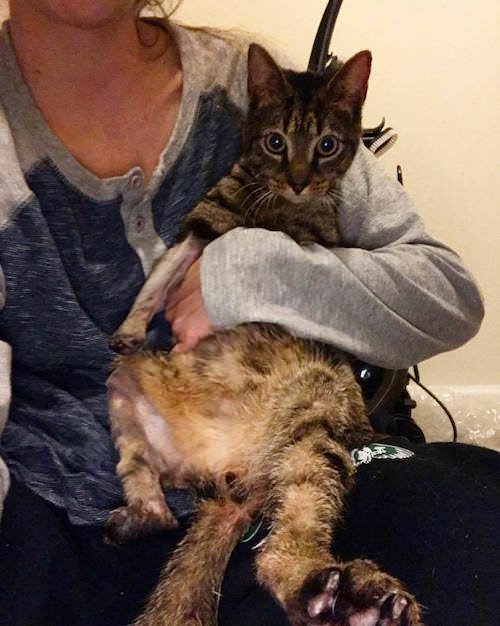 As soon as she laid eyes on 6-month-old Nubbies, she knew that hers was the home that could get him back on his feet – literally. She also knew that he'd be a wonderful playmate for Brier, who'd suffered 3 broken legs when she first took him in.
After reaching out to partner organization The Philly Kitty, a no-kill rescue, it was official: Sara would be the kitten's foster mom!
When Nubbies first came home, Sara and her boyfriend RJ took care to dress his wounds and give him antibiotics. They dipped his legs in medicated baths, and he loved being snuggled while he air dried!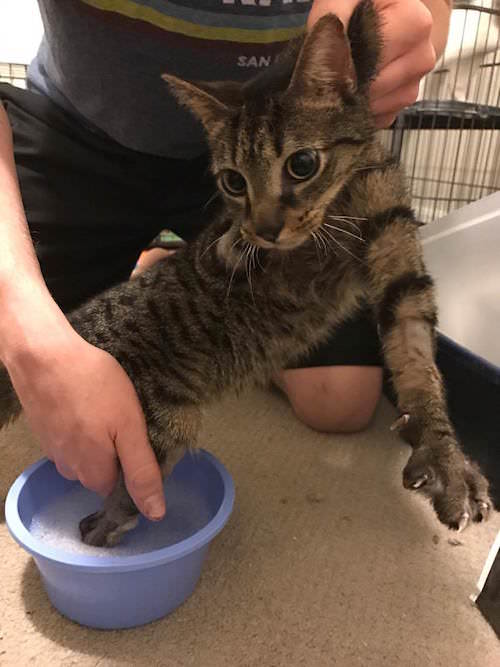 Eventually, the kitty's right hind leg had to be amputated. With only three legs, plus one missing a paw, his rescuers thought he may need a prosthetic to move around. But this resilient kitty may prove them wrong!
"We were already so impressed seeing him learn to walk on three legs, so imagine our excitement when he was RUNNING on two left legs!" Sara told iHeartCats. "When we first brought him home, poor Nubbies couldn't even figure out how to step inside his litter box, but now he's using it consistently, which is some MAJOR progress. This cat simply amazes me!"
Sara already has a house full of pets, including four "foster fail" cats and two rescue dogs, but she admits that Nubbies may become the seventh member of the furry family.
"This kitten is an absolute ham," she said. "Like most brown tabbies, he LOVES to be snuggled and purrs like a machine!"
However, Sara wants to make sure that she and RJ can provide everything this kitty needs. Plus, there is a downside to having a pack of pets.
"The other thing that is preventing me from foster failing is the fact that I won't have as much space in my home to foster more animals in the future," she said. "In Philadelphia, by law, you are not permitted to have more than 12 animals living in your home."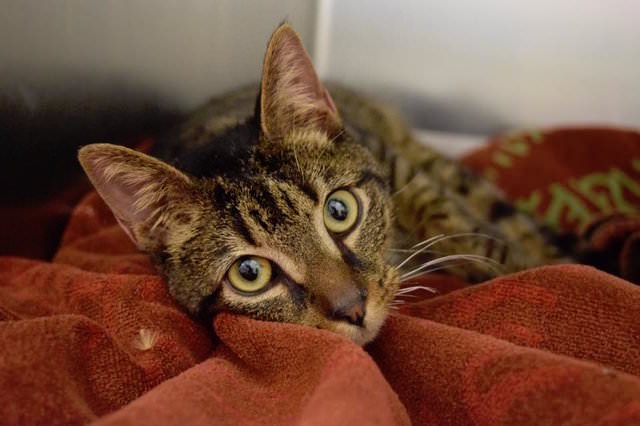 They'll keep an eye out for a family who can give the tabby all the love, care, and medical attention that he deserves. And no matter what happens, one thing is for sure: Nubbies will find a purrfect forever home!
Having dedicated her life to rescuing animals, Sara has a soft spot for those that need the most help.
"Owning a pet with special needs will be the most rewarding thing you'll ever do," she told iHeartCats. "It makes you feel like you have a purpose in life, and it's very empowering to know that a special needs animal is dependent on you."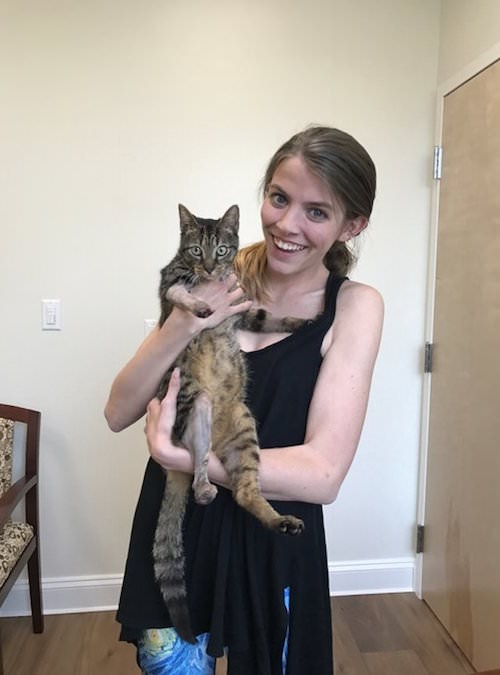 She also wants to spread the word that people who work in shelters that practice euthanasia – they'd run out of resources or have to turn away animals, if they didn't – are some of the most dedicated animal rescuers out there.
"I get a pretty bad rap from a lot of people and I've even been called some pretty disgusting names," she told us. "My coworkers and I don't even eat dinner at home during the week, because we're still at the shelter doing everything we can to save the lives of our city's unwanted animals."
And that's just it: as long as there are "unwanted" animals, overpopulation will be a problem. The solution lies in the hands of the community, not the shelters.
But despite the trauma that shelter employees see every day, those like Sara will continue to eat, sleep, and breathe animal rescue. And thanks to her, a brown tabby named Nubbies – along with many others – will be granted a second chance at a happy life.
Special thanks to Sara Rivers for letting us share this wonderful story!