Crime stories may seem more popular these days, but the truth is, the interest has existed since before radio or television, in the long-long ago days when newspapers sold out with splashy headlines warning people to lock up their valuables and be wary of strangers.
These stories capture our attention, pull at our heartstrings, and make us yearn for justice. Now, TEMPTATIONS is calling on cat lovers and crime junkies alike to tune in as one of the best true crime storytellers ever tells the tale of a wild robbery.
Brit Prawat is one-half of the powerhouse pair behind Crime Junkie. Week after week for the last six years, Brit and her best friend and co-host, Ashley Flowers, have dug deep into stories that give their millions of listeners full-body chills. Crime Junkie has skyrocketed to fame as 2022's #1 show on Apple Podcasts, and their wide reach has allowed them to partner with law enforcement and families of victims to help bring awareness to cases that might otherwise be forgotten.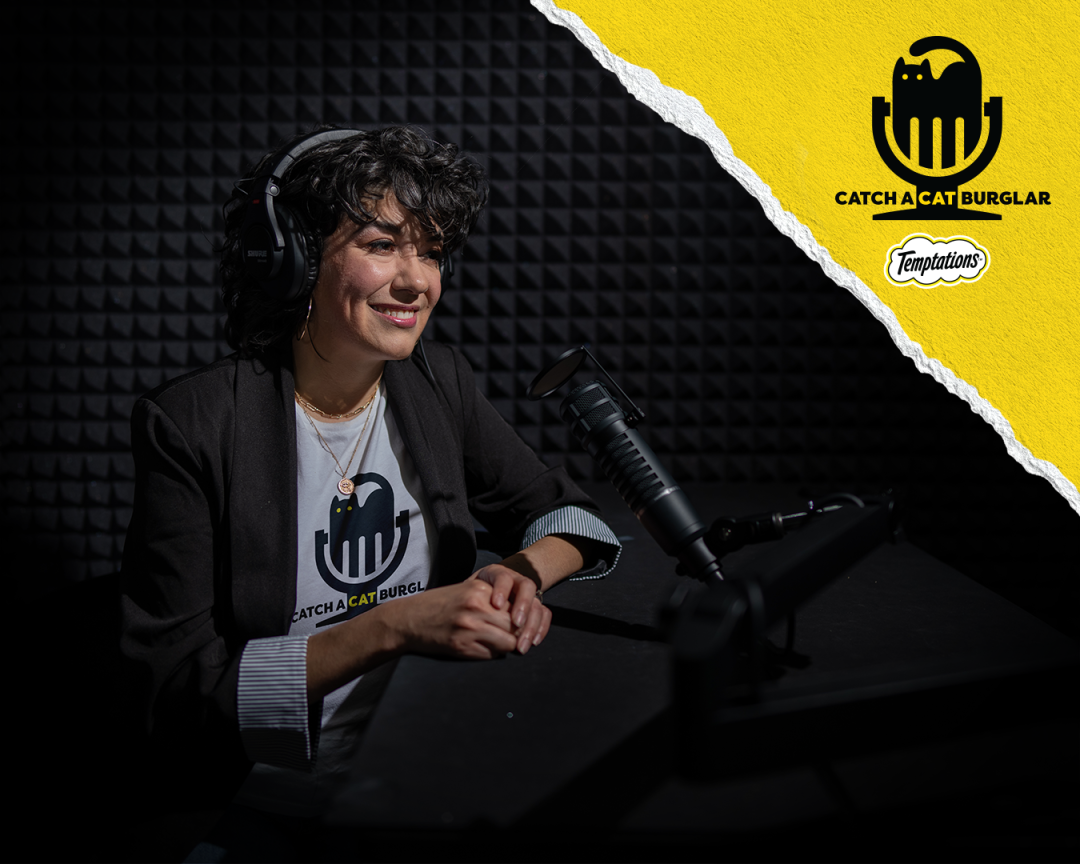 iHeartCats leaped at the opportunity to speak with Brit Prawat as she ventures into a different kind of crime – that of the feline kind. Brit Prawat is currently hosting Catch a Cat Burglar, a two-part series in partnership with TEMPTATIONS, which follows a heist that might make you want to put a bell on your cat. We asked Brit about growing up a crime junkie, success with the podcast, what's going on with Catch a Cat Burglar, and of course, her love of cats.
When asked about how she developed an interest in true crime, Brit responded that she was naturally drawn in from a young age.
"I just kind of grew up watching America's Most Wanted with my mom and Unsolved Mysteries. That transferred into Law and Order SVU, Forensic Files, and then consuming every true crime documentary that ever came out when streaming was kind of becoming a thing. It was just always a fascination.

"Me and Ashley referenced JonBenét as the case that really got us interested. It was supermarket-tabloid level, life-size when it happened. She was a little girl who was a little bit younger than us, and we could see it unfold on the tabloids. That was the first time we were like, 'Oh, like, bad stuff could happen to me.' And it really never stopped from there."
This recognition that harm could befall anybody has made Crime Junkie more than the typical storytelling podcast. It has become a call to action for their listeners. Where many of us were raised to be polite, not make a scene, and give people the benefit of the doubt when they approach us, the Crime Junkie hosts spout the mantra: "be weird, be rude, stay alive." Their podcasts often end with the phone number for tips to help solve unsolved crimes or report missing persons, turning Crime Junkie into a giant signal booster for law enforcement and families waiting for answers and loved ones to return home.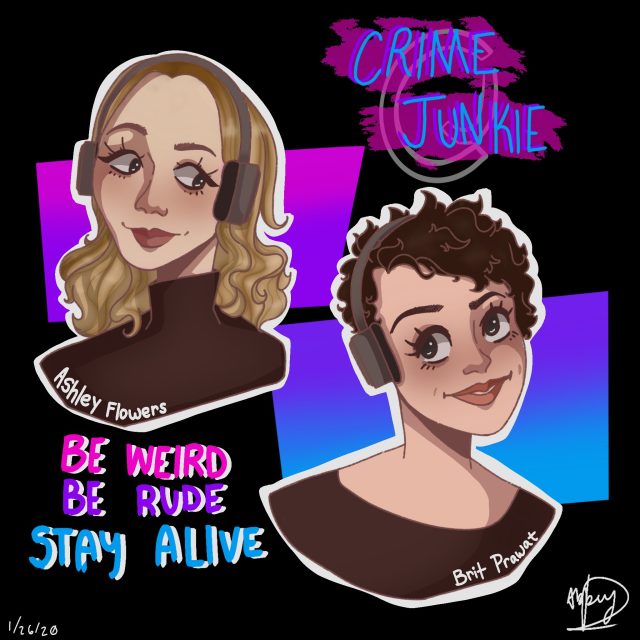 For all the good that Crime Junkie has done, Brit says that the most rewarding thing about the success of the podcast is the way it brings a community together.
"The community. Just seeing other people connect over the content, while also connecting over wanting to make a difference has been really, really cool. We hear amazing stories all the time of sisters, aunts and nieces, moms and daughters, coworkers bond over this. And seeing our show be part of a bonding ritual or experience for other people is really, really special. Really incredible."
Brit navigates an extremely dark part of the world when she and Ashley tell stories that can become very sad very quickly. We asked how she keeps a positive outlook when diving deep into true crime again and again.
"Seeing the good that happens from the true crime community. In our episodes, we're very focused on education and advocacy. We're always hearing from our listeners about how they are volunteering with victims' organizations. They're volunteering in different organizations that we've talked about, or they're finding. They're finding out more information about situations that they've been through, or situations that they are wary about.

"Really seeing the good that can come from the work that we're doing helps take the load off of some of that darker content."
Activism for Brit and Ashley doesn't stop at humans. Once a month, they follow up an episode of Crime Junkie with a segment Brit hosts called "Pruppet of the Month", in which they tell a listener-submitted story about a rescue dog who has touched their hearts. These stories often leave one or both hosts in tears.
Brit is also known for giving her perspective as a parent. As a mom to multiple children, a podcaster, activist, and rescuer, she's pretty busy. We asked how she manages she to keep going.
"I was blessed with a body that does not need a ton of sleep, so that's helpful. If I get six hours, I'm like pretty good for a while. But really, I think I like moving. I like going fast, I like the momentum. So I can't say I have any secret tricks."
So no tips for us who like to sleep like our cats.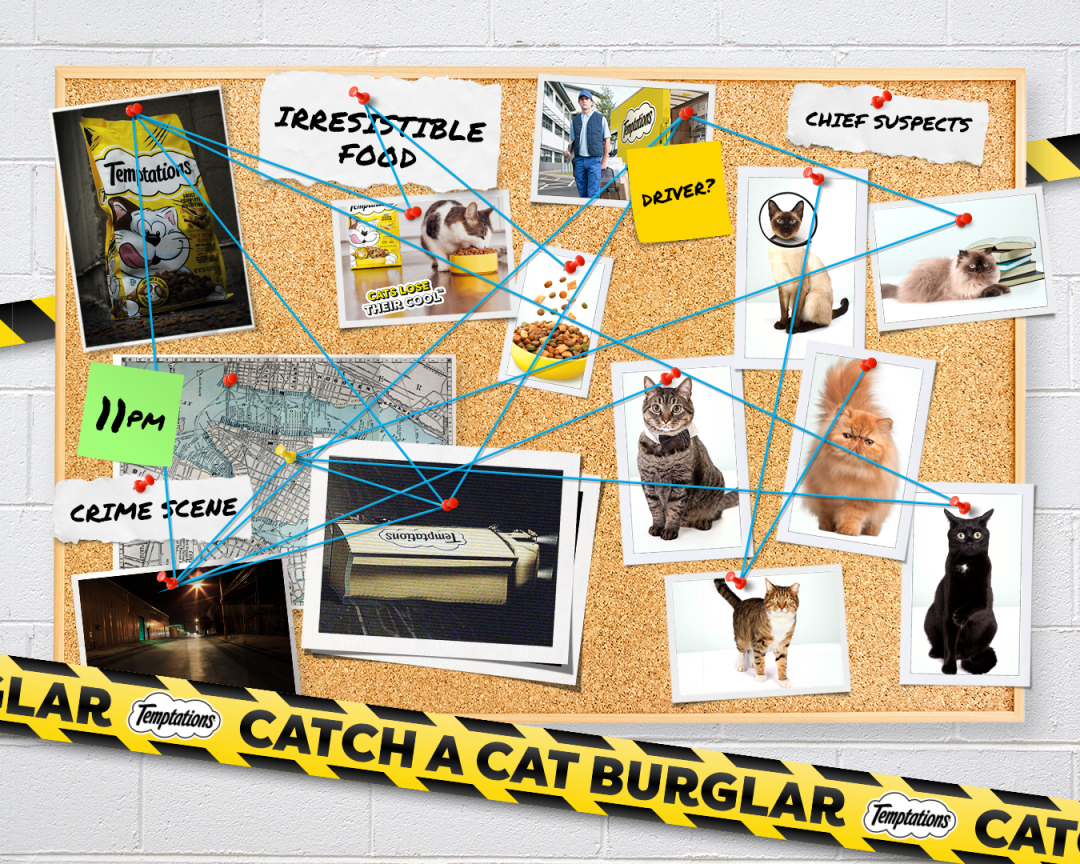 We were very familiar with Brit's love of pruppets, but we wanted to know more about her love for felines as she takes on this new project with TEMPTATIONS.
"I've been an animal lover my entire life. I grew up on a farm, so we always had tons of cats around, tons of dogs, tons of animals in general.

"I've had a cat a couple of times in my adult life. I don't currently have one, but I am the proud cat auntie to about eight nieces and nephews! So I get pictures of them all the time. I like have all their names, and they're amazing!

"There's only two that will wear hats, but they have lots of hats from me! They all have eccentricities, and I love all their little personalities, and I get to zoom with them a lot."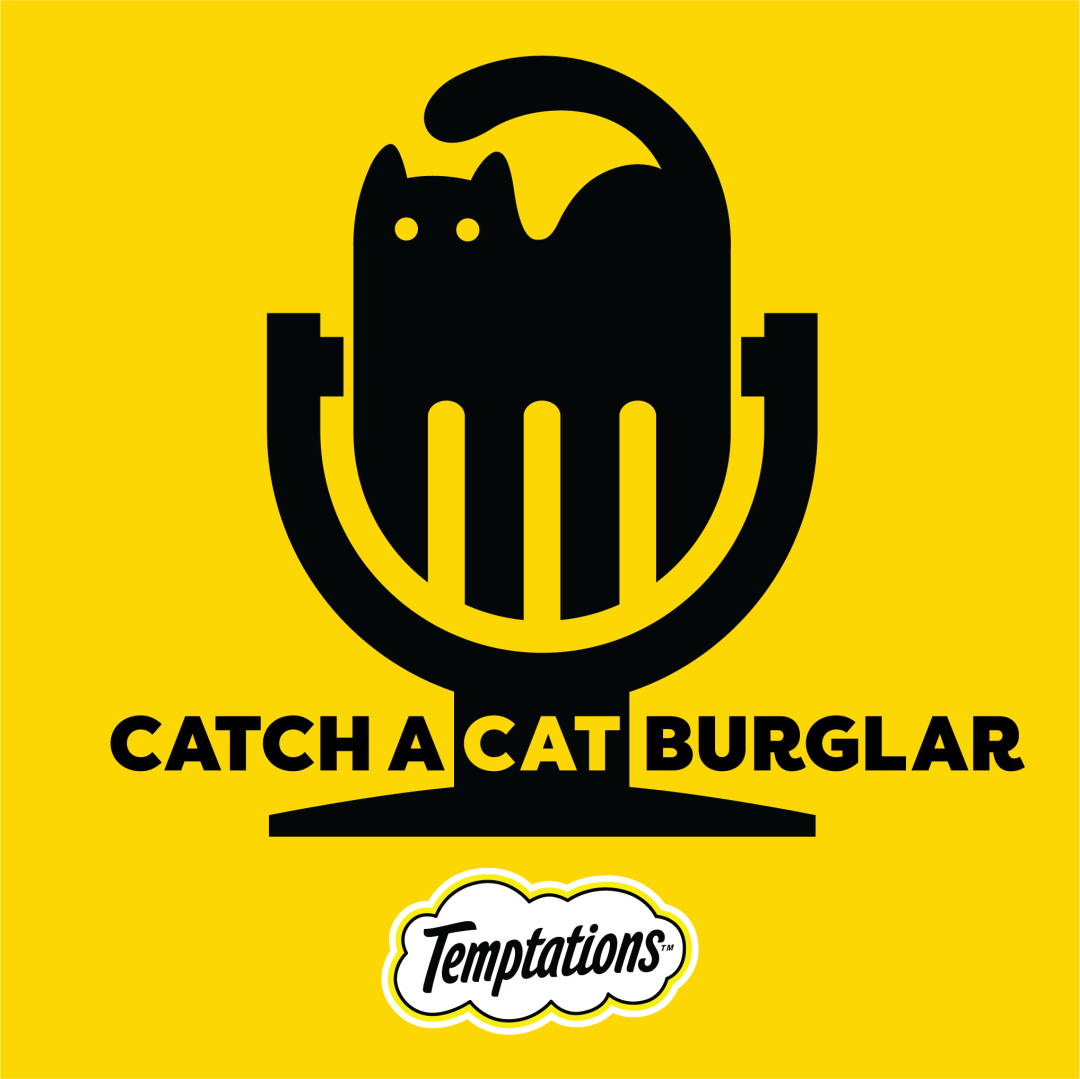 Her lifetime experience with animals will be coming in handy as she unravels a tale on Catch a Cat Burglar.
"I'm super excited about it! TEMPTATIONS and I are doing a fictional crime podcast about their new product – their dry cat food line – and how completely irresistible it is to cats. So irresistible they'd be willing to commit a major crime in order to get it.

"I get to lay out a case in a podcast, look at the evidence, look at the suspects, alibis, and really go into the case with listeners. There is a reveal of what happened, who did it, why? It was just so much fun to put together."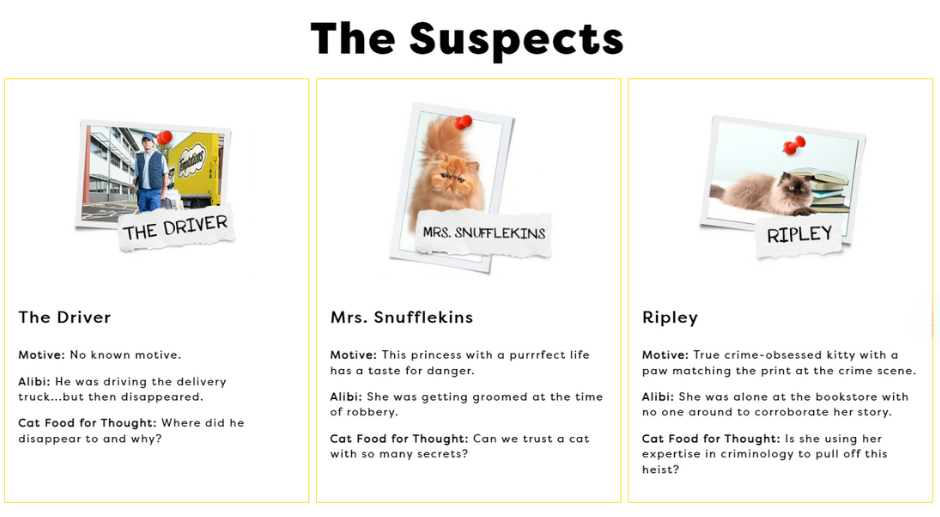 Sounds like a new reason to keep your kitty indoors!
Visit TEMPTATIONS to see the teaser trailer and hear the first episode of Catch a Cat Burglar, out now!