It was just a regular evening when Janine DeMartini went to bed for the night. The Staten Island, NY woman is a single mother and was exhausted after another day of work, school and childrearing. Her daughter Isabella slept in her room while DeMartini was out for the night in her own. Lounging around the house was Herbie, their foster kitty from Staten Island Hope Animal Rescue. Herbie was lucky to have such a great foster family, but DeMartini had no intention of keeping him long-term. This night, however, was about to change everything.
Just as she was falling asleep, DeMartini was startled by Herbie bounding into the room, meowing loudly. This wasn't normal for the typically docile feline and she knew that something was wrong. DeMartini got up and followed as Herbie led her to Isabella's room. Confused by Herbie's adamant concern, she opened the door to find Isabella choking on her blanket.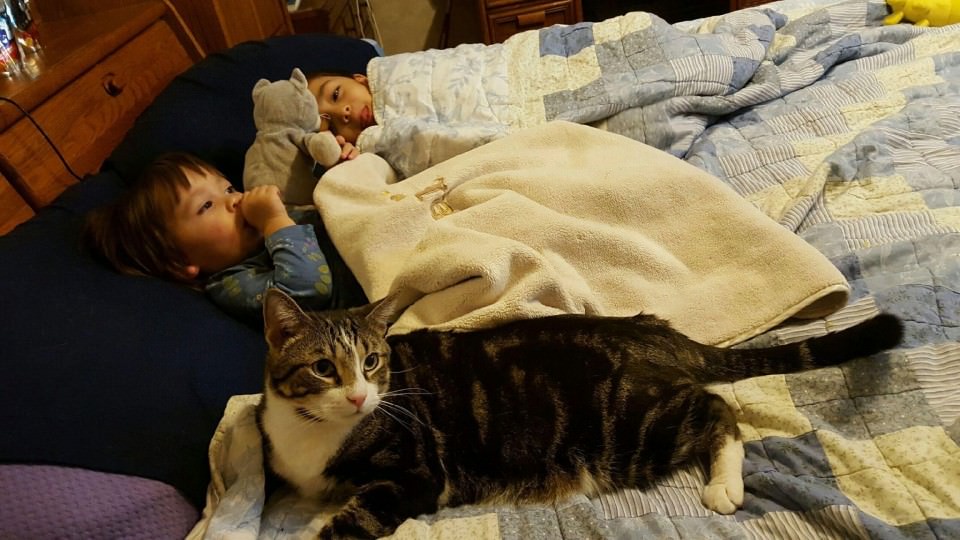 "Herbie kept pawing at the door and when I opened it, he ran inside and jumped into her crib. Isabella had turned over while sleeping and had pulled a toy blanket over her face," she told Shareably. Her two-year-old had rolled over onto her blanket and was suffocating very quickly. Without Herbie's quick reaction, Isabella might not have survived and DeMartini would have lost her beloved daughter.
Now, of course, Herbie is no longer a foster kitty – he has a permanent home with DeMartini and her family. DeMartini is a social worker who has written papers on the benefits of animal-assisted therapy for those suffering from depression and anxiety, but she never thought a little cat like Herbie would save her daughter's life. Perhaps he was thankful that DeMartini had saved his and was taking on the duty of keeping his new family safe. Whatever the reason, everyone is alive and well and living happily ever after.