Cat Cafés have sprung up all over the world, growing very quickly in popularity here in the United States just in the last few years. These for-profit business have a philanthropic mission to help get more cats adopted by having shelter cats at the café for people to interact with, and possibly adopt. One Cat Café has taken a different approach with an incredible outcome.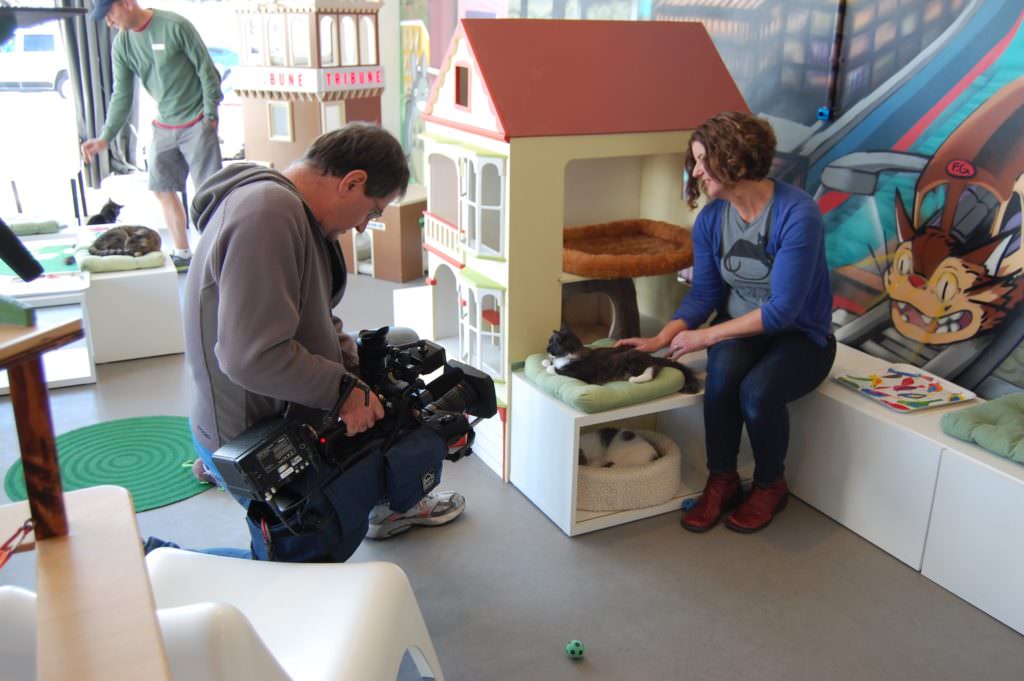 Cat Town Café, which opened in 2014 is a non-profit cat café located at 2869 Broadway, Oakland, California.
"I was a volunteer at Oakland Animal Services – Oakland's municipal shelter – and there wasn't a rescue organization who helped cats who appear unadoptable because they are scared in a shelter environment," Founder Ann Dunn told iHeartCats. "Our founding mission was to save the cats from OAS who would otherwise be euthanized – cats who are stressed, shy, older or have medical needs."
When Cat Town was founded in 2011, it was a 501(c)(3) non-profit foster program. They partnered with the OAS to get as many cats into people's homes as they could. But the problem was, when the shelter was full, they would start to euthanize. That's when the idea of the cat café came to be:
"We started the cafe to get as many cats out of cages as possible, to buy time for cats at greatest risk," she said.
Since they had already been operating as a non-profit for three years, it made sense to keep the café as a non-profit. As Dunn says, "[it's] not a separate entity, but is part of the larger organization."
That larger organization is "first and foremost" an adoption center she said. Any revenue generated by the café, including sales of merchandise, are used to support the rescue group. This great model allows them to be less dependent on straight donations, which anyone who works in non-profit knows can be a constant challenge.
"Since we are already a rescue organization, and have a broad base of community support before we even contemplated opening the café, this model works for us," she explained.
Another big difference Dunn said, is that because they are a rescue and adoption center, they have control over the cats' welfare and costs associated with that. Whereas with most cat cafes, the rescues are responsible for those costs, which can sometimes be hindering to small groups or towns with a large homeless cat population.
Dunn added that they have the ability to fund-raise to help cover those costs, unlike other cat cafes.
The Proof Is In The Adoptions
So does the model make a difference in how successful it is? If you are measuring it by adoptions and not profit (which is the important thing, right?), then it would appear so! Since they opened 17 months ago, Cat Town Café has had over 400 adoptions at the café.
Other cafés in the United States showed between 130 and 200 adoptions in the last 15 months. Clearly, Cat Town Café is "winning" at finding home for adoptable cats.
Aside from being a non-profit and the added benefits for the cats' welfare, we asked Dunn why she though they had such high adoption numbers. Here is her response:
We have created a fun and positive environment where people can see cats as they are.
We have hundreds of visitors every week, so the cats have great exposure to potential adopters.
Some people come intentionally to adopt, while others are surprised to find they are so taken with a cat that they now want to find a way to take him home.
The environment lets all that happen organically.
We treat people well and give our adopters lots of support after they bring the cat home, so we have a great reputation as a place to adopt.
We are both café and rescue, so we always have people here to help with an adoption, where the other cafes have to coordinate with rescue partners when someone is interested in adopting.
Want to open a cat café? Here is Dunn's advice:
We want it to look fun and easy, but this is really hard work!
It's important to have a network of support in place before bringing in cats. We have great relationships with a vet, cat behaviorists and other rescue organizations.
You need a back up plan if a cat isn't doing well in the space. We have a foster program, so always have a great place for cats to go if being in the café environment is too much.
I started the rescue organization with little understanding of what I was getting into. I intentionally started small, and learned a ton along the way. I would not take on opening a cat café right out of the gate!
What's Next
Cat Town Café has taken over the property next door in order to better accommodate that cats Dunn says are their "core mission": the shy, sensitive cats or cats who are older. These are the cats that don't generally do well in the normal cat café atmosphere.
"What we've seen is that we can find a great home for any cat, as long as people know the cats needs a home," she said.
Learn more about Cat Town Café in the upcoming PBS series Shelter Me: Hearts & Paws, that is hosted by Kristen Bell and premieres in May. The Shelter Me series was created by filmmaker Steven Latham who wants to break down the negative perceptions and stigmas of public animal shelters and help people realize that shelter pets make the best pets. See the trailer here. Please go to ShelterMe.TV for local listings. .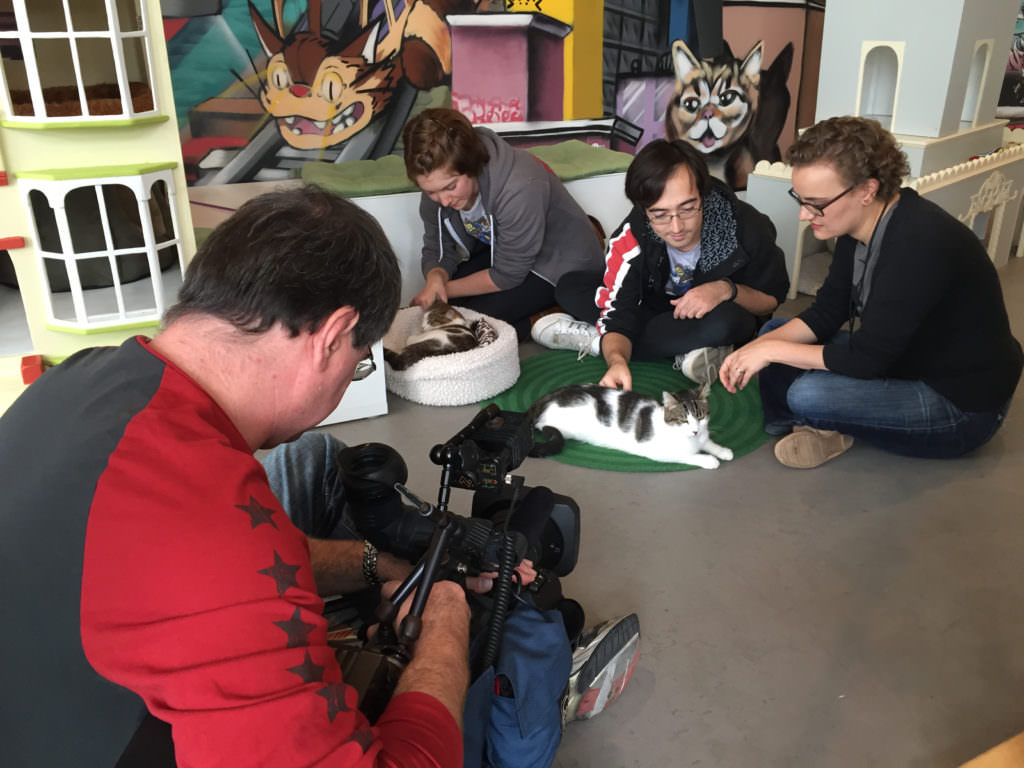 You can also follow Cat Town Café on Facebook. https://www.facebook.com/CatTownCafeOAK