Anna was at the market looking for curtains for her friend's house. They bought the curtains and were heading out. As they walked down the aisle toward the exit, she saw a torn cardboard box. Anna came closer and looked inside. There was a litter of kittens. The owners said all the kittens were sold except for the smallest one, a sickly kitten that looked scraggly and helpless.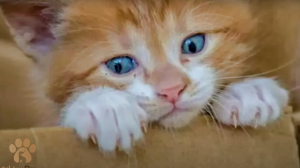 The woman told Anna she would have to do something unthinkable if no one stepped up to take the kitten home. Anna had no choice! She had to help the little one! But when she looked inside her wallet, she only had a dollar left. Anna asked her friend for a loan, and she agreed.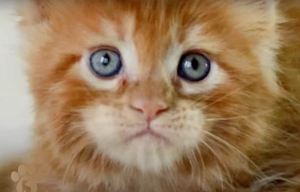 Anna then approached the woman to buy the kitten. Even though she didn't have enough money, the woman gave in. She handed the kitten over, and Anna took her home. The new cat mom took the kitten to the vet and was told something incredible! Something Anna couldn't believe!
Play the video below to find out what the veterinarian had to say. Anna's love for this kitten is truly immeasurable, regardless of his health, regardless of his price, regardless of the vet's fantastic news. What a beautiful story!
Please 'SHARE' to pass on this story to a friend or family member
Click 'SHARE' below to pass it on to a friend or family member!