With so many adoptable animals looking for forever homes in the Chicago area, it can be difficult to stand out among the crowd. So a "catcade" — a cage-free cat café and arcade — uses its sharp sense of humor to grab the attention of potential adopters. 
The following adoptable cat descriptions are quite likely to cause you to crack a smile or perhaps even to crack up laughing into a full-blown chuckle.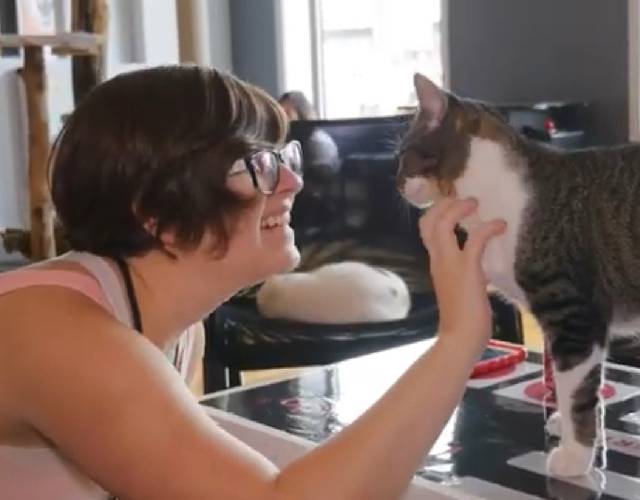 Located on Belmont Avenue in Chicago, the Catcade is a one-of-a kind cat rescue that combines a cat cafe and an "old-school" arcade. The main mission of the Catcade is to rescue cats from life-threatening situations such as high-kill shelters, and to help them find loving forever homes. 
Guests pay $17 to visit the lounge and spend time playing with, cuddling up on, and socializing the rescue cats. The cage-free cat café features comfortable couches, free-play arcade games, and a Nintendo64 for playing Mario Kart. Every cat chilling in the lounge is adoptable, except the resident cat, named Leo.
Since opening in 2017, the arcade-themed rescue has saved over 2,000 cats and kittens. 
Not only is their concept quite unique, but so is their strategy for finding the purfect pawrents. They write witty descriptions of the cats that are up for adoption and post them on their social media pages. Sometimes, their followers even comment back with their own hilarious humor.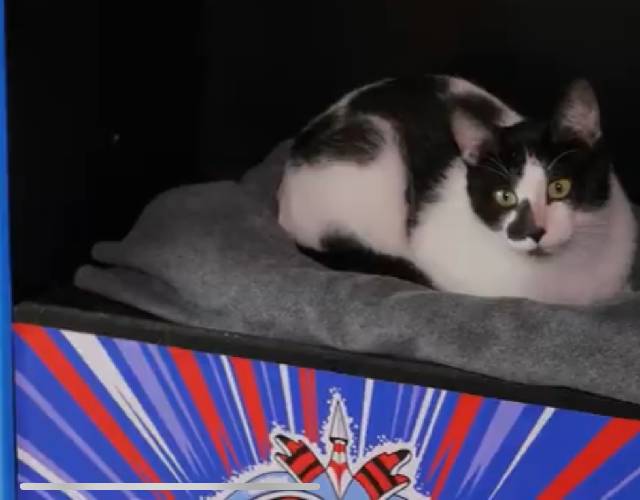 **Be warned, the descriptions do contain some "color" and are indeed intended for an adult audience only.**
Wow is one Catcade kitten who is currently looking for a home. And by his description, it sounds like he is a natural in front of the camera and he is ready for his close-up. 
"Would you look at this damn cat? LOOK AT IT. Posing for you like a prize-winning show cat. Ha. Jokes on you. Wow is made of 60% trash and 40% prom king energy, and you can't handle all this majesty.

You can also pick up and hold Wow all you like, and I only know this because his punk ass is always running for the door like he just robbed a bank. Someone, please adopt him or hold all three doors open for him so he can go live his true life as a future felon," they wrote on their Facebook page.
The description of a bonded pair of kittens just begs you to come in for some cuddles and to experience their high energy antics.
"Did you have an unstable childhood and do you also hate sleep? Well, hot damn do I have two ragers for you. Omie and Caesar are two bonded dumb boys looking to bring some chaos and low-level anxiety into your life whether you like it or not. Six and four months old, they are like two little maniacs who want nothing more than to get a little affection and cause problems. Fourteen-year-old Chris would have gone mailbox bashing with them after a long night of stealing newspaper machines to break into for money to go see crappy punk bands in sketchy basements.

Two sweet boys who have a lot of love to give, but also someone flipped their switch to mayhem, and we can't catch them to turn it off, so that is on you. Now come take these heshers off of our hands," they wrote.
If you're ever in the Chicago area, be sure to check-out this awesome establishment. But make sure to make a reservation first, as it's the only way you can guarantee time in the lounge with all the adorable, adoptable cats.
And if you're interested in reading even more awesome descriptions, you can follow the Catcade 's Facebook page.
Featured Image: YouTube