Every once in a while, an event occurs that is so different and unique from what is usually considered the "norm." And for these events to be caught on video is an even greater rarity. For this reason, Reddit users are experiencing shock and awe over a viral video depicting something many would think impossible: a cat befriending a rat.
The media's portrayal of the relationship between cats and rats usually shows a predator versus prey relationship. For example, the popular children's cartoon Tom and Jerry teaches viewers that a cat-and-mouse pairing is nothing if not adversarial.
Most episodes of Tom and Jerry display the innumerous efforts of Tom, a house cat, to destroy little Jerry, a mouse who lives within the walls of Tom's family home. And while none of these efforts are successful, the idea that cats and mice do not mix has long been a universally accepted truth.
That is until a Reddit user by the name of u/vladgrinch shared a now-viral video on the social platform of their cat, an adorable short-haired calico, befriending a rat. The kitty's owner explains, in the video's caption, that they hoped the cat would rid the pest from their yard – a plan which seems to have backfired in the most comical way.
"When you get a cat hoping it will help you get rid of the big rat in your yard" – u/vladgrinch
Many users claim that the happenstance relationship is a hoax, hinting at the idea that both the cat AND the rat are housepets owned by the same person. Regardless, the video of their unique relationship has users laughing in delight.
In the viral video, u/vladgrinch's calico beauty can be seen holding the fluffy critter in a hug. She forcibly bathes the rat, licking him vigorously from nose to tail. And while many users have joked that the rat is being held against his will, the video shows the rat participating in bath-time, rubbing his tiny hands across the cat's face. Towards the end of the video, we even see the kitty play gently with the rat's tail!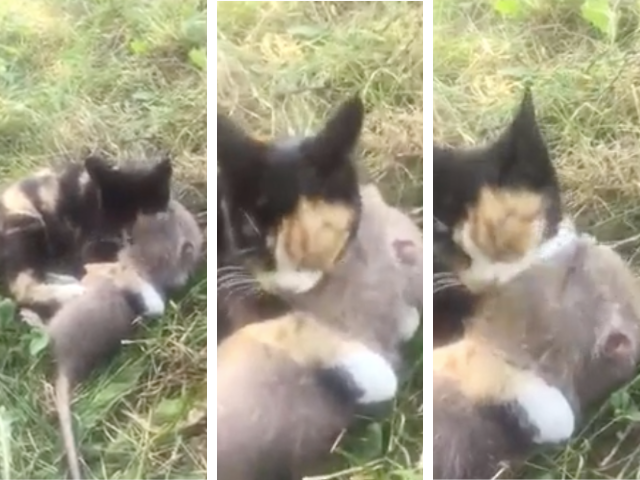 "Congratulations on your new pet," joked one user, while another added, "Classic enemies to lovers."
And while this may be one of the only times we get to see this type of unique and special bond, the truth is certain: these two are no Tom and Jerry.
///
///
Featured Image: Reddit