iHeartCats is reader-supported. When you buy via links on our site, we may earn an affiliate commission at no extra cost to you.
If you're a cat parent who wants to give your furry friend the chance to explore the great outdoors safely, a cat harness is a must-have. Yet, small dog harnesses usually aren't sized properly for cats, so it's a good idea to find one that's made with your feline friend in mind. Whether you're planning to take your cat out for a walk or on a trip, the right harness will ensure they remain comfortable and secure.
In 2023, cat harness technology has improved significantly, allowing pet owners to make even better choices. So, this article will cover important features of cat harnesses and how to choose the best option.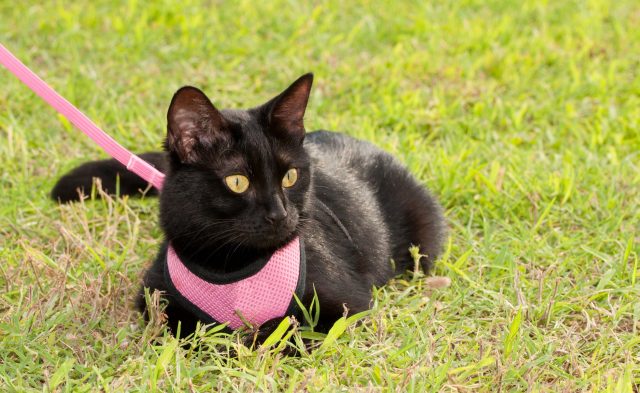 Buyer's Guide: Cat Harness
There are a lot of factors to consider when choosing the best cat harness. So, keep the following things in mind when settling on a product.
Size
The fit of a harness is critical. A harness that's too tight can cause discomfort and restrict movement, while one that's too loose can allow your pet to escape easily. Measure your cat's neck and chest accurately before purchasing a harness. Most manufacturers provide sizing guides to help you select the right fit. Look for one that's adjustable so it can keep your cat safe even if they grow or gain/lose weight.
Materials
The material of a harness directly impacts its durability and comfort. Nylon and polyester are common due to their durability. However, mesh fabric has gained popularity because it's breathable and reduces the risk of your cat overheating. Look for materials that are durable yet soft enough to not chafe your cat's skin.
Safety
The primary purpose of a cat harness is to keep your pet safe when outside the house. Look for harnesses with secure buckles or fasteners that are 'escape-proof.' Harnesses with reflective strips can also enhance safety during nighttime walks. However, some secure harnesses also have a quick-release buckle to help you easily free your cat in an emergency.
Included Leash
Many cat harnesses also come with a matching leash, making it convenient and cost-effective. Yet, you should check the reviews to make sure the leash is good quality. If not, you're likely better off buying a separate leash.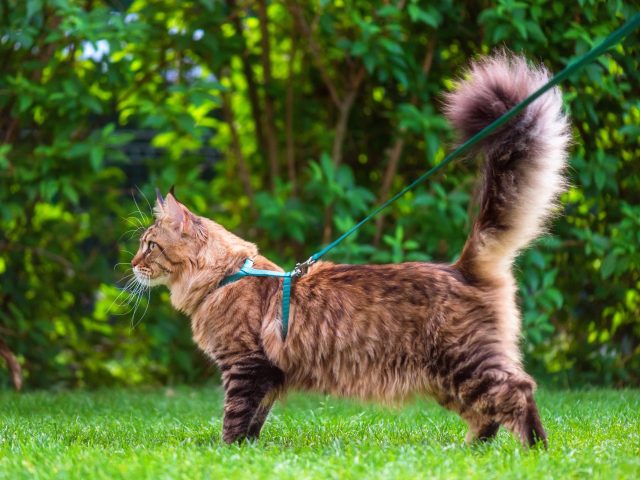 Best Cat Harnesses
Also available at Petco
The PetSafe Come with Me Kitty Harness is designed for optimal cat comfort and owner control. One unique aspect of this harness is its shoulder straps, which gently tighten as your kitty moves, providing soft yet secure restraint. The tightening mechanism ensures that pressure is not put on your cat's delicate throat. The accompanying bungee leash is another impressive feature; it provides a little extra "give," reducing leash tension during sudden movements. This makes for a safer and more enjoyable experience during your outdoor adventures. Made from high-quality nylon, the harness is durable and adjustable, ensuring a perfect fit for cats of various sizes. Its design also takes your pet's style into account, offering a range of vibrant color options to choose from.
The Yizhi Miaow Cat Harness and Leash Set stands out for its thoughtful, escape-proof design and comfort-driven features. This harness utilizes a wrap-around design that snugly fits your furry friend, reducing the chances of escape while ensuring that your pet is comfortable. The interior of the harness is padded, providing added comfort and protection for your feline friend during their outdoor adventures. Equipped with a quick-release buckle and fully adjustable straps, this harness guarantees an easy and secure fit for cats of various sizes. The included leash offers sturdy control, making your walks safer and more enjoyable.
The Rabbitgoo Cat Harness and Leash Set is favored for its blend of comfort, security, and adjustability. This escape-proof harness is meticulously designed with adjustable straps, magic tape, and a clip to ensure a snug and safe fit for cats of various sizes. Its innovative use of breathable air-mesh fabric ensures that your cat stays cool and comfortable, even during warm weather outings. For evening strolls or low-light conditions, the harness comes equipped with reflective strips, adding a layer of safety by enhancing your cat's visibility. Plus, the sturdy leash included in the set ensures excellent control to keep your outdoor activities safe.
The PupTeck Adjustable Cat Harness with Leash is a popular choice among cat parents for its innovative design and ease of use. It has adjustable straps, ensuring a perfect, comfortable fit for your cat. It only has one size, but it can accommodate cats with a neck size of 7 to 10 inches and a chest size of 10 to 17 inches. It's light as a feather so your cat won't be annoyed wearing it. The included leash is durable, offering a secure way to keep your feline friend close during outdoor adventures. Plus, the harness comes in ten different colors, so you can choose the one that fits your cat's personality best.
The Kitty Holster Harness is a jacket-like harness that focuses on comfort, security, and style. This ultra-lightweight harness is crafted from soft material, ensuring a comfortable fit that won't bother your feline friend. It uses secure hook-and-loop fasteners that make it difficult for your cat to escape, providing peace of mind during outdoor events. It's available in an array of patterns and colors, allowing owners to choose a design that matches their cat's personality best. It also comes in seven sizes to fit the tiniest kittens and the largest adult cats. If the harness gets dirty, it's safe to throw it in the washing machine, making cleaning a breeze.
The Travel Cat Harness and Leash Set is designed with the adventure-loving feline in mind. The harness has a vest-style design that distributes pressure evenly, preventing discomfort or injury to your cat's neck. It uses magic tape and a quick-release buckle, ensuring that your cat is securely harnessed but can be easily released when necessary. The breathable air mesh fabric used in its construction provides additional comfort, allowing your cat to explore in all weather conditions without overheating. It also has a reflective strip to keep your cat visible at night. The accompanying leash is sturdy so you can maintain control over your cat.
The RC Pet Products Adventure Kitty Harness comes in three sizes, and each size is adjustable around your cat's neck and waist. It has a vest-style design that evenly distributes leash pressure, thereby reducing the risk of choking. This harness is made of air mesh fabric, which promotes breathability and prevents your feline from overheating during their outdoor adventures. It also features a reflective binding that enhances your cat's visibility, making it safer for evening or nighttime excursions. For additional security, it includes a D-ring as a leash attachment and a quick-release buckle for ease of use. It has three color options, so you can choose one that suits your cat best.
The GAUTERF Cat Harness with Leash Set is an all-season harness made with a breathable mesh material. It offers a cooling effect while being gentle on your cat's skin. The harness is adjustable and escape-proof, using magic tape and a quick-release buckle. It comes with a sturdy D-ring for leash attachment, providing you with secure control over your pet during outdoor activities. The accompanying leash is solidly built, further enhancing safety and control. This harness and leash set combines functionality with aesthetics by offering six sizes and 12 colors. It also has a reflective strip to help your feline companion stay safe at night.
The Pidan Cat Harness & Leash Set is a distinguished choice for pet parents who prioritize practicality. The harness features a minimalist aesthetic that doesn't compromise on function. It's constructed with lightweight straps so your cat will barely notice they're wearing a harness. It adjusts around your cat's neck and chest to ensure they can't escape. The accompanying leash is durable, offering excellent control. It only comes in one size, which fits necks of 7.8 to 12.2 inches and chests of 10.2 to 16.9 inches. However, you can customize it by choosing between four color patterns.
Frequently Asked Questions
Do Cats Like Harnesses?
Like many aspects of feline behavior, whether cats like harnesses can vary greatly from one individual to another. Some cats adjust to wearing one quickly and enjoy the outdoor exploration it allows, while others may feel uncomfortable or restricted. It's essential to introduce a harness gradually and positively, ensuring the feline associates it with good experiences to increase the chances of acceptance.
How Do You Put a Harness on a Cat?
Putting a harness on a cat involves first identifying the front and back of the harness, then gently slipping it over your cat's head or stepping them into it, depending on the design. After that, you can secure the straps or buckles around the chest and/or abdomen, ensuring the fit is snug but comfortable. There should be enough room to fit two fingers between the harness and your cat's body. It's important to reward your cat with praise or treats during and after the process to associate the harness with positive experiences.
How Do I Measure My Cat for a Harness?
Measure around your cat's neck and chest (just behind the front legs) using a flexible tape measurer. Ensure the tape measurer is snug, but not tight, and remember to leave some room for comfort. Then, follow the product's sizing guide to choose the right size for your cat.
Are Cat Harnesses Safe?
Yes, when chosen and used correctly, cat harnesses are safe and can provide a secure way to explore the outdoors with your cat. It's crucial that the harness fits correctly to prevent escape. However, it shouldn't be so tight that it causes discomfort or restricts movement. Also, it's essential to supervise your pet while they're wearing a harness and to remove it when they're unsupervised indoors.
Can Cats Use Dog Harnesses?
While a cat can wear a dog harness, it's generally not recommended. Cat harnesses are specifically designed to accommodate a cat's unique size, shape, and movement patterns, whereas dog harnesses might not provide a secure fit and could be too heavy or restrictive for a cat's comfort. Therefore, it's always best to look for a harness designed specifically for feline use.
Can a Cat Wear a Harness All the Time?
No, it's not recommended for a cat to wear a harness constantly, as it could cause skin irritation or hair loss. The harness should be removed when the pet is indoors, especially if they're unsupervised.
Can You Walk Your Cat on a Harness Like a Dog?
Cats can be walked with a harness and leash, but their walking style is different from a dog's. Cats often prefer to explore at their own pace and might not follow a set path. Always allow them to lead and explore their surroundings.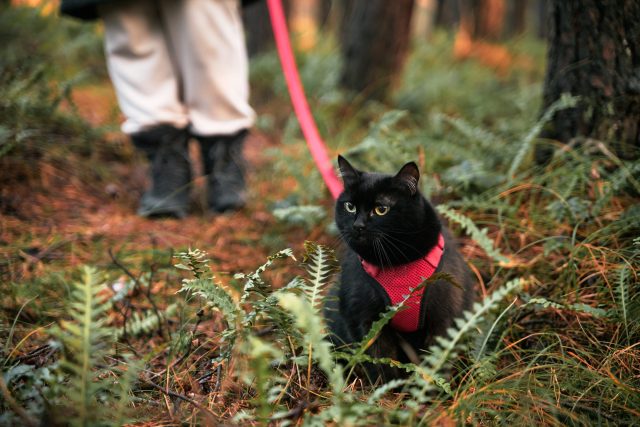 Final Thoughts
All the cat harnesses mentioned in this article are great options, but the best one for your feline friend will depend on their size, temperament, and specific needs. A good cat harness should be secure, comfortable, adjustable, and durable, ensuring that your pet can safely enjoy the great outdoors. Remember to always introduce a new harness to your cat slowly, allowing them to get accustomed to the feeling. That way, you can make outdoor adventures as stress-free as possible.
[templatera id="3493224"]
iHeartCats is reader-supported. When you buy via links on our site, we may earn an affiliate commission at no extra cost to you.