We may be writing this story a bit late but considering that it's about Axl Rose, would having it done on time really have been appropriate? Nah.
Axl Rose may be the king of classic rock – and some people (me) may call him a god – but he has a softer side that often gets overlooked. Growing up in Indiana to a devoutly religious family gave Axl his own set of challenges to overcome. Often feeling unloved and the target of his step-father's abuse, Axl developed the tough exterior that the world has come to know.
Underneath His Gutteral Screams And Riot-Causing Attitude Is A Man Overflowing With Love
Deep down, however, is a man having so much love to give and desperately wanting the same in return. Though Axl never had children of his own, he has had several furbabies over the years. In an interview a few years ago, Axl told Jimmy Falon that he has his own zoo.
"I have a zoo," he said. My animals (wolves, parrots, dogs, cats) are my buddies. They need lots of love and attention."
By many accounts, Axl in real life is a shy, kind, and caring man, often speaking quietly and spending time away from the crowd. Undoubtedly, Axl finds it difficult to trust others considering his upbringing but as us animal lovers know, our pets will never let us down. They're always a source of love and comfort so long as we show them the same kindness.
In his younger years, Axl had his little fuzzy dog named Torque who posed with him in some of his most iconic photos. More recently he has been the dad to cats Dijon, Whiskey, and Dexter. What a fine cat daddy he is, might I add!
Axl Shows Rare Vulnerability Mourning The Loss Of One Of His Furry Family Members
All joking aside, the Guns N Roses frontman is typically elusive to social media. However, he recently took to Twitter to mourn the loss of his beloved cat, Dexter Maranello Rose.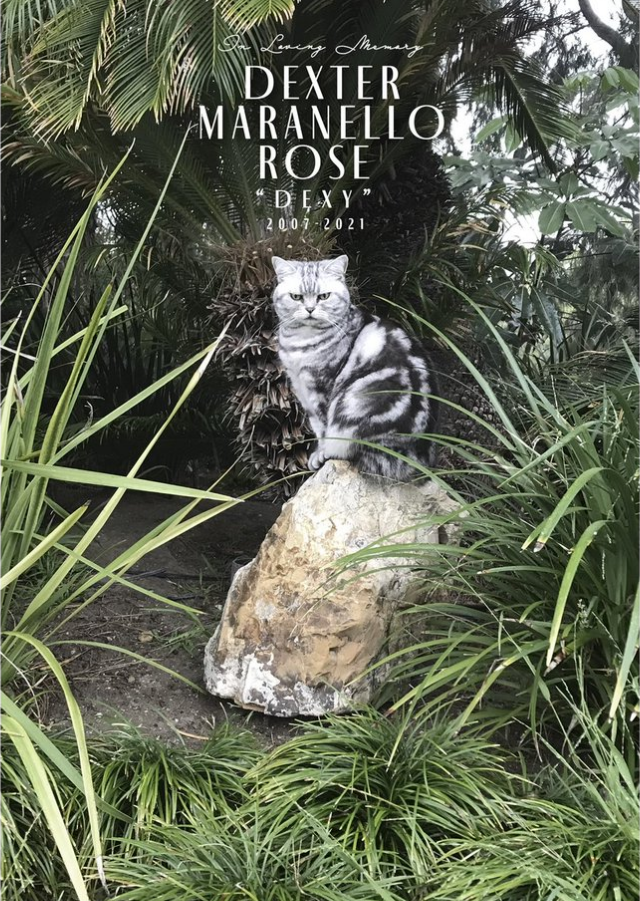 A touching tribute showed sweet little Dexter perched atop a rock seemingly enjoying the beautiful landscape of his Malibu mansion. Dexy was approximately 14 years old when he passed. From all accounts, Axl showered him with every ounce of love in his body.
Fans took to Twitter to share their condolences. Many even shared pictures and stories of their own furbabies letting Axl know that he wasn't alone in his time of grief.
Three days later, Axl went back to Twitter to thank everyone for their love and support.

Rest easy, sweet Dexter.
h/t: @AxlRose/Twitter