Charli is a proud cat lover that feeds an abundance of strays and runs a small sanctuary in Greece. While on a feeding run, a cat, Charli, called Annie, ate her kibble, then took off after Charli! As Charli drove home, she looked back in the rearview mirror and saw Annie running after her. As Charli puts it, she chose her human and wouldn't let her get away.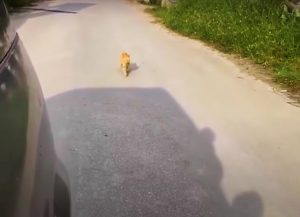 That's when Charli decided to bring Annie home. The smart, friendly stray acclimated to 'pet life' rather quickly. She made herself at home in Charli's bed and never wanted to leave. Soon after, a concerned citizen phoned Charli regarding three tiny orphan kittens. Charli agreed to help and brought them home. Annie was smitten!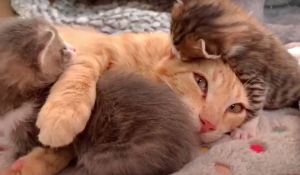 The Orange Tabby allowed the teensy kitties to climb all over her! She groomed them and carried them to Charli one by one when it was feeding time. She gently placed each kitten before Charli then ran and got the next one. What a clever cat!
To meet one of the smartest and sweetest kitties in history, watch the video below. Thank you, Charli, for all the good you do in this world!
Please 'SHARE' to pass on this story to a friend or family member
Click 'SHARE' below to pass it on to a friend or family member!