Cimeron Morrissey, who helped establish Project Bay Cat in San Francisco, California, is the type of person that won't turn away any kitty that needs her help – no matter where in the world she is.  She and her husband recently moved to Penang, Malaysia for an expat assignment. It must have been fate, because in the parking garage of her condo complex was a mama feline and her babies, in need of desperate help. They were moments away from being killed by a pest control company.
"The cat-loving security guards at our building saw me, told me about the situation and pleaded with me to save the friendly mom and her babies," Morrissey told iHeartCats.com. "So I scooped them up and have been temporarily fostering them in our laundry room."
She got the mom spayed, and plans on fixing the kittens when they are old enough. But that's the easy part. The hard part is a furever home –  finding homes for rescued animals in Malaysia is almost impossible.
"I plastered Malaysia with fliers and online posts, and have even held impromptu adoption fairs at morning markets, malls and pet shops, etc. and have begged people to adopt these kittens," she said. "I've practically had to pay people to adopt them, and by some miracle, three have finally found homes. Now Cookie is the only one who needs a home of his own."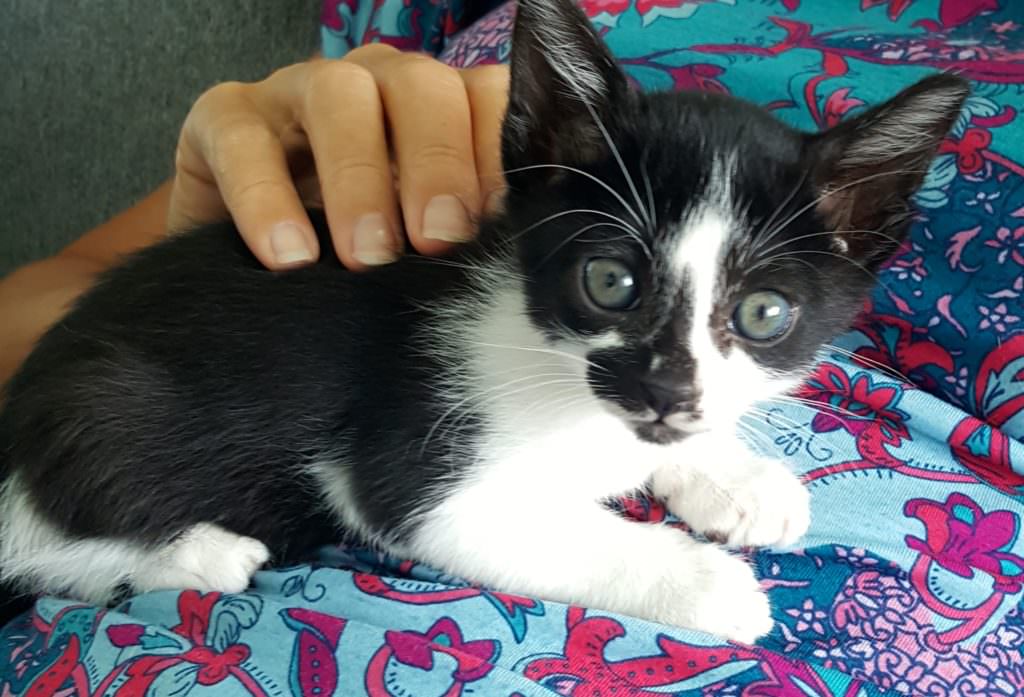 And who is Cookie? He is one of the Super Kitties in the video below – an incredibly sweet, gentle, playful happy and fun kitten Morrissey says.
"He loves to cuddle and fall asleep on laps, he hops around like a bunny when he's excited, and he loves other cats/kittens. He's honestly the most perfect kitten," she adds.
Watch the full "Super Kitten" video below. Where they sport cute super capes.
"My husband fell over laughing when he saw the kittens wearing their tiny, sparkly superhero capes," she said. "It's embarrassing to admit that I made bedazzled capes for kittens, but hey, if it helps to get them homes, it'll be worth it!"
Want to adopt Cookie and live in Peang state or in Selangor/Kuala? Then contact Cimeron at the number in the video. Cookie will come with an adoption kit including: food, litter box, litter, toys, bedding and she will pay to have him neutered when he is old enough.
Can't adopt? SHARE to help Cookie find ths perfect home.
Did you like this?