In Cape Town at the southern tip of Africa, there is a an old, beautiful park called The Company's Garden, a place that lots of feral cats call home.
When TEARS Animal Rescue's Feral Cat Project discovered a new litter, they started keeping track of the family to make sure they remained healthy.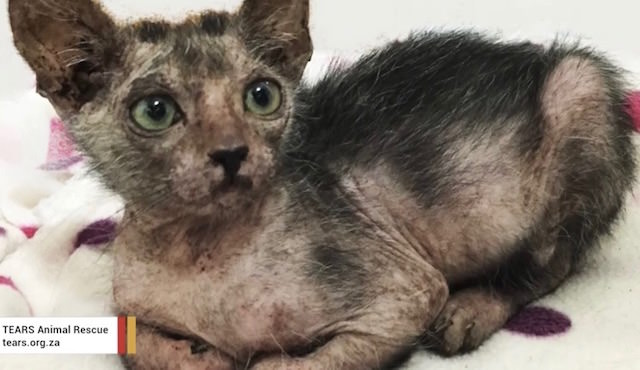 "A tabby cat had given birth to six kittens in one of the flower beds in the gardens. She was fed and monitored for four weeks before plans were made to trap mom and kittens and bring them in for sterilization and treatment," Tracy Gilpin of TEARS said in a story by Love Meow.
But before they could trap the cats, the mother abandoned her litter. Luckily, TEARS was there to save the babies. Once they were brought to safety, the rescue staff noticed that one of the kittens looked very different–even werewolf-like. They named the kitten Eyona.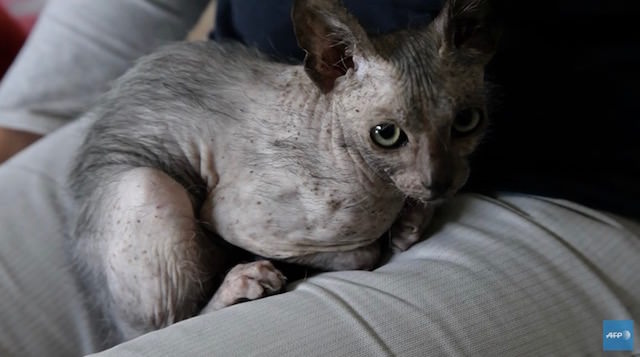 "At first it was thought he was a Devon Rex or Sphinx but DNA tests ruled this out. So maybe it was a strange skin condition. Tests also ruled this out. So TEARS' staff started searching for other explanations and that's when they discovered that the kitten just might be an incredibly rare Lykoi," Gilpin explained to Love Meow.
They recruited the help of Dr. Johnny Gobbels, a USA-based Lykoi expert. Judging from the pictures, he agreed that the kitten was in fact a member of this rare breed. A representative was sent to the rescue to examine the kitten (there is no DNA test for Lykois), and the fact was confirmed.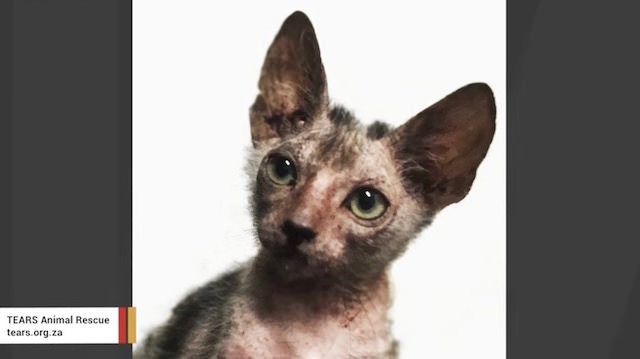 "Eyona is the only natural-born Lykoi on record in South Africa and only the 35th natural born Lykoi in the world," Gilkin told Love Meow.
"Nobody really knows why Lykois have the look of a wolf. Except that once in a very rare blue moon, a recessive or mutant gene carried by one of the parents results in the birth of one of these rare kittens.
What's really interesting is that Lykois also tend to behave more like dogs and cats – they're more likely to make eye contact and you get the feeling they look at other cats and can't figure out their behavior. We noticed that Eyona didn't naturally join in the play with other kittens. He would watch them then sometimes copy what they were doing," she explained in the story.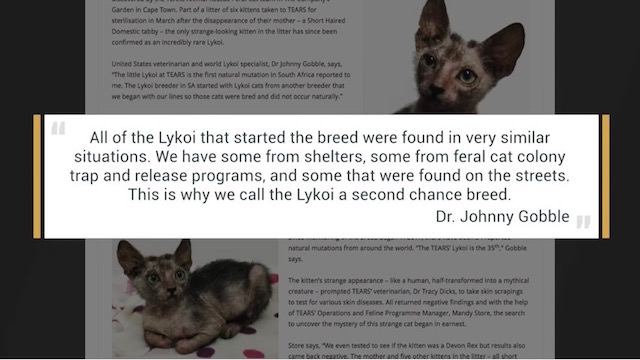 Love Meow also reports that TEARS said Lykois tend to be a very healthy breed. Eyona will not be up for adoption, but will be cared for by the rescue.
"Eyona is living in the home of one of TEARS' most trusted feral cat experts. He has lots of other cats for company and is developing at his own pace. Just last week he began to sleep on the bed and his favorite toy, a large soft toy spider," Gilpin told Love Meow.
Watch a clip on Eyona the Lykoi here:
(h/t: Love Meow)