In Stroud Township, Pennsylvania, a fire broke out at around 2am in a detached garage. Firefighters immediately rushed to the scene. The owners of the garage told the police that the fire started from their car which they saw was set on fire by their neighbor, 40-year-old Daniel Hernandez.
After the firefighters put out the fire, they heard a faint meowing sound as they were pulling out the debris from the burnt garage. They heard the meowing underneath a shelf, and when they went in to check, they found a tiny 6-week-old kitten at the bottom of a pile of debris.
Meet Logi! This kitten was rescued from an arson fire by volunteer firefighters in Stroud Twp. He's got a long way to go, but is in good spirits! His story on WNEP-TV tonight at 7!

Posted by Amanda Kelley WNEP on Friday, November 6, 2015
The kitten, now named Logi, was lucky to be alive. But he was alone and clearly not happy. Fire Chief Dave Smalley said that Logi's mom and siblings may have gotten out, but Logi was left behind.
And because of the fire, Logi lost an ear and some chunks of his fur. However after the fire, Logi gained something–a new family. Stroud Township Volunteer Firefighter Matthew Smalley adopted Logi.
Logi may already be in good spirits, but he still needs treatment and surgeries. So the family set up a GoFundMe page to raise money for Logi's vet bills.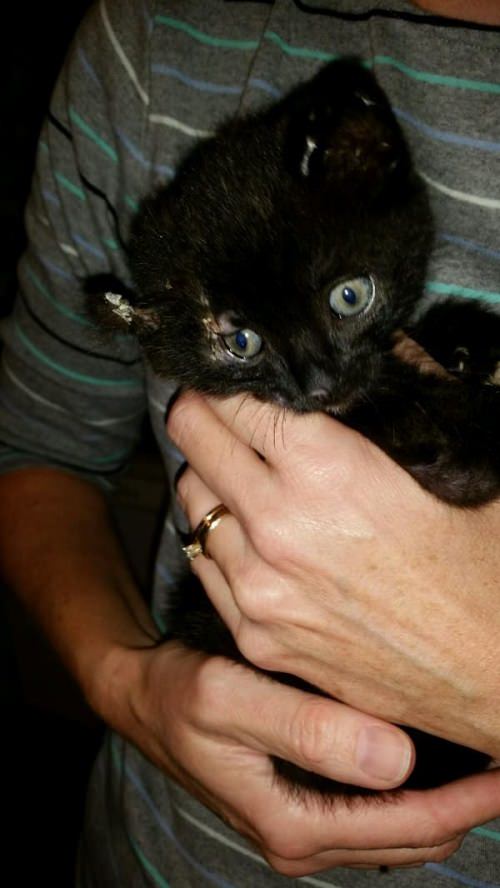 To help Logi with his recovery, please visit his GoFundMe page and give a small donation.
You can read more about Logi's story at WNEP, Little Things, and at The Morning Call.