Asia and Africa are the two largest continents in the world and they are home to a wide variety of countries. These countries have given us some of the most unique cat breeds. While we've covered cats coming from Thailand, here we're going to take a look at cat breeds from Africa and the rest of Asia.
#1 – Dragon Li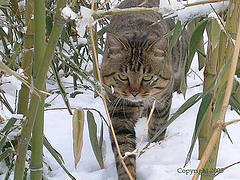 The Dragon Li, or Li Hua Mau, is a naturally occurring domestic cat native to China. It is thought to be a descendant of the wild Chinese Mountain Cat. Because of this, the breed has an exotic look and is a golden brown with tabby stripes. A breed standard wasn't pursued by cat fanciers until 2003. They are an active and intelligent cat growing in popularity.
Click page 2 below for the next breed!