We can't thank you enough for your generosity. Every shelter cat with a bowl full of food thanks you too. You are a hero to kitties in need.
Thanks to iHeartCats.com partnership with GreaterGood.com, part of every purchase made goes to shelters striving to give every cat a home. The Rescue Bank, a pet food distribution initiative in the GreaterGood family, has fed shelter animals over 80 million meals since its beginnings in 2011. Let's keep those numbers going up with simply buying adorable merchandise.
The Rescue Bank Mission Statement
"Rescue Bank, a program of the non-profit GreaterGood.org, supports animal welfare groups by providing grants of donated pet food. We primarily serve smaller groups that have limited resources, increasing their visibility and providing greater access to supplies."
🐈 Sadly, only 29% of cats who enter shelters make it out alive.That's why we're providing life-saving care packages to shelters all over the country to increase adoption rates!For just $10, you can send a care package to a shelter cat in need. Please use the donate button below to give today. Any amount helps!

Posted by GreaterGood.org on Tuesday, November 5, 2019
Thanks to this food distribution initiative for shelters needing supplies to continue care efforts, starving cats in need are getting a chance at a better life.
Just like Crush…

Faerie Tales Cat Rescue/Facebook
Crush turned up at an automotive manufacturing plant, abandoned and afraid. Some of the workers treated Crush with contempt, kicking at him and throwing things. But other workers were kind, offering pieces of sandwiches from their lunches to the obviously hungry cat.
After a large piece of construction equipment fell on site and nearly crushed the poor gray kitty, one of the workers gathered Crush into careful arms and took him home. Turns out, this was no ordinary home. Crush found himself at one of the devoted foster homes working with Faerie Tales Cat Rescue.
The sickly-thin and unneutered cat was terrified and in need of deep care. But the rescue home knew just what to do. Crush received necessary veterinary care and thanks to the efforts of Rescue Bank's high-quality food donations, Crush finally knew the feeling of a full belly. With medical attention, good food, and lots of love, Crush put on weight quickly. He's grown into a healthy boy ready for his forever home.
In the meantime, Crush is spending quality time with other felines, making friends now that he's not struggling and alone on the streets.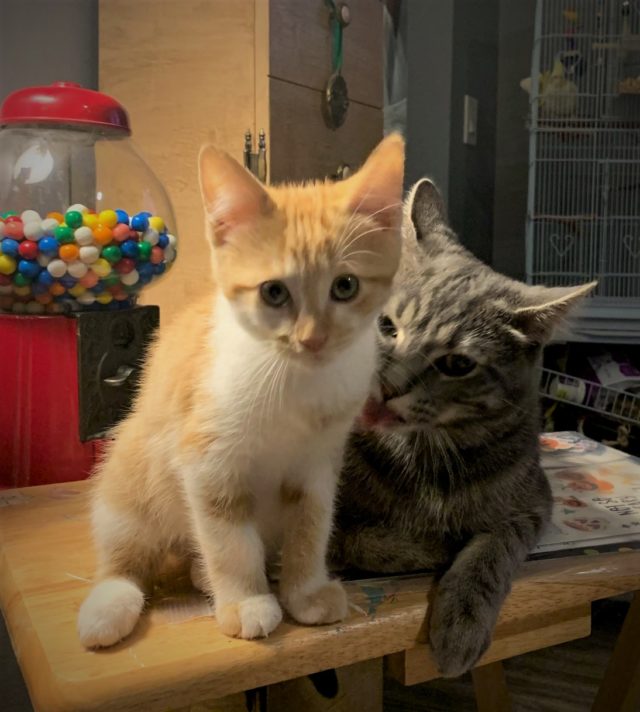 Faerie Tales Cat Rescue/Facebook
Simple Comforts Denied to So Many
A roof over our heads and regular meals are simple comforts often take for granted. So many cats suffer from hunger and abandonment, never knowing the peace and security of a loving home. But with the help of volunteers and shelters like Faerie Tales Cat Rescue, stray cats are preserving what remains of their nine lives and finding homes full of love and snacks. Two of a cat's favorite things!
According to Faerie Tales Cat Rescue, "Rescue Bank food donations allow us to provide a steady stream of food for the kitties in our care. This allows us to focus on the love and veterinary needs of these special cats."
Crush is one of many success stories and with your continued help, more happy endings await.
Feature Image: Faerie Tales Cat Rescue