Kittens are cute. A simple statement, but it covers such a deep field because kittens can be cute in so many ways. There are the daring older kittens who love to pounce and play, making cat lovers silly over their cute antics. At just a few weeks old, kittens are taking wobbly steps and beginning to explore. Their little tumbles and first encounters with the big world are adorable.
And a kitten with the first taste of wet food all over their mouths makes us chuckle at the sweetness of a messy face. When the food flicks into their eyebrow whiskers, just forget it! Cat lovers are reduced to mush.
But, some of the cutest of the cute comes at the paws of newborn kittens. Everything a kitten so tiny does is pure, precious, and utterly heart-melting. Just like this sweet baby sucking his tiny thumb…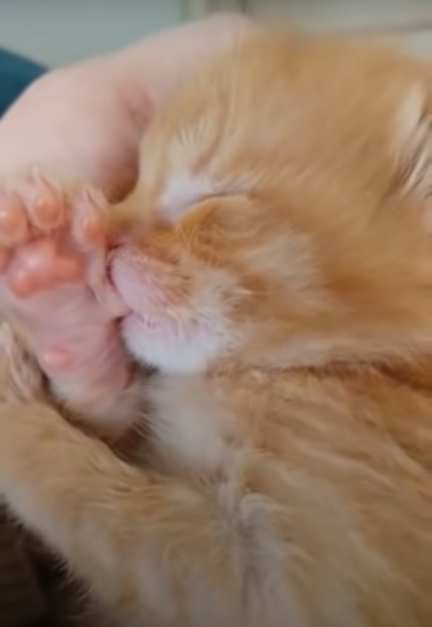 screenshot, Animal Viral Studio/YouTube
This extreme cuteness was captured when the orange kitten fell asleep in his human mom's lap. When the kitten started sucking his little toe like a human baby sucks their thumb, she grabbed the camera and started filming. And this feline enthusiast is so thankful she did!
We don't deserve such sweetness!
And just like this tabby love, the digital world is full of adorable newborn kittens just being the cute little bundles they are. Let's have a look at some of them, but first…
Prepare Your Heart for Gratuitous Cuteness
Well, hello there, darlings!
Oh! A tiny blep and some tiny toes make for an adorableness so big the heart can't take it!
This tiny ginger fluff has newly-opened eyes and is ready to conquer the world with the power of cute…
Soon, this itty-bitty Scottish Fold will soon open tiny eyes for the first time, but the little sweetling has already mastered cute…
All tuckered out, but never short on the preciousness…

3catz_ragdoll_cattery/Instagram
Eyes filling with tears, heart-bursting, must snuggle those widdle paws…
Here's another darling kitten, just barely a handful, sucking her tiny thumb…
Speaking of handfuls, here's another tabby bundle with a fat, little tail!
Is this not the cutest milk mustache ever?
Rise and shine, sweet baby, the world is waiting for your cuteness…
The stripes on a round kitten belly need to be covered in kisses…
Welcome to the world little purrito, you're a cute dream come true…
So, after seeing all these adorable feline babies, can you name anything cuter than a newborn kitten? Yeah, me neither!
H/T: www.apost.com
Feature Images: screenshot, Animal Viral Studio/YouTube & @cascadekaperkats/Instagram