As cat lovers know, felines come in all sizes, from small to tall. And the folks at Guinness World Records are always on the lookout for the extremes in cat builds. This year, they've found their newest "Tallest Living Cat" in Fenrir the Savannah cat.
Savannah cats like Fenrir are already big kitties with average heights of fourteen to seventeen inches. But standing at a height of 18.83 inches, Fenrir is one big boy among a breed of large cats. But his height isn't the only thing that makes this handsome lad stand out. As a therapy cat who works with his doctor dad, Fenrir's heart is just as big as his body, if not bigger, thanks to all the love he holds inside it!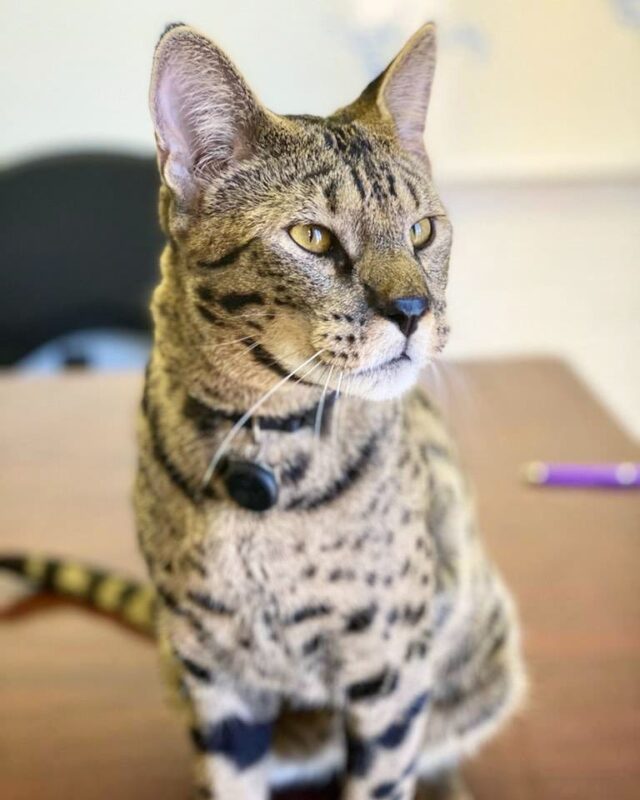 Tall Cat With A Big Heart
While Fenrir looks like a feline you might see stalking a wild plain, the three-year-old F2 Savannah cat is a people-cat who wants to lavish love on everyone he meets. And as a therapy cat at his doctor dad's medical practice, he gets that chance often, and the patients sure adore him for the comfort he provides.
"This guy follows me room to room, hops up on the exam table when I greet the patient, and gets to work on making them feel safe and comfortable," said Dr. William Powers, Fenrir's dad, and family physician/HIV specialist in Farmington Hills, Michigan.

"He is definitely the most popular therapy cat in my practice," Dr. Powers told My Modern Met. "People often ask me to go get him and bring him into the room if he doesn't choose to follow me in, as I move from patient room to patient room all morning."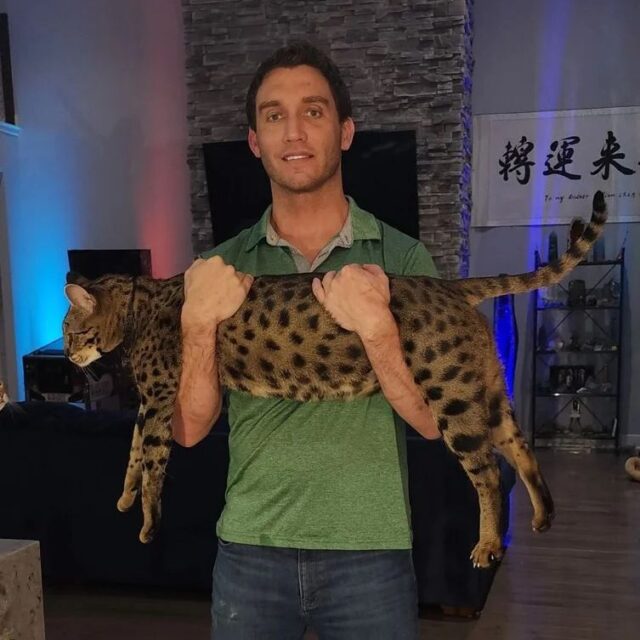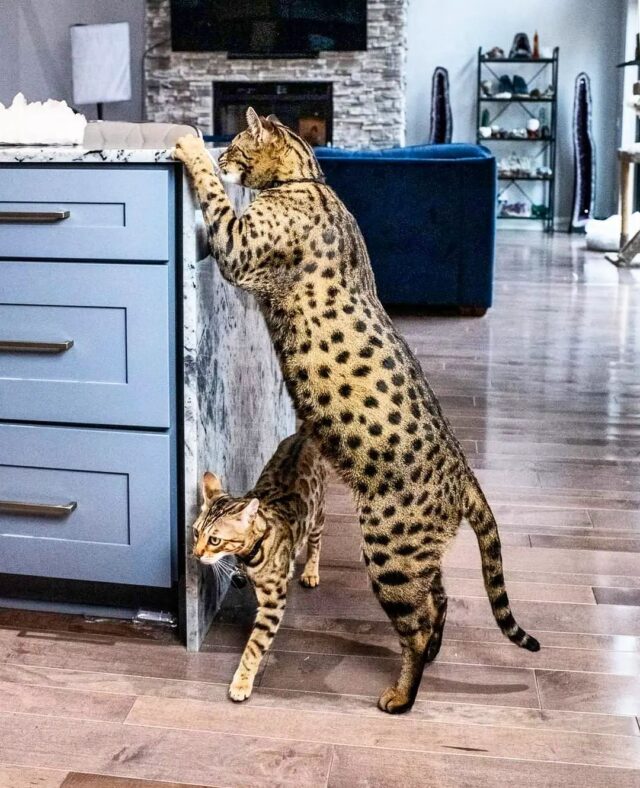 In addition to his work with human patients, Fenrir also strives to help his fellow felines. Dr. Powers spent years as the president of a cat shelter and still works with many rescues in their area. Fenrir lends his help by posing for photos that raise money he donates to shelters.
"I couldn't be prouder of Fenrir," Dr. Powers shared on Instagram. "Not because he has a Guinness World Record or is the tallest living cat, but because he is an exceptionally loving animal."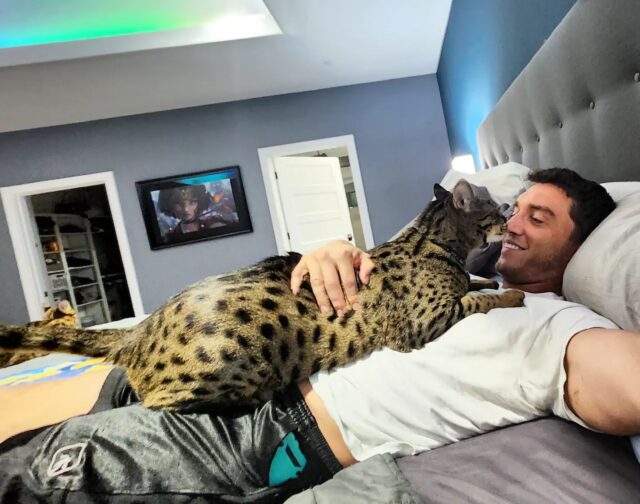 Family of Fine Record Holding Felines
With his handsome good looks and tremendous heart, Fenrir is a fine example of an F2 Savannah cat. This filial rating designates a Savannah cat's parentage, with an F1 Savannah cat being one with a parent who's a Serval. For every generation removed from the Serval, Savannahs gain a number in their rating, and at F2, Fenrir had a grandsire who was a Serval. That his Serval sire was a grandparent and not a direct parent clears Fenrir to compete for the tallest house cat title.
"Guinness' rules are for any cat to compete in a cat record, the cat must be a recognized breed by The International Cat Association. Under TICA's laws, only F2 Savannah cats and below (f3/f4/f5) are considered domestic breed cats. F1 hybrids are not," Dr. Powers explained.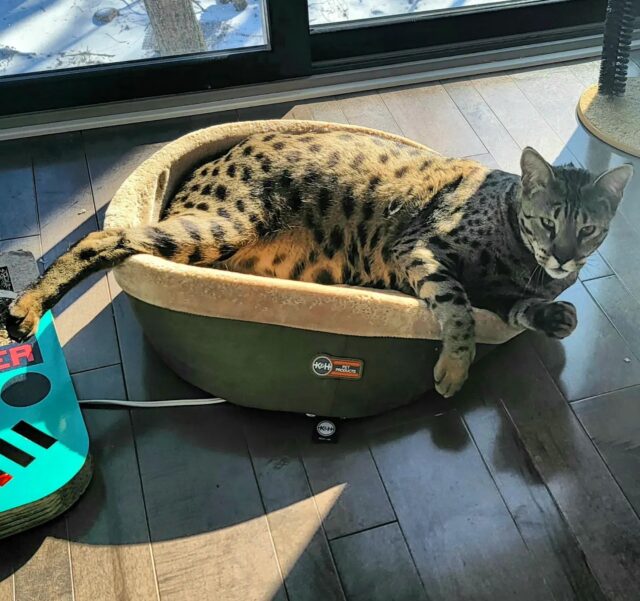 But Fenrir isn't the only Savannah cat in his family holding titles. His older brother, Arcturus, held the tallest cat record before Fenrir, standing an impressive 19.05 inches tall. Sadly though, Arcturus died in a house fire that nearly killed Dr. Powers as well. And though he's gone too soon, Arcturus still holds the honor of being the tallest cat ever. Living with Powers and Arcturus at the time of the fire was another record holder named Cygnus. This proud kitty held the title for the longest tail on a domestic cat. Now, Cygnus's brother Altair holds the record.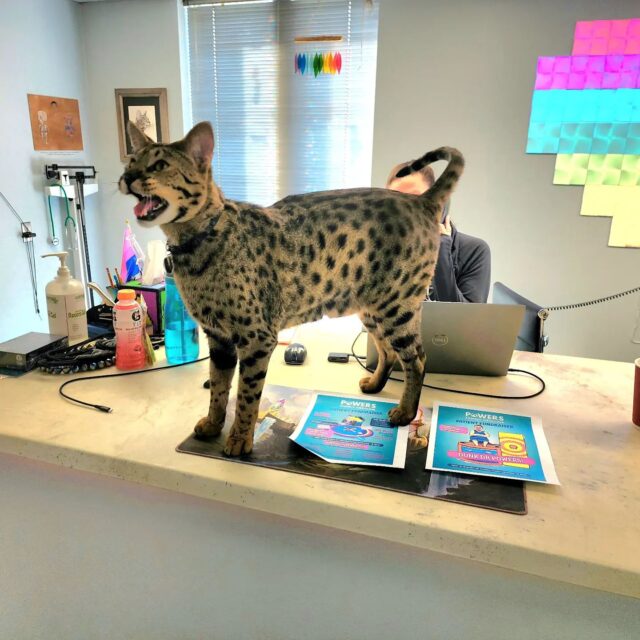 Record winners Fenrir and Altair are happy cats who live spoiled lives with their dad and four other kitties. With time and much support in rebuilding his life after the fire that destroyed everything, Dr. Powers has created a cat oasis for his clowder, and everyone gets one-on-one time with their dad to be sure they're each living their best lives. And Dr. Powers also plays gourmet cook for his cats, providing them a diet of ground-up pig bones, raw chicken, slow-cooked meats, krill oil, and multivitamins and supplements. It's good to be a cat in the Powers' home!
One Good Cat
"Fenrir is a big, silly cat," said Dr. Powers. "He gets the zoomies almost like a dog, and will run all around a room carrying a toy mouse or some other toy in his mouth. He absolutely loves 'rough play.'"
But when he's not playing, he's a cool cat that loves to lavish affection on just about everyone he meets, with his dad explaining, "Fenrir is a gentle giant who loves people and is perfectly content being held like a baby by complete strangers. He's going to do a lot to represent the Savannah breed as well as to help raise funds for various Detroit cat shelters."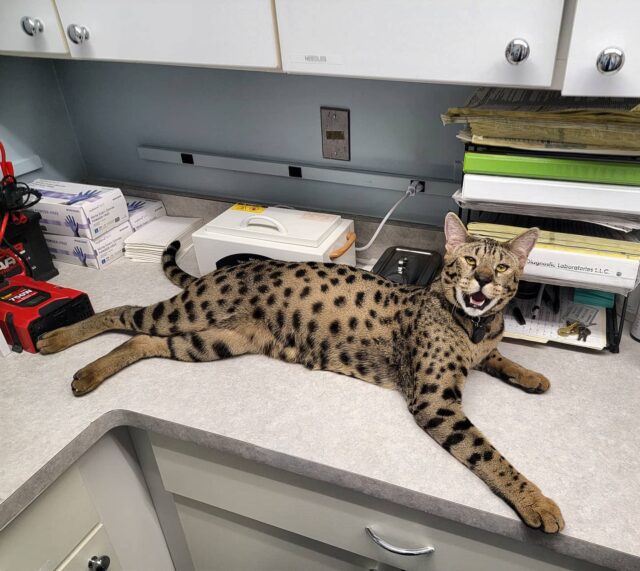 Keep up with tall cat Fenrir and Dr. Powers on Facebook and Instagram.
Feature Image: @starcats_detroit/Instagram