When asked what she wanted for Mother's Day, Teresa Bates made a very specific request, and she gave it without hesitation. With memories of kitties from the past, Teresa told her family she wanted a white and orange cat.
If your cat lover mom answers with such detail and swift speed, then you better get that woman a cat! With Teresa's family being wise, that was the plan daughter A'Lana Bates and her dad decided on. They would indeed get Theresa a sweet little kitten in shades of orange and white.
However, the fates had other plans, delivering a tough feral cat from the streets to her doorstep. Tom wasn't what anyone in the Bates family expected when Teresa spoke her wish out loud.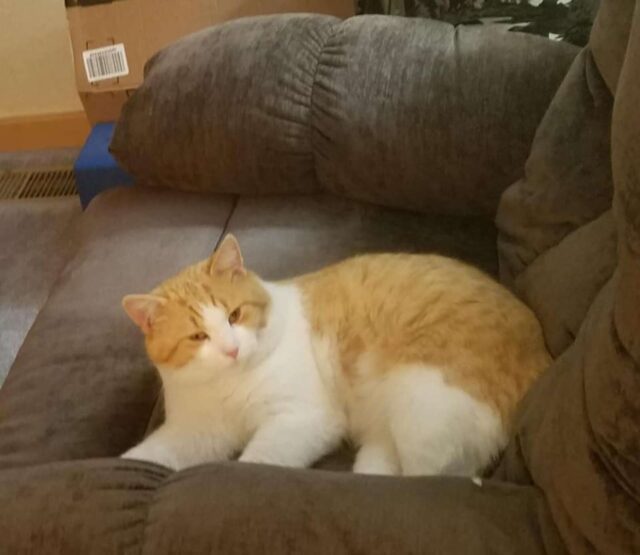 Wish Granted
Teresa's fondness for orange and white kitties came about decades ago thanks to a stray cat who wandered up in the early 90s. As A'Lana shared with The Dodo, Carmel was the first in a line of orange and white cats to join the Bates family, and "she was the best cat."
"A couple years after she died, we adopted an orange and white barn cat we called Spooky, who was simply a joy," A'Lana explained. "He died in 2008 and Mom has been wanting another."
As the cat lover she is, Teresa felt the familiar stirrings of knowing the time had come to add another feline to the family. A'Lana and her dad agreed, but before they could put a sweet, snuggly kitten in Teresa's hands, a pair of streetwise stray paws found her first. Not even a month after she laid out her Mother's Day wish, a rainstorm whipped through the neighborhood, bringing with it Tom the cat.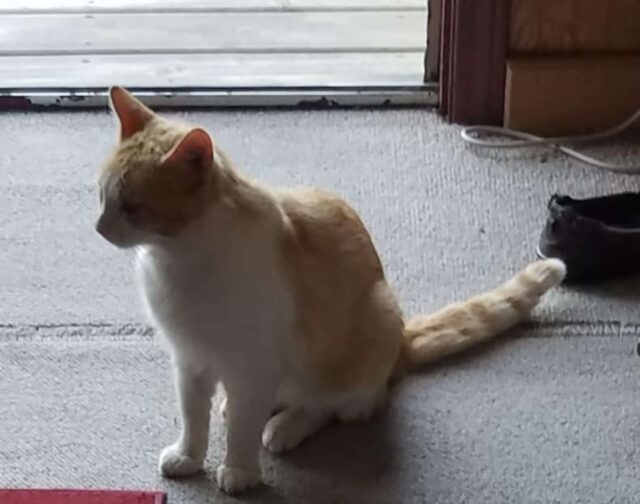 When the orange and white cat wandered into the yard during the storm, a moment of disbelief washed over them all. Could this be the orange and white cat Teresa asked for? Had she known Tom was finding his way to her arms as she made her request?
Sometimes Your Dream Cat Isn't What You Expect
The thing about Tom, though, he wasn't the friendliest of cats, A'Lana saying, "At first he was very rough-and-tumble and only wanted us to bring him food and water on the deck."
After a while, Tom made ventures into the house, "but we couldn't touch him."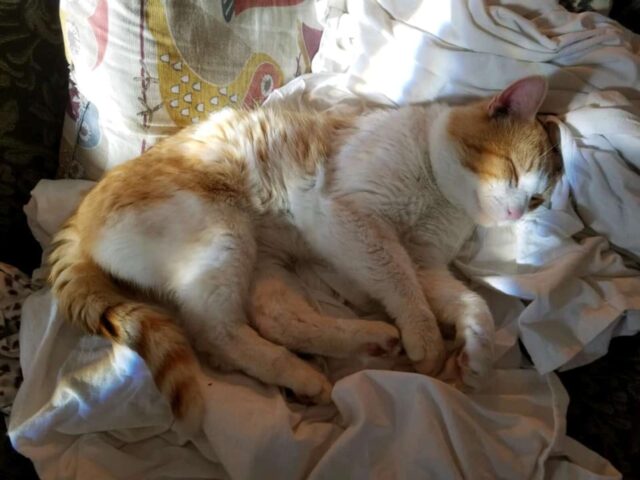 Yet, Tom knew this was home and the Bateses were family. After months of spending time building trust and love with his new humans, Tom finally decided scritches and scratches were okay. But when done with the love, he's still quick to give a bite. And what about picking up the big guy for hugs?
Forget it…unless you're Teresa. She's the only one who can scoop Tom into an embrace. Everyone knows Tom is Teresa's boy. In fact, the family knows it so well; they report the name Tom actually stands for Teresa's Orange Monster.
And an adorable monster he is!
"Tom wants to be a lover but isn't sure how," A'Lana said. "I am pretty sure the moment he showed up, my folks knew they were keeping him."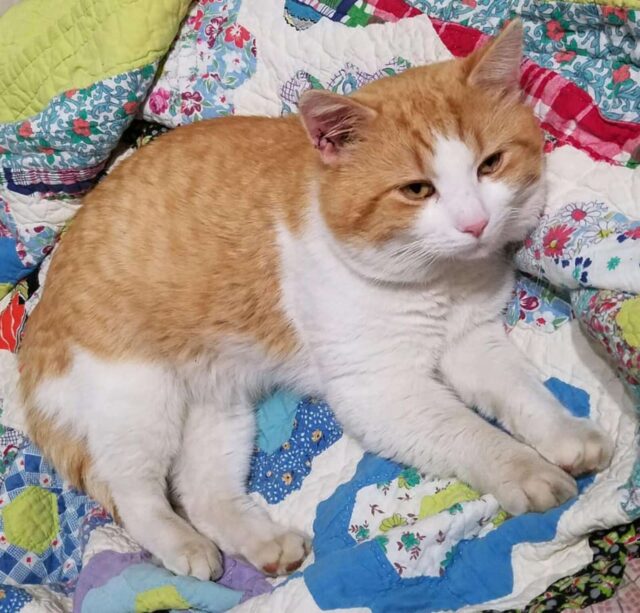 Tom may not be the kitten the family thought they'd be adopting, but Teresa saw him on their horizon anyhow. The fates aligned to bring the orange and white cat of her dreams right to her own yard, even if he wasn't what anyone expected. It turns out, Tom was much more.
H/T: www.thedodo.com