Halloween is the perfect time to get to know this amazing cat – with colors and genetic traits that were meant for Halloween!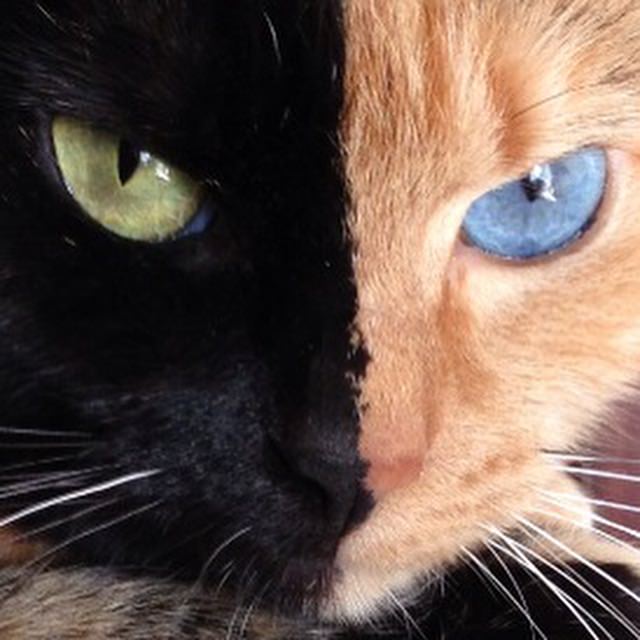 Venus is a 6-year-old domestic shorthair tortoiseshell. Although some would call her a calico, her owner Christina told iHeartCats.com she only has two white spots on her chin and a white ring on her tail, no white socks or bib like most calicos.
She came from a stray litter on a dairy farm in 2009. Christina first saw her picture on a Facebook post.
"With my love for cats I scrolled through the post to stumble across this cat with a half black/half orange face which were the colors of the 2 cats we had at the time, Mojo (black tux), & Ginger (female orange tabby). I thought it would be neat to add her to the family since she resembled both of our cats and of course everyone always has room for 'one more'. Then I clicked on the next picture and noticed her 2 different colored eyes. I knew she was something very unique and special and really wanted to add her to our family. So I called my friend (who I think thought I was a little crazy for offering to fly up and bring this cat back to Florida after a vet check) to see if she'd check with the farm owner about adopting her out."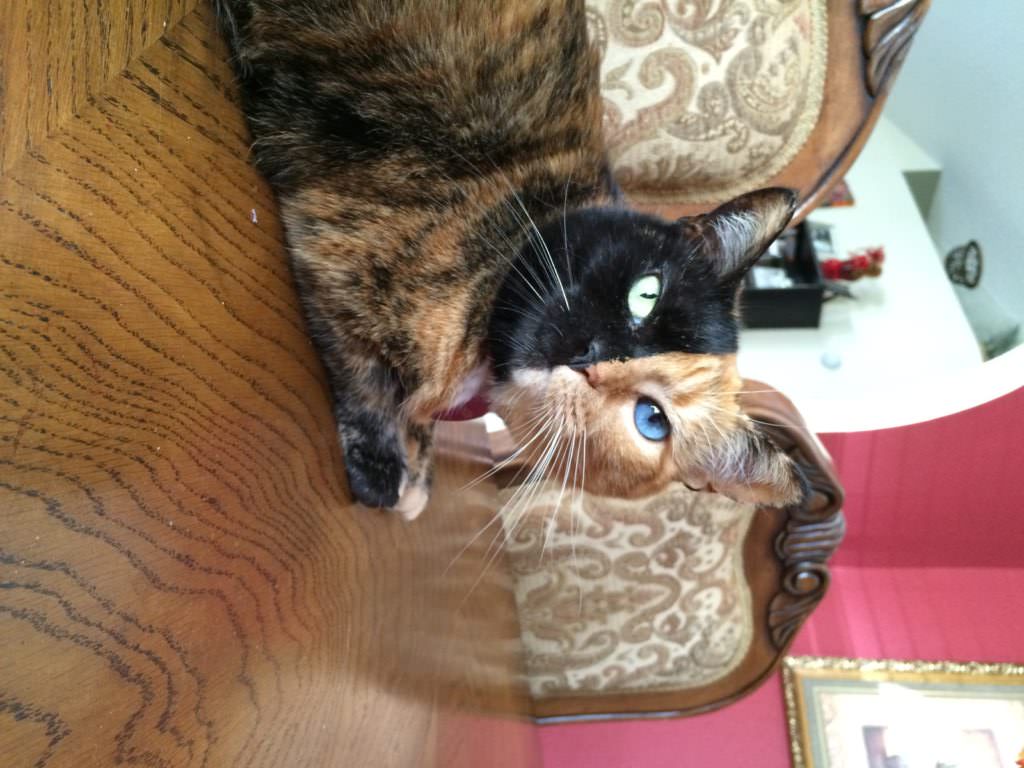 And as for her unique features?
"Without DNA testing we will not know for certain, but everyone's best guess is it's just 'luck of the draw' in the way her colors divided," Christina told iHeartCats.com. "It's called x-inactivation. As far as her two different colored eyes and her whiskers being all white on the orange side and all black on the black side, that's the real mystery. Blue eyes are typically found in cats with a lot of white fur in their coat. As mentioned earlier, she only has those 2 small spots so geneticists can't really explain how the blue eye happened. She is not blind in that eye (or the other eye) and is also not deaf. Those are questions we regularly get asked."
Get To Know Venus!
Her Likes
Attention! Her owners says she is "very lovable and has been known to watch entire football games with me before without ever moving. She even lets me cradle hold her like a baby."
Photography. She is "super easy to photograph – it's really almost like she knows it's photoshoot time."
Treats (who doesn't like treats?)
Her Dislikes
Playing. She is not big on playing, except for anything stringy she can bat at.
Catnip. It doesn't seem to affect her.
Venus is super sweet cat, following her owners from room to room and prefers to not let them out her site. She is not only a YouTube and Facebook star, but there was even a limited edition GUND stuffed toy made of her. Christina is hoping to find another supplier to continue making more Venus stuffed animals in the future.
For now, you can be content to look at these amazing images that look unreal – but, as her tagline says, Venus is "0% photoshopped, 100% born this way!"
All ready for Halloween, although a costume seems superfluous…