One home in the Caltanissetta countryside of Sicily, Italy, is a paradise for cats. And this house is so cat-friendly it features a fenced-in yard with plenty of room to run and a kitchen just for the cats that's heated and filled with cushions, so everybody has a comfy spot to snooze after a delicious dinner.
The house also comes with two cat minions who care for the kitties' every whim. With twenty-five cats in their care, Antonio Bosco and his mom stay busy keeping everyone fed, watered, treated for parasites, and fixed. But these cat lovers are happy to do it because each and every cat has something that makes them unique. And recently, it's been cat Sylvestro capturing TikTok's attention with his doorhandle-swinging antics.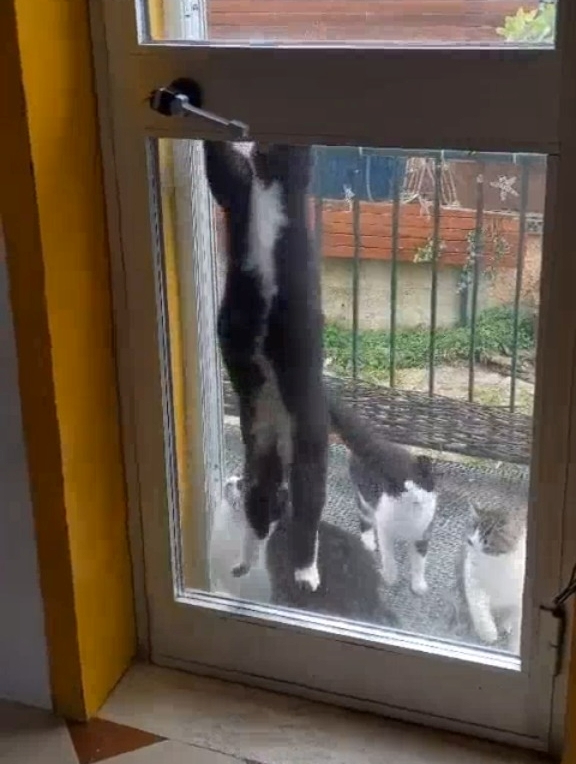 Letting In The Cats
Antonio describes Sylvestro as a "super-smart" cat who likes to keep his feline brethren happy. And he's got a lot of cat family. Because as Antonio explained to The Daily Mail, "We had up to a month ago 24 cats but recently a Siamese stray cat added herself to our clowder of cats making it a 25-strong cat army."
And among them, "Silvestro the smart cat is also the undisputed leader and protector of our cats," according to Antonio.
"He's a real hero, hence we sometimes sing rather than call his nickname which is "Kungu l'eroe" – a mix of King Kong and hero."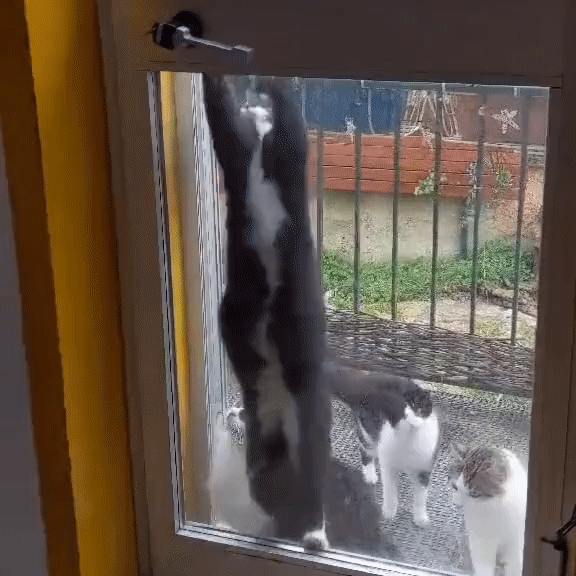 "Silvestro understands when he's done something special and knows he'll receive extra caresses on his head. I lift him up and rock him like a baby, followed by a treat, consisting of a chicken turkey sausage."
And after Antonio captured Silvestro on camera hanging on the handle of the door to let all the cats in the house, we're hoping the handsome tuxedo cat earned a sausage snack!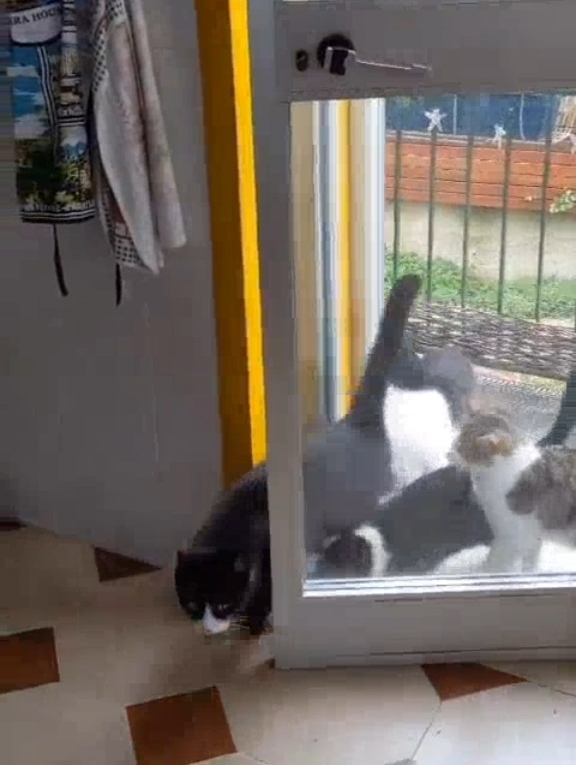 Antonio shared Sylvestro is the type of cat who just understands because "he is very observant and notices immediately if something is not right with you."
"He honestly feels at times like a best friend with who you can confide."
Antonio is right; cats are the best friends ever.
Cats Through A Cat Door
If you think Sylvestero is something swinging on the door handle, then you're going to love this video of all twenty-five cats blasting through their cat door at once! Antonio called the race for the door a "cat storm." And judging by the more than 33 million views on TikTok, lots of cat lovers want to get caught in this tempest!
H/T: www/dailymail.co.uk
Feature Image: @jimganoza/TikTok