Leaving your furry friends at home is always difficult. It's hard not to worry about whether or not they'll be lonely while you're away. However, many people have realized that music can help soothe animals, especially when they're feeling lonely.
So, Spotify launched a special feature specifically for the animals in your life. You can now make a playlist for your cat, dog, and even your hamster!
How Does it Work?
If you visit Spotify's Pet Playlist website, setting up a playlist for your four-legged family member is simple. First, you need to select what type of animal the playlist is for. You can create one for a cat, dog, hamster, bird, or iguana.
Next, Spotify will ask you a series of questions to get to know your animal better. For example, they'll ask if your cat is shy or friendly, or if your dog is relaxed or energetic. These questions will help make the playlist more specific and personal for each animal.
Then, you have the option to include their name and a photo of them to personalize the playlist even further. After that, you're ready to listen!
The playlists combine your animal's preferences with some of the songs you enjoy. They even sneak in a few songs with animal-specific lyrics such as "Stray Cat Blues" by the Rolling Stones. Many animals and humans were pleased with the results of the playlists.
Does Music Really Help Animals?
Spotify claims that about 71% of pet parents play music for their furry friends. There has been lots of evidence that cats and dogs do enjoy music, but it's not always the same music that their humans listen to. 
Most animals prefer music that's made specifically for their species. Human music is made to suit humans, but cats and dogs often find these sounds uninteresting. So, that's why it's important to make music that's designed to appeal to animals too.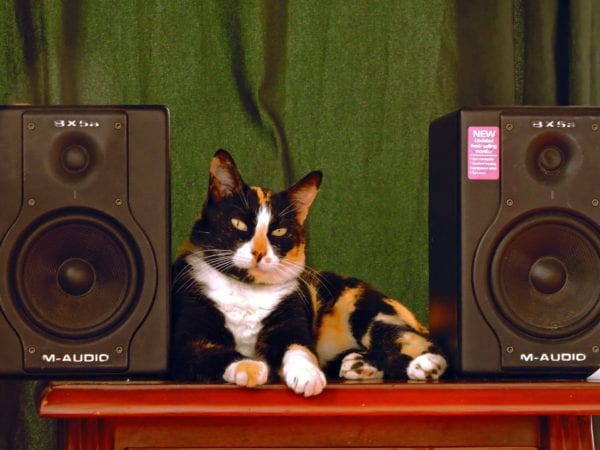 Music can often reduce stress for cats and dogs waiting at home alone. It can help them relax and take their mind off the distracting sounds outside.
So, Spotify has also created a special playlist called "My Dog's Favorite Podcast". It's made specifically to reduce stress for cats and dogs listening. It has two 5-hour sections that have relaxing music, reassuring voices, and ambient sounds. It's an ideal playlist to make your furry friends more comfortable while you're away.
Whether your four-legged family members enjoy listening to music or not, you should give Spotify's Pet Playlist feature a try! You might just find a playlist that both of you can enjoy, and it could be the perfect way to keep cats and dogs more relaxed.
H/T: cnn.com
Featured Image: @spotifyusa/Facebook