A foreclosed house in Bristol, CT, harbored a terrible secret.
When the owners left the house, they abandoned over twenty cats, leaving them to fend for themselves. Once the bank decreed the house be cleared out, the cats were discovered.

Friends of the Bristol CT Animal Rescue/Facebook
Notified of the disturbing situation, The Friends of the Bristol CT Animal Shelter swung into action to rectify the homeowners' heartless act. Rescue staff and volunteers arrived in force with sacks of food and crates to help the scared tuxedos.

Friends of the Bristol CT Animal Rescue/Facebook
The Friends of the Bristol CT Animal Shelter said of the cats, "These cats are not feral but they are scared."
Which means the owners of the house abandoned the almost two dozen cats. They created a dangerous and cruel situation rather than asking for help. As a "non-profit dedicated to improving the lives of animals in need," the group would have gladly stepped in before this situation had become what could only be termed as a "cat emergency."
Initially rescue workers thought there were eighteen cats. But as the cat wrangling went on, the number grew to 22! With so many scared and hungry cats running around, the scene quickly turned chaotic. Rescue workers and volunteers began performing, as they termed it on social media, a "grab 'em and crate 'em" operation.

Friends of the Bristol CT Animal Rescue/Facebook
Right away, eight of the cats found sanctuary, but this left over ten in need. Other rescue organizations in the area stepped in, and the Friends Animal Rescue offered their thanks to "VCA Cromwell, Dan Cosgrove Rescue, Protectors of Animals, Meriden Humane Society, and PAWS for taking all these kitties in!"
Recent Facebook Comments Revealed Great News
As of a week ago, kind souls were still inquiring about adopting one of the abandoned tuxedo cats. The Friends have started responding to inquiries with the best update ever. With much hard work and effort, the entire group has been placed in situations which will lead to forever homes. Of course, all the kitties dressed in their best tuxedos to celebrate the good tidings.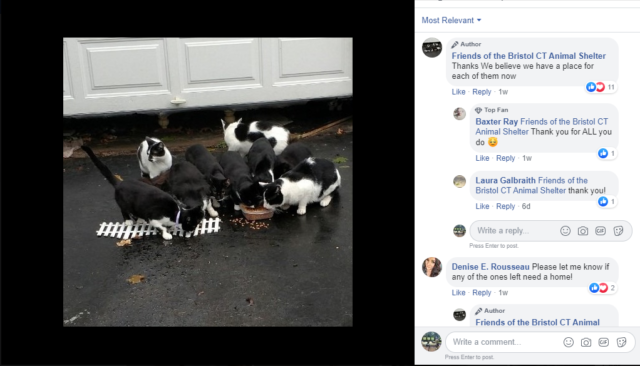 Friends of Bristol CT Animal Shelter/Facebook
Please Ask for Help
If you find yourself overwhelmed with an animal, never abandon it! Trained professionals and caring volunteers work worldwide to assist people and animals. Shelters and sanctuaries strive to keep situations like the one in the foreclosed house from occurring. Animals matter just as much as people do. Please ask for help if you or someone you know has found themselves in a situation of animal care that can't be maintained.
H/T: WFSB Eyewitness News 3
Feature Image: Friends of Bristol CT Animal Shelter