When firefighters arrived on scene at a reported fire in a Pittsburgh, Pennsylvania, neighborhood, they found more than just the blaze they'd been called out to battle.
Inside the home was a hoarding situation involving dozens of cats and kittens. The fire department reported the situation to law enforcement, setting an investigation into motion.
Arriving on the scene in the Lawrenceville area of Pittsburgh, Bureau of Police Animal Law officers served a search and seizure warrant to the owner of the occupancy. According to a public statement, officers then discovered the cats and kittens living in what Pittsburgh Public Information Officer Cara Cruz described as "deplorable conditions inside the home," according to a public statement.
Felines Rescued from Home City Deems Condemned
The owner of the home was present during the search and surrendered the 24 cats and kittens to the North Side division of the Humane Animal Rescue of Pittsburgh. The home was in such a bad state, the Department of Permits Licenses and Inspections condemned the building. The Red Cross was called in to assist the two residents of the home. As of now, charges are pending, and the investigation remains ongoing.
As for the felines removed from the home, Humane Animal Rescue officials told WPXI Channel 11, "The cats and kittens from the Lawrenceville residence have had a very stressful day and our team would like to allow them time to calm down and settle in while they receive much needed medical attention. They are receiving medical treatment for fleas, skin issues caused by the fleas and upper respiratory infections."
Rescued from this sad situation, the cats and kittens will certainly go on to better days.
What to Do if You Encounter a Cruelty Situation
Sadly, cruelty situations are going on around us every day, which means you might encounter animals being mistreated or neglected. But, what do you do in such a situation?
According to the ASPCA, "Find out who is responsible for investigating and enforcing the anti-cruelty codes in your town, county and/or state, such as your local humane organization, animal control agency, taxpayer-funded animal shelter or police precinct."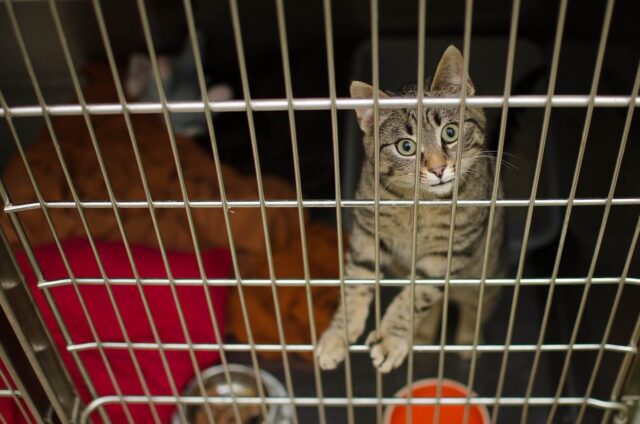 If you experience difficulty tracking down this info, call your local police department or local animal shelter for help. The ASPCA also shared the following tips on how to report animal cruelty:
Prepare a statement of what you observed with dates and times that can be given to law enforcement.
If possible, supply photographs of locations and animals involved, but DO NOT trespass on private property and don't approach unknown animals! DO NOT PUT YOURSELF IN DANGER!
Provide officers with names and contact info of witnesses who have firsthand knowledge of the abuse.
Learn the signs of abuse and more: What Should You Do If You Think An Animal Is Being Abused?
H/T: www.wpxi.com