Kitties Lili and Renley are a brother and sister who have always loved cuddling each other. When they were adopted, they found their favorite spot to snuggle: a bed perched on top of a cat condo.
Although they can barely fit in it anymore, they still try to squeeze themselves in the tiny space!
Renley is the ginger cat and Lili is gray. They're half Maine Coon, and Sonja thinks, half tabby.
"They're siblings, and we got them when they were 8 weeks old. They both just love sleeping there so they both butt into it until someone gets too hot and moves elsewhere," owner Sonja said in a story by Love Meow.
"Lili is a sweet, sensitive and well-mannered little kitty and Renley is like a bull in a china shop. He always needs to be the center of attention and doesn't mind using force to get what he wants!" reads a picture on their Instagram.
Watch as this precious pair gradually outgrows their favorite napping spot:
As babies, they were so little, Renley was even able to sprawl out!
For a little while, the two fit perfectly. "Yin & Yang" reads the caption on this photo.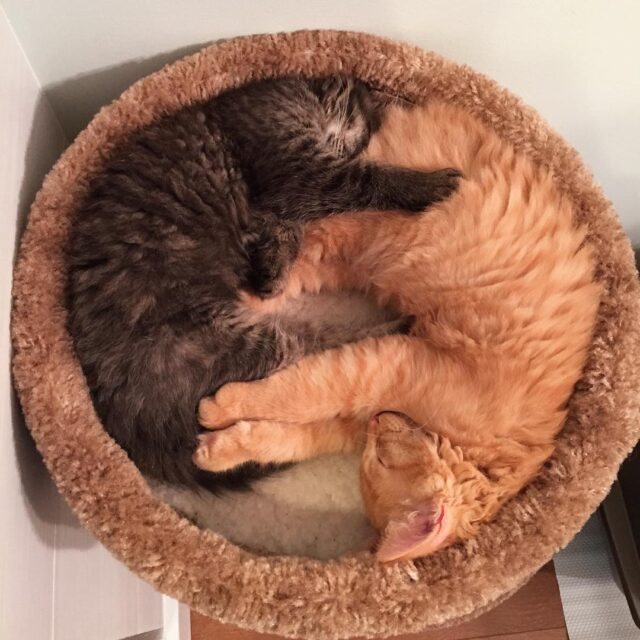 As they got older, they kept coming back to cuddle in that same spot…
…even after they'd grown too big. ("Is it just me, or is this bed shrinking?")

But this cozy bed will always be their favorite, and no matter what, they will find a way to make it work!
"Rens the big spoon, Lili doesn't really have a choice in the matter," reads the caption.
See more pictures of these snuggly siblings on Instagram @renley_lili.
(h/t: Love Meow)