Once we have that special cat in our life, the thought of them becoming sick is something that we never want to think about. Our cats mean more to us than they will ever know, and annual vet exams are something we do for them as a preventative measure. As any cat lover knows, cats are tough creatures. They can withstand pain so that their human doesn't know that they are sick, and without the means to tell us what's ailing them, they can sometimes end up suffering in silence.
So what if there was a way to detect illnesses in your cat that you could perform routinely at home, without having to poke or prod them, all with the help of a revolutionary technology that's vet-approved? Now you can do just that! Introducing PrettyLitter™: an advanced technology in at-home testing that can work to detect illnesses in your cat in between annual vet visits.
This new at-home health monitoring system can save you from the heartache that many cat owners face when they go to an annual exam, only to find that their cat has a health issue that they never realized. Cats are strong and resilient, and they aren't ones to show their discomfort to the humans they love. Show them you care by taking proactive measures for their health with this brilliant new idea.
What's more, you'll never have to worry about running out of kitty litter again! This lightweight product will be delivered right to your door every month, saving you the hassle of buying it at the store.
And the testimonials have been pouring in since the release of the amazing product:
"Our cat Lucky began passing blood in his urine (he had bladder stone surgery last year). I found a puddle of pinkish urine and poured a little Pretty Litter in it…and, sure enough, it contained blood so we headed to the vet that day! I'm very glad to have learned about PrettyLitter!"
– Paris Permenter, Author of CatTipper
"I am on my first month using this litter with a large male cat that has had struvite crystal problems in the past. The litter absorbed the large amount of pee he has and showed a gray blue color. The resulting vet visit indicated he was having a bit of small crystal development and that his food that I had for him to combat the FLUTD was not working effectively. He has now been fed a prescription food that has returned his urine color in the litter to yellow There is no odor despite his large pees and amazing that it disappears without clumping for disposal!"
– Joanne Sohl, shared on Pretty Litter Facebook page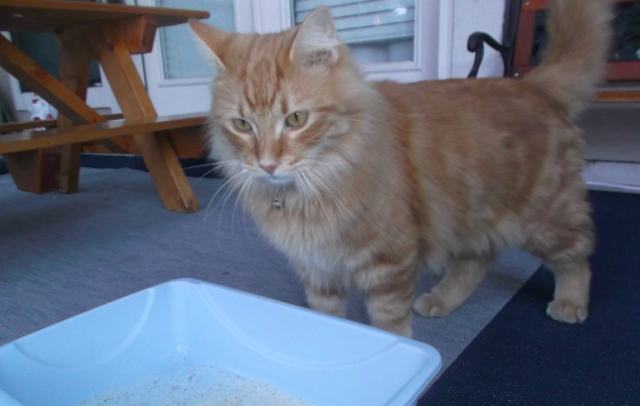 Really it's that easy to give you peace of mind in between annual vet visit. Visit the PrettyLitter™ website to sign up for your subscription today! And don't forget to keep up-to-date by liking their Facebook page.