One definition of a hero is "a person who, in the opinion of others, has heroic qualities or has performed a heroic act and is regarded as a model or ideal", and I'm sure the motorcyclist in this video never considered herself to be one. But by saving this helpless kitten from on coming traffic, I believe she became a hero. After all, not everyone can stop traffic in the middle of a busy intersection and put them self in danger to save a life.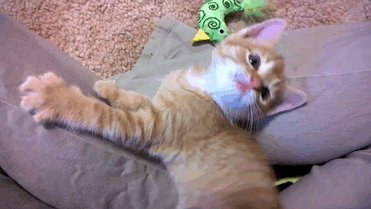 Lacey Lett, the woman who saved the kitten, has lovingly named him Skidmark or Skids. After rescuing Skids she took him to the vet to get checked out and discovered he is about 4 weeks old and has a small case of ringworm. For now Lett says she will keep the kitten, unless an owner comes forward. Lett has posted a couple more videos of Skidmark on her Youtube channel including one of him falling asleep that is just so adorable!
Don't you just love a great rescue story? I'm so glad this story has such a happy ending and hopefully Skids has found his furever home! Share this heart stopping and heartwarming video with all the cat lovers in your life.
Did you like this?